APS Snow Day Debacle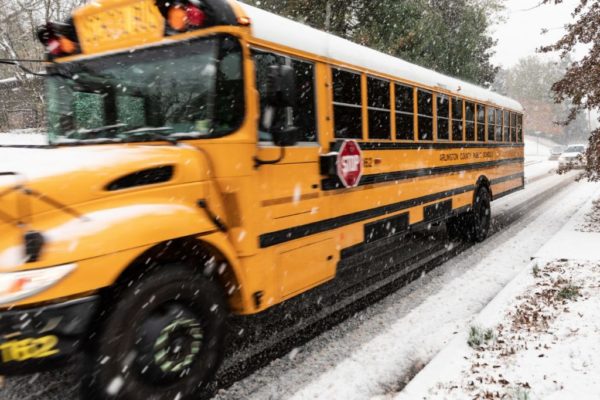 Hang on for a minute...we're trying to find some more stories you might like.
With numerous schools in the surrounding counties closing due to snow, one would think that the Superintendent Executive Leadership team would be proactive in regarding and remedying the situation in Superintendent Patrick Murphy's absence. However, the debacle that was the morning of Nov 15 will long be remembered for the apparent incompetence of APS to keep both students and Arlington county residents out of harm's way. Numerous car accidents and unsafe driving conditions made the roads a hazard for all drivers, especially for students who are inexperienced. The well-being of both Arlington county employees and minors under their supervision was threatened, and it is a miracle that nothing worse happened.
As could be seen by the pileup of cars slowly sliding down the hills outside public schools across the county, APS apparently had not anticipated the magnitude of the situation, nor taken any precautions to prevent it. In the past, the county has actively attempted to dispel concerns about unsafe conditions on the roads by spraying salt to reduce ice build up. However, this storm was not treated with the same precautions as previous storms. As Superintendent Patrick Murphy was out of town for a meeting, presumably the Assistant Superintendent of Facilities and Operations John Chadwick made call to forgo a delay or cancellation. Chadwick has been working in his current position since 2013, and should have anticipated such a predicament, given the mistakes in the past of failing to call a snow day in similar conditions. While it can be argued that the weather forecast had not accurately predicted the sudden influx of snow just minutes before students were arriving at school, the warnings should have been heeded and precautions taken to ensure safety and reduce liability and backlash onto APS.
The lack of communication from the APS has also been troubling. A tweet in the morning stated that their countywide messaging system was malfunctioning, which was why they were not able to get any alerts, such as a delay or cancellation, out to the general public. These claims do not seem to add up, however, as they later put out tweets of screenshots from the Apple Notes app about the change in bus schedules and stops and the cancellation of after-school activities. The time seems too convenient for there to be a simple malfunction in the messaging system, while they could have put out alerts on Twitter.
Adding insult to injury, APS later tweeted out a video of a panda playing in snow, captioning the image "At least someone is having fun in the snow today. #TooSoon?" The tweet has since been deleted, but it showed a blatant disregard for the numerous bus and automobile accidents that occurred that day while parents and students were driving to school. Some students were unable to get to school due to the snow, and those who did come drove and walked in dangerous conditions in which they could have been seriously hurt. While the tweet was surely meant to be a joke, nothing is funny about having to come to school on a snow day.
On Nov 16, APS called for a two-hour delay despite the sunny 45-degree weather and virtually dry roads. While the delay was certainly appreciated, it is clear that the county purely called it to placate the complaints of parents, students and teachers rather than out of actual necessity.
In the aftermath of this fiasco, it is imperative that APS learn from their mistakes. As winter fast approaches the region, the necessary precautions must be taken to ensure that all students, parents and faculty are kept safe. With all of the emphasis APS places on safety within school, it seems as if they consider the transition between home and school an afterthought.