No Clear Path to Reform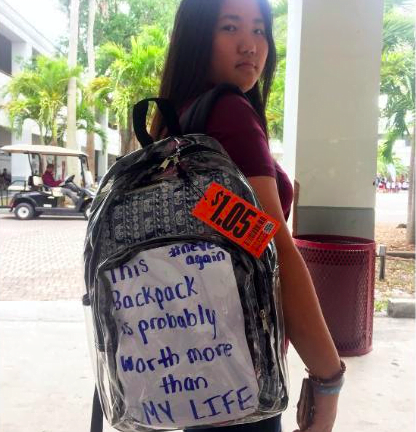 Hang on for a minute...we're trying to find some more stories you might like.
In the aftermath of the shocking school shooting that took place at Marjory Stoneman Douglas High School (MSDHS) in Parkland, Florida on February 14, the solution to the issue of gun violence in the United States has never seemed further away. In spite of teens around the country fighting for gun reform, it seems that little has been done thus far by the current legislation to actually enact any substantial change. Many students feel more neglected and vulnerable than ever, especially those who had to live through the events that unfolded on Valentine's Day in Parkland. One of the most recent attempts by Florida politicians to protect students at MSDHS is to enact more security measures at the school, namely mandatory clear plastic backpacks and identification badges. However, these new precautions seem to be ineffective in discouraging gun violence or better protecting the students at MSDHS.
The implementation of new security protocols at MSDHS is extremely important with regards to the recovery and safety of students and faculty, yet some of these attempts to fix the problem are proving to be futile. While arguments in favor of the clear backpacks and identification cards include helping to build trust and transparency between students and faculty, there is an overwhelming majority that believes privacy is being infringed upon. Many girls attending the school have brought about the issue of storing feminine hygiene products in their backpacks, stating that the new measures violate their privacy and make them feel uncomfortable among their peers. The new identification badges have their own complications as well. Historically, many school shootings have been committed by students that attend the school, and those students would likely have the identification badges that are distributed to the student body and faculty. If a current student was to carry out a school shooting, the identification badge would do nothing to deter them, as they have complete access to the school. While the badges may work to try to build trust between students and faculty, that trust could easily be exploited by a student desiring to harm their peers. If anything, the clear backpacks and identification badges have done more to divide people than to bring them together in trust.
Many students at Marjory Stoneman Douglas have begun a political movement in opposition of their new clear backpacks. Tags with the number "$1.05" have been clipped to numerous students' bags in order to protest the amount of money state politicians accept from the National Rifle Association (NRA) every year. The "$1.05" specifically represents the amount of money Marco Rubio took from the NRA divided by the number of students in the state of Florida. The tag symbolizes the students' belief that their lives are worthless to the state legislation than the backpacks they wear. This powerful analogy connects these students' struggle with ineffective security measures to their protest for gun control in the United States.
One of the main issues with the new measures is that they have only been enacted at Marjory Stoneman Douglas, where a shooting has already occurred. In order to deter more school shooters, it makes more sense to implement the protocols at more than one school, as this could save more lives instead of just isolating the students as MSDHS. While the clear backpacks and identification cards may be flawed, spreading these security measures to more schools could certainly make a greater impact regarding school safety and continuity, making sure more students feel ensured of their well-being in school.
Another problem to be had with the clear backpacks is that they simply attempt to pacify the issues that people had with both the state and national legislatures being so inactive in the affair. Clear backpacks, identification badges and increased police presence at the school do nothing to keep people from buying and obtaining guns and other potentially dangerous weapons. While many school shooters have been students, the possibility of an adult who can buy the weapon legally and use it to harm students is always prevalent. Significant action must be taken by state legislatures to enact more extreme vetting protocols to ensure that people with malicious intent or those with mental disabilities cannot obtain guns.
Overwhelming amounts of students from across the country have offered solutions to these flawed security problems — such as installing metal detectors at every entrance to the school — through news networks, interviews, Twitter and other social media outlets, yet it seems as if those suggestions are being ignored as well. It may insinuate that current state and national legislatures feel that gun reform and restriction is not a top priority under a president who promised that the second amendment would be upheld and firearms would become more obtainable by ordinary people. The need for legislative action has never been greater, yet it seems as if teenagers are not being respected nor listened to by a majority of politicians. Students should not be treated as if they know nothing about how to ensure their own safety and well-being, especially regarding the schools that they attend every day. We are the future of this country, and our opinions and safety should not be disregarded because of our age.
784 total views, 2 views today