"I Just Hope I Have A Job To Come Back To": Local Businesses Impacted By COVID-19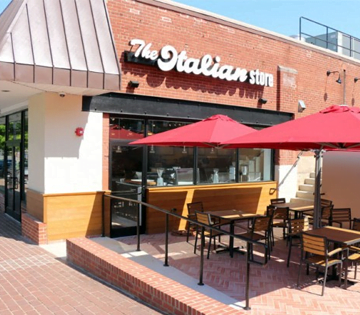 The United States has fallen into a serious economic downturn amid the growing crisis of the COVID-19 pandemic. The Dow Jones Industrial Average plummeted more than 400 points for the worst first-quarter report of its 135-year history, signaling that a lengthy recession is inevitable. Consumers are limited by stringent social distancing orders and entire industries are destabilized, culminating in a paralyzed economy. While large corporations will lose millions, the effects of the coronavirus outbreak and ensuing recession will be most devastating for small businesses.
Virginia Governor Ralph Northam issued Executive Order 53-2020 on March 23, which canceled the remainder of the school year for the entire state, limited public events to a capacity of ten or less and shut down recreational and entertainment businesses. Venues like museums, theaters, gyms, barbershops, bowlings alleys and more were all ordered to close for at least a month. While Northam's mandate was a safe measure that promoted imperative social distancing, it also put an enormous strain on the local economy.
The small businesses that were forced to shut down face an almost insurmountable burden: staying intact even as they cannot operate and make money. Recreational, entertainment and personal care businesses cannot function online, which is why they were completely shut down in the first place. Their entire model is based on social interaction, which was rightly deemed too threatening, but that means when normal social life returns, many of these businesses will struggle to follow. Only the biggest corporations, those that span multiple brands and operate across the country, will easily survive a coronavirus-induced recession.
Kool Kuts, a small neighborhood barbershop and beauty salon in North Arlington, was abruptly forced to close due to Order 53. Junior Simon Powers has been getting his hair cut there for as long as he can remember, so the looming possibility of a permanent closure concerns him.
"I don't think I've ever gotten a haircut anywhere else … [Kool Kuts] is such a great small place, and my whole family goes there. I'm scared that they won't be able to reopen for months, and I doubt they'll be able to sustain that. I'm scared they won't survive," Powers said.
On March 30, Northam issued a stay-at-home mandate, Executive Order 55-2020, which will further discourage consumers from leaving their homes and instead promote shopping with online behemoths like Amazon.
While larger businesses can pivot to an online-dominant model in order to survive the outbreak before reverting their stance back once mandatory social isolation ceases, smaller businesses that are still allowed to operate will struggle making that change. Traditional mom-and-pop shops generally have little to no online presence, which will certainly hinder their business during this period.
Northam's policy on the food service industry, where only takeout and delivery is permitted, was originally instituted in Order 53 and upheld in Order 55. However, Order 55 gives the government the right to lawfully enforce social distancing, which will presumably result in fewer people leaving their household and decreased business across the board.
Local restaurants must now contend with shrinking profit margins, as takeout and delivery make less money than a sit-down system, coupled with fewer customers overall. That is a dangerous combination that is threatening their very existence. Restaurants that typically operate solely as sit-down establishments now have to transform their protocol, or face the harrowing prospect of shutting down for the foreseeable future, as Northam's latest order was through June 10 but is subject to an extension if necessary.
Joe's Place Pizza and Pasta, located on Lee Highway, is one of the many neighborhood restaurants struggling with business. They are now only open Monday through Friday from 4:30-8:30 p.m., instead of the usual 12-9 p.m. everyday schedule. Despite their hardships and subsequent changes, they have gained attention throughout the community because they are continuing to provide for families in need.
Joe's has partnered with Arlington Public Schools (APS) and have held instructional programs at Taylor Elementary School in the past, where young students have learned about the science and methods behind cooking pizza. After Northam's decision to close all Virginia schools, Joe's has assisted APS families in need by offering free pasta and salads to those who qualify on weekdays from 4:30-6:30 p.m.
The Italian Store, a local favorite, originally decided it would close its two Arlington locations indefinitely during the outbreak. As both stores were closed, the owners formulated a plan for the outbreak by reevaluating their model for the new business climate. However, after just one week without business, they reopened with a limited menu, strict restrictions on in-store capacity and greater emphasis on selling their grocery items, like dry pasta and tomato sauce.
Bracket Room, a sports bar in Clarendon, announced their permanent closure after their sales issues were accelerated by the coronavirus. Seven days later, however, they started selling takeout and resumed online efforts to attract customers with numerous posts on Instagram. The industry is historically considered volatile, but even sudden reversals like this are peculiar and uncommon. It is another sign of the bizarre situation that restaurants are currently facing.
Joe's, The Italian Store and Bracket Room are examples of a greater trend in the industry, as restaurant owners across the country are clearly struggling with the effects of social distancing and are challenged with the daunting task of making money during this unprecedented period. According to the National Restaurant Organization, the restaurant industry has lost more than three million jobs and $25 billion in sales since March 1, and 50% of restaurant owners anticipate having to lay off more employees. Small businesses employ nearly half of the United States' private-sector workers, so the potential economic devastation is immeasurable.
Numerous local businesses, in a desperate measure to reverse sharp drops in revenue and remain profitable, are no longer using part-time employees and instead are relying on a different model focused on limiting hours. This system ensures they only have to pay full-time workers, while theoretically the shorter time frame of open business will mean there will be heavier customer traffic as well.
High schoolers make up a sizable percentage of part-time employees across the country, so many students from our school are most likely to lose their jobs. Sophomore Sydney Polly worked at South Block, a smoothie and juice bar with multiple locations in the area. She was temporarily laid off from her job, with the promise that she would be hired again once the situation normalized.
"I didn't know [being laid off] was coming, I had been given no prior indication that employees were going to be let go. They made it very clear that it was because of the virus and [the employers] could not afford to keep everyone, but once things went back to normal part-time workers would be brought back. I just hope I have a job to come back to," Polly said.
Just weeks ago, when the virus was still considered a faraway threat and not a pressing issue, the Virginia legislature passed a law that would raise the minimum wage in the state from $7.25 an hour to $12 an hour by 2023. However, in an effort to support small businesses, Northam has been pressured to delay the increase. This potential move would be frustrating for employees like Polly, as some argue workers need the extra pay now more than ever, but for many restaurants the decreased expenses could be the crucial difference between closing down or not.
The federal government recognizes the economic meltdown will be catastrophic to small businesses, as well, and is hastily forming a scrambling effort to support them. Congress allocated $349 billion for the Paycheck Promotion Program, part of the recently enacted $2 trillion stimulus package, which lends small businesses crucial funds to help stabilize payroll and encourage them to stop laying off employees. However, banks across the country are already being crushed by high demand, which is subsequently delaying the entire loan process.
Treasury Secretary Steven Mnuchin wants to appropriate $250 billion in additional funds to meet the soaring demand, while others believe the program will require one trillion to properly help the roughly 30 million small businesses across the country. Many, if not all, local businesses likely applied for the relief program, but it is unclear how many will qualify – as of March 8, the relief program has only reached around 250,000 businesses.
Amid all of the efforts to keep business open, proper sanitation techniques are imperative in order to properly ensure the health of the public. While most restaurants are being transparent about their additional standards, the risk is still there, albeit a minuscule one – experts say there is very low to no risk that the virus can transmit through food. On March 30, the first local restaurant faced a potential transmission issue when acclaimed Clarendon restaurant Green Pig Bistro temporarily closed after one of their employees exhibited symptoms of the virus.
While all of Arlington remains sequestered in their homes, the gargantuan economic impact will only intensify as our service-based economy grinds to a halt. It is disturbingly unclear when the crisis will cease and this strange period of social isolation will conclude, but until then, it is crucial that consumers support these small businesses. As Twitter user Andy Slavitt pointed out, "When you're supporting a big business, you're paying for the CEO's third house. When you're supporting a small business, you're paying for someone's kid to go to soccer practice."
To support local small businesses during this time of crisis, visit this link to see a list of local restaurants, their addresses, menus and whether they are still open for business through takeout, delivery or both.