A Teenager's Guide to the 2020 Presidential Candidates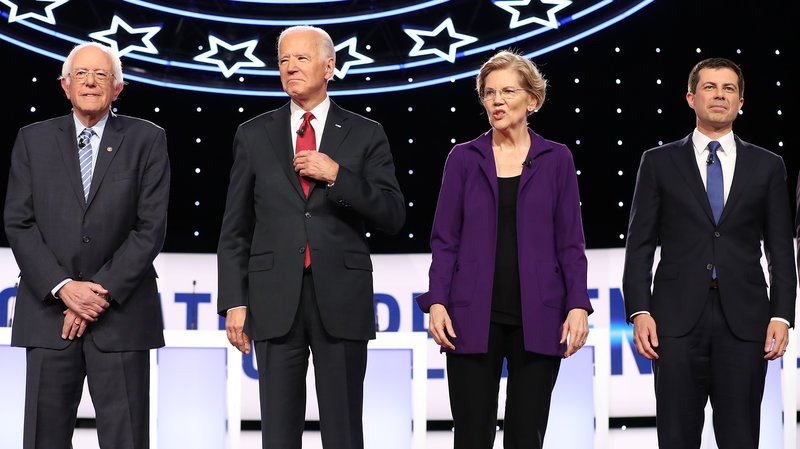 Whitney Critchfield, Sentry Staff Reporter
February 24, 2020
As the 2020 election year begins to get heated, many students at our school will find themselves eligible to vote in November. Based on various surveys for teens, four topics have been compiled that are most relevant to young voters. An ED Week survey found that 16% of teenagers planning to vote were most focused on the high cost of living, inflation and taxes when asked about their priority economic issue. In regards to social issues, school shootings and gun control were the two top issues. Another main concern was the environment, and with many current candidates proposing solutions for hefty college prices, college funding and debt were added to the list. Here is where the current president and the various Democratic candidates stand on these issues:
President Donald Trump is the 45th president of the United States. He was elected in 2016 and is now the incumbent Republican candidate for the presidency. Before he became president, Trump was president of The Trump Organization which is a real estate company, and he was also a television personality.
Gun Safety:
Strong Second Amendment supporter
Called for state-governments to accept red-flag-law legislation
Education and College Payment:
Gave $200 million dollars in support for STEM grants
Reauthorized Perkins Career and Technical Education providing around $1.3 billion for career and technical education (CIT)
Environment:
Proposed Affordable Clean Energy Rule with the goal of reducing greenhouse gases and giving more environmental power to the states
Increased coal exports by 60% in 2017
Took actions such as increased logging to prevent forest fires
 Economy: 
Cut small business taxes by 20%
Facilitated 3% national GDP growth
Generated six million new jobs
Senator Bernie Sanders is the former mayor of Burlington, Vermont, a former U.S. Congressman, and current U.S. Senator from Vermont. Sanders is a Democratic presidential candidate, and he also unsuccessfully ran for the Democratic nomination in 2016. Sanders considers himself a democratic socialist and often supports far-left views.
Gun Safety: 
Expand background checks for buying guns
End gun-show loophole and implement red-flag laws
Implement assault-weapon buyback programs
Education and College Payment:
College should be free of cost and all current debts should be canceled
1.3 billion annually invested into historically black colleges and minority-serving institutions
Environment:
Move US to 100% renewable energy
Rejoin Paris Agreement 
Commit to reducing emissions
Economy: 
Tax extreme wealth of over $32 million
Cut billionaire's wealth in half in 15 years
Create 20 million jobs with Green New Deal
Former Vice President Joe Biden is a former attorney and U.S. senator from Delaware. Biden served under President Obama as Vice President from 2008-2016. Biden is now running as a Democratic presidential candidate, as he did in 2008. Biden has been characterized as a more moderate voice in the Democratic primary and his focus has been trying to appeal to 2008 and 2012 Obama voters.
Gun Safety:
Ban manufacture and sale of assault weapons
Regulate possession of existing assault weapons (as machine guns are currently regulated)
Put in place an assault-weapon buyback program
Education and College Payment:
Free two-year community college for all
Target more Pell grants to low-income and middle-class college students
Double the number of health professionals such as psychologists and counselors in public schools
Environment:
100% renewable energy with net-zero emissions by 2050
Rejoin Paris Agreement
Reduce Greenhouse Emissions
Economy:
Build a pathway to the middle class for rural Americans
Increase the federal minimum wage to $15
Senator Elizabeth Warren is an Oklahoma City native and has been a U.S. Senator from Massachusetts since 2013. Warren is also a former law professor at Harvard Law School.
Gun Safety:
Background checks should be required on all gun purchases
Raise minimum gun-buying age
Investigate National Rifle Association
Education Issues:
Increase federal funding for public schools
Invest at least $50 billion in public school infrastructure
Cancel student loan debt
Environment:
Instate a Green New Deal
Reinstate President Obama's environmental protections
Blue New Deal to protect oceans and waterways
Economy:
Pursue economic patriotism and bring jobs back to America
Scale back Wall Street's heavy impact on the economy
South Bend, Indiana's former Mayor Pete Buttigieg is a young voice in the Democratic primary. Buttigieg formerly served on a seven-month counterintelligence tour in Afghanistan as well as a Navy reserve officer from 2009 to 2017. Buttigieg also brings a new perspective to the race: if elected, he would be America's first gay president.
Gun Safety:
Background checks on all gun sales
Establish a permit-to-purchase policy on guns nationwide
Close Charleston* and Boyfriend** loopholes
Education and College Payment:
Create $1 billion community college fund
Invest $2 billion in a pilot program for free and reduced lunch in community colleges
Double funds for Career and Technical Education in high schools and community colleges
Increase teacher salaries
Environment:
Invest $200 billion into new climate technologies
Build a net-zero emissions energy grid nationwide
Hold a Pittsburgh Summit to address global climate issues
Economy:
Invest $430 billion in affordable housing
Pass a $15 federal minimum wage
Senator Amy Klobuchar is a Democratic presidential candidate from Minnesota. She formerly served as the attorney for Hennepin County, Minnesota and as a partner at two law firms in her home state. Klobuchar is considered a moderate midwestern voice in the Democratic primary.
Gun Safety:
Institute universal background checks
Close Gun Show, Charleston and Boyfriend Loopholes
Support ban on the sale of assault weapons
Education and College Payment:
Tuition-free one and two-year community college and Career and Technical Education courses
Invest in apprenticeships
Provide federal incentives to public schools who evaluate students for workforce readiness
Environment:
Reenter U.S. in Paris Agreement
Restore the Clean Power Plan
Introduce legislation to bring the U.S. to net zero emissions by 2050
Economy:
Propose trillion-dollar American infrastructure plan to target roads, waterways, public schools and transit and accessible internet
Increase corporate taxes to help pay for infrastructure proposal
Close loopholes that encourage companies to move overseas
Former New York City Mayor, Mike Bloomberg is an unconventional candidate in the 2020 presidential race. Bloomberg is the co-founder and Chief Executive Officer (CEO) of Bloomberg L.P.: a national journalism organization. Bloomberg has taken a different approach to the Democratic Primary, he opted out of caucusing in Iowa and entering the New Hampshire Primary; rather, instead, he will begin competing in Super Tuesday.
Gun Safety:
Point-of-Sale background checks for all gun purchases
Close boyfriend loophole, require 21 year age minimum for purchase of handguns, semi-automatic rifles and handguns
Annual $100 million funding for local gun violence intervention programs
Education:
Tuition-free two-year college
Free four-year college for low-income students, affordable for middle class
Environment:
Cut greenhouse emissions 50% by the year 2030
Rejoin Paris Agreement
Implement limits on air and water pollution from power plants
Economy:
Increase federal minimum wage to $15 per hour
Support entrepreneurship and the many jobs created from it
Connect rural communities through widespread broadband access
*According to Pete Buttigieg's official campaign website: Current law gives the FBI just three days to complete a gun purchase background check. Once the three-day window elapses, gun sales are authorized at the discretion of the seller. We must close this loophole to ensure that law enforcement officials have time to complete their work before a gun sale may proceed.
**According to Pete Buttigieg's official campaign website: Federal law prohibits anyone convicted of a misdemeanor domestic violence crime from buying a firearm. The law as currently written, however, only protects those who are married to, live with or have lived with, or have children with their abuser. Pete supports federal legislation requiring that state or local law enforcement be notified whenever anyone, including a domestic abuser or convicted stalker, tries to buy a gun and fails a required background check.