A Legend Leaves the Halls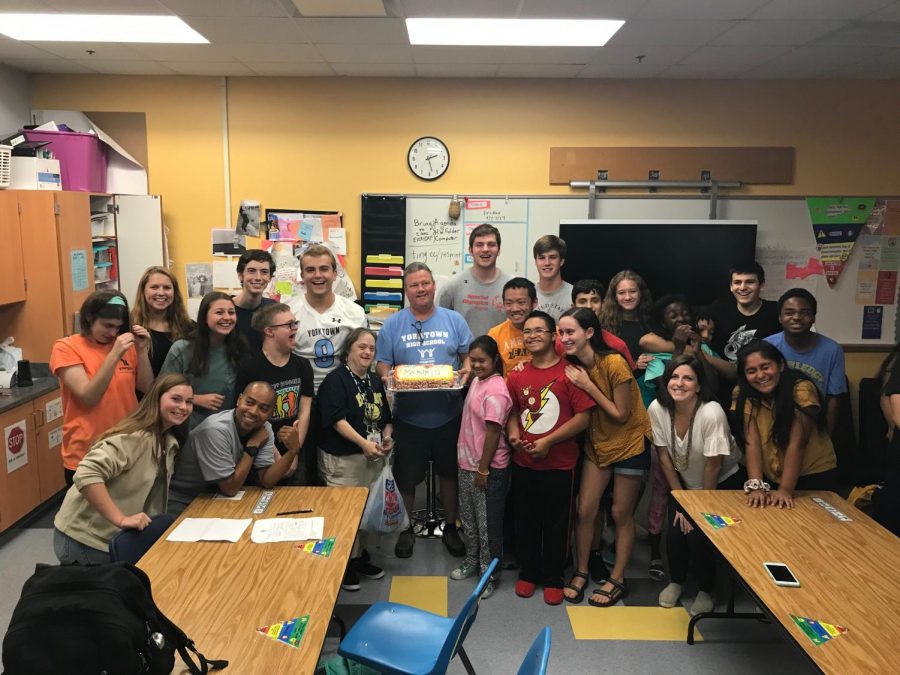 Lizzie Koumans, Sentry Staff Reporter
October 15, 2019
Although it is only October, our school is already losing one of its most essential staff members, resource officer Kip Davis. After working tirelessly for the last 30 years, Davis has decided to start a new adventure with his sister in Kentucky. His humble personality and caring nature have made him a constant friendly face in the halls that will certainly be missed.
While the title of "resource officer" may seem threatening to students, Davis is the complete opposite. 
"A lot of kids think it is my job to get them in trouble. It's not my job to get them in trouble, it's my job to keep them out of trouble … [Also] I am friendly, I am always willing to give a hand to anyone that needs it. It's just in my nature to be friendly… [and] in how you do your job, [it] sometimes it leads to [friendships]. [Students] appreciate the time you take to help them out or maybe do something for them," Davis said.
Instead of being a harsh rule-enforcer, Davis has managed to get the job done while radiating a positive energy that has brought him close with many students and staff all over the building. As Davis made his daily rounds through the school, sometimes clocking up to more than 12 miles of walking in a day, he could often be spotted dropping by multiple teachers' rooms just to catch up and chat. Over the years, he has also gotten close with many students, especially the members of Best Buddies.
"I have a sister that has Down syndrome, so I have helped Special Olympics on and off for years … if they ever started a team here, [it's something] I always wanted to do," Davis said.
By helping out with Best Buddies, Davis wanted to help positively change the lives of students with disabilities, which consequently has changed his own life.
"The main impact that I wanted out of it was really to make a difference in those kids' lives. Having a get-together, which would be our practice from 3:30 – 4:30 [p.m.] on Tuesdays and Thursdays, may be the only activity they get in their life because some of those kids' home lives are not the greatest. So, me and the peer buddies, which are the students that help out with them, we make a big difference in their day in just getting them out and socializing and having a fun time because they may not get that once they get home," Davis said.
Along with his role in Best Buddies, a large part of Davis's experience in Arlington had been his annual sports summer camps. Before becoming a resource officer at our school, Davis was working with a general sports camp, but eventually started his own for girl's basketball that has now been running for over 23 years. 
After his many years working as an integral member of our school's staff and in the Arlington community, Davis was able to reflect on all that he has learned in his time here.
"[You should] always take time to listen to both sides of an issue if there's a problem. Don't be one to jump to conclusions before you have heard everything. This job has taught me that a lot because there have been many times when it looked like something was going on with somebody, and it was really the other person that initiated everything. The old saying is 'the second person always gets caught.' I have learned that that's the case a lot," Davis said.
While Davis has seen many students at their worst, he has also gotten to witness them at their best and he will continue to cherish the friendships he has formed across the building even after he has left Arlington.
"I will miss the students. I will miss my good friends that I have worked with. I will miss Friday Night Lights [as] I have been, for years, game manager for the football games. I will really miss, of all the people in this school, Mr. Lomax. He has been probably one of the best friends I have ever had," Davis said.
Despite the many people and experiences Davis left behind when he departed our school and Arlington, he is ready to start a new chapter of his life with his sister in Kentucky. His selfless nature shined through again as he described the sacrifice he is willing to make for the people he loves.
"[My sister] wants to be in Kentucky … it's kind of her safe place. Because of that, I chose to make the move because I want her to be happy. It's my turn, my mom did it all of her life, now it's my turn. My mom raised me and my sister by herself, … so I just felt like continuing that for somebody else, making somebody else's life a little better," Davis said.
Beyond Davis's connections to the thousands of students and staff he has made over the years, his incredible contributions to Arlington's schools and camps have formed a large presence that will certainly be missed. Although his position will be filled, his legacy in the halls can never be replaced.