Remembering Harris L. Wofford Jr.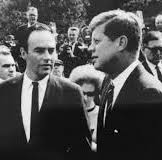 On March 2, 2019 the memorial service for Harris Llewellyn Wofford Jr. was held at Howard University. Wofford was a veteran of the United States Army Air Force, a scholar of Gandhi, a personal friend and advisor to Martin Luther King Jr, the Special Assistant to the President for Civil Rights during the John F. Kennedy Administration, a two-time college president and a United States Senator.
This impressive list demonstrates only a fraction of all of the ways that Wofford touched the lives of the people of the United States. Wofford was a man wholeheartedly dedicated to the service of his country and driven by the idea of community. He was present at many of the most critical, revolutionary and uplifting points in America's recent history, as well as some of the most tragic.
When Wofford was 11 years old, he accompanied his grandmother on a trip around the globe that opened his eyes to the cultures and struggles of the world just before its plunge into World War II. From then on Wofford was inspired by action and civil service. At age 18, Wofford founded the Student Federalists, an organization that promoted U.S. backing of federal world government among youth. Wofford would go on to win a fellowship to travel to India to study Gandhi's nonviolent protests.
Wofford passed away on Martin Luther King Day of this year at the age of 92. His passing on this federal holiday was fitting, as Senator Wofford and Congressman John Lewis of Georgia made Martin Luther King Day a federal holiday. Wofford referred to this holiday as 'a day on, not a day off', encouraging all Americans to engage in a day of service to honor the legacy of Martin Luther King.
Wofford's memorial service was an event of great joy, featuring the Howard University Choir, addresses from Wofford's children, Governor Tom Wolf of Pennsylvania, Tim Shriver (the son of the renowned Sargent Shriver), Senator Bob Casey, and others, in addition to video addresses from former president Bill Clinton and the famous folk musician Peter Yarrow of the band Peter, Paul and Mary. General Colin Powell was also in attendance. All speakers paid tribute to Wofford's contributions to the advancement of American civil rights and public service.
Tim Shriver, the Chairman of the Board of the Special Olympics, began his speech by asking all of the Peace Corps and AmeriCorps Volunteers in the audience to stand. Nearly 400 people stood.
"I know there was a long line of people welcoming Harris to the next dimension, but I am sure that we can agree that it is the people who just stood […] are Harris's greatest legacy. It is those men and women who make their lives a bridge of healing and unity. If there were one thing that Harris has lived his life for […] it is that," Tim Shriver said.
Shriver emphasized that Wofford was a critical player in the foundation of the Peace Corps alongside Sargent Shriver. Wofford also served as the first director of Peace Corps in Ethiopia. Shriver also spoke of Wofford's role as CEO of the Corporation for National and Community Service (CNCS). Through his involvement with these organizations, Harris Wofford enabled over a million young people to serve their country both at home and around the globe.
My family is a Peace Corps family, and we frequently use the expression: "Don't do a Harris!" Wofford was notorious for leaving his coffee on the roof of his car and driving away, forgetting it was there. We used this expression to caution against absent-mindedness and to bring our thoughts back to the present. I thought about this expression a great deal after Harris passed. At first it seemed like something to say only in jest, but in fact, it is more of a call to action.  
Harris was a prolific thinker and dreamer, and this might explain why he might occasionally forget that his coffee was on the car roof. But more importantly, Harris was a do-er in addition to a thinker. Going out of your way to do a Harris, and turning your thoughts into actions, is a way to make enduring impacts on your community. As his memorial service reminded us, Wofford was a man who acted on his faith in the power of community service to make a difference in the world. It is time to follow his lead.