What You Need to Know About Black Panther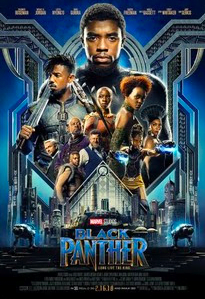 Ryan Van Kirk, Sentry Staff Reporter
March 12, 2018
Filed under News
Hang on for a minute...we're trying to find some more stories you might like.
Black Panther has been one of the most anticipated films of the year. It had high expectations, and so far, it has been living up to them, with its Rotten Tomatoes rating currently at 97 percent. There are many reasons why Black Panther is so hyped up, the most important of these arguably being that it is the first black, modern superhero hero movie with a mega budget. To many, this is more than just another Marvel super hero movie; it is about African American representation on the big screen.
The movie takes place in Wakanda, a fictional African nation that is technologically advanced. T'Challa, the main character, is forced to return to Wakanda after his father, the King of Wakanda, dies. After his father's death, T'Challa inherits the throne. While he is learning how to rule over the country, T'Challa faces an enemy that wants to rule Wakanda themself. Luckily for the Wakandians, their leader is also the Black Panther, a superhero who has the ability to save them all.  
The Black Panther character has been around for some time, first being introduced in July of 1966 in a Fantastic Four comic book. In this series, the Black Panther single-handedly defeats the entire Fantastic Four team with his superior technology. Since then, the Black Panther has been one of the most intriguing characters to Marvel readers.
So far the movie has been a huge success, currently topping the box office with just about flawless ratings. Black Panther racked up over $345 million dollars within the first three days after its release, breaking the previous weekend record held by The LEGO Batman Movie by over $150 million dollars.
There is more than one explanation of why Black Panther is so successful. The movie explores important themes such as race and identity that resonate with everyone, especially the African American community. Many feel as though African Americans are underrepresented in the media, which is why Black Panther is such an influential film. It provides young African Americans with a role model they can better relate to and look up to.
Not only are African Americans given proper representation in this movie, but so are women. T'challa is the hero, but most of the supporting cast is female. This accurately represents African tribes who had a male leader and a group of tribe women who would give their graces to important decisions.
Unfortunately, there are some alt-right groups that are trying to sabotage Black Panther, intentionally giving it bad reviews to discourage people from seeing it. This is another explanation of why it is such an important film. The Black Lives Matter Movement has rallied behind this movie and believes it is a crucial step in gaining equal opportunity for African Americans in Hollywood.
The Black Lives Matter Movement is claiming Black Panther as a "black movie" is because it is the first movie that portrays black people as "rulers of a kingdom, inventors and creators of advanced technology" (New York Times). The movie does not only focus on themes of suffering and pain that tend to be depicted in predominantly African American films. This is also the first big-budget movie to be directed by an African American and have a mostly African American cast.
Showing the struggle that people of African descent have faced for centuries while also showing a thriving all African nation are the main reasons Black Panther is more than just another superhero movie. The movie touches on slavery, imperialism and the Los Angeles race riots. Chadwick Boseman, the actor who plays T'Challa, said, "enjoy your black-superhero movie. But be prepared to reckon with more than 500 years of systematic oppression, too."
388 total views, 2 views today