10 Things You Didn't Know About Dance Team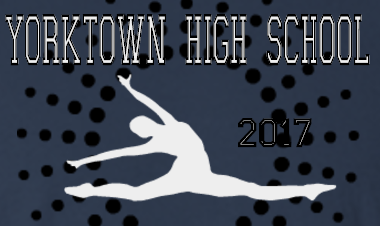 Hang on for a minute...we're trying to find some more stories you might like.
Football and basketball games are some of the most exciting events this school has to offer, bringing dozens of students together to cheer on their peers. These games also bring many traditions, such as the Hype Squad dressing out in different themes and singing certain chants to get the crowd excited for the game. Dance team is another long standing tradition at this school. The halftime show is a chance for these girls to showcase their talents and get the fans excited for the rest of the game. Although students see dance team every game, there is a lot that goes on behind the scenes to put together the dances that everyone loves to watch.
Here are 10 things you may not know about dance team:
A majority of the dances you see are actually choreographed by the students themselves on the team, rather than a coach.
"People may think that our coach makes up the dances but the biggest part about being an officer on dance team is actually making up the dances for the team," junior and co-captain Katie Heffren said.
Almost all of the people who have coached dance team are actually alumni who have come back to volunteer their time.
"It is important that the coaches are alumni so that they can uphold the traditions of dance team," junior and captain Piper O'Donnell said.
Dance team not only performs during games, but they also participate in multiple competitions during the year.
"Dance team competes in one to two competitions each year and it takes a boatload of preparation. We have extra long practices on saturday mornings, and the dances themselves take 5+ hours to make, so it is a huge, but rewarding time commitment," O'Donnell said.
There are multiple officer positions available, allowing the students on dance team to take major roles in leading the team.
"There are spirit leaders who organize things before games that increase spirit, like making cookies or writing notes, co-captains who choreograph the pep rally dance and often step in if captains are doing something during practices and captains who lead the team, choreograph all the dances, lead practice, give corrections and pick out outfits," Heffren said.
Dance team has been around for 40 years and used to be called drill team.
"Dance team has a long tradition of representing our school; we have been wearing white boots for 40 years," Heffren said.
The officers of dance team create the song mix for each dance by themselves.
"To start a mix we will come up with a theme like Rihanna songs or 90's theme dance. We then find songs that have good tempos for certain things and songs that work together, then you cut them together in Garageband," Heffren said.
Not everyone on the team is in every dance.
"For competition our coaches and officers observe the dance being practiced and decide who will compete in the competitions so we can ensure that the people in that dance are the best for that style of dance," Heffren said.
There is a strict dress code that the members of the team must follow not only for the performances, but for their practices too.
"Each practice during the week we have a specific practice uniform you have to wear so it is important to keep organized and plan ahead while in season," Heffren said.
Dance team practices every day during the fall and winter seasons and after a short break in the spring, they begin practice early in the summer.
"Dance team is a large commitment but the end result is extremely rewarding," O'Donnell said.
Dance team learns up to 15 dances every year
"Choreographing can be challenging because with each new dance you have to keep the style our team follows but also make each dance new and innovative," Heffren said.
567 total views, 2 views today