Dual Threat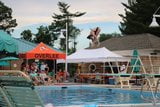 Hang on for a minute...we're trying to find some more stories you might like.
There is certainly something special about a person's work ethic if he or she is willing to sacrifice the time it takes to play sports in addition to school. Senior Emily Hay embodies this strength of character, as she eagerly takes part in not one but two sports, gymnastics and diving. For her, the grueling practices and late nights are completely worth it because she gets to do what she loves and be around some of her favorite people in the world.
Is it hard being a two sport athlete?
It is hard, but manageable. I have to manage my time depending on which sports practices I have which days.
When did you start diving and doing gymnastics?
I started diving when I was five at Overlee pool, and have been on the Yorktown team for two years. I have been doing gymnastics for about seven years now.
Do you think one sport affects the other?
Yes, definitely! My gymnastics coaches always tell me to stop doing things like a diver and my dive coaches tell me to stop doing things like a gymnast. They involve similar strengths and body positions.
If you had to choose, which one would you say is your favorite sport?
I don't think I could choose because there is so much to love about both of them. I consider my teammates to be my family.
Would you like to play in college?
I might try to do club or intramural but I'm not sure.
What is your favorite part of being an athlete?
My teammates are like a second family. We always support each other.
What motivates you to keep playing?
Since my teammates are my friends, I get to go to practice and hang out with them. It's really nice on days when I'm feeling stressed about school or something and I can take a break. It's also a great way to relieve stress!
Is it tough to balance sports and school?
It is tough since most nights I don't get home until nine, especially when high school dive and gymnastics are going on, but it is worth it.
To what do you attribute most of your success?
I would say my coaches and teammates because they support me and motivate me.
What advice would you give to younger athletes?
I would say that even if it's getting tough stick with it. Also, if they plan to do sports in addition to school, they should learn to manage their time wisely.
540 total views, 2 views today