Eli Locke – Emily Burke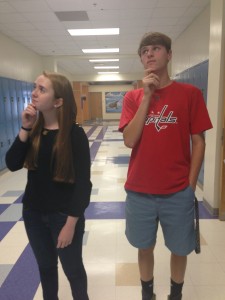 By: Eli Locke
Sentry Staff Reporter
Emily Burke – Sophomore Extraordinaire
One of the most pressing arguments in Arlington recently, without a doubt, is the heated debate between District Taco and Chipotle. For sophomore Emily Burke, the decision is simply too hard to make.
"I guess it depends…they're both good," she responded when questioned about which one she preferred.
Born and raised in Washington, D.C., Emily cited her favorite childhood memory as waking up on Christmas morning. Burke also has a sister who will be a Patriot next year. She noted her sister was slightly apprehensive to be making the jump to a new school, with the increased student body as well as the new construction contributing to this.
As for her own experience at school, Emily is certainly looking forward to writing for The Sentry, and enjoys writing in general. She added that opinion and style are the sections she is most enthusiastic about.
"I thought it would be really fun to participate in something that the whole school is going to see," said Burke.
As for other courses, Emily stated that her most challenging course will be Advanced Placement World History. Then, she told the embarrassing story of how she hit her head on the diving board in gym during the kayaking part of the swim unit.
To put it simply, Emily said: "I can't do swim unit."
Outside of the classroom, Emily enjoys playing tennis and watching soccer. She can often be found playing with her cats afterschool. Clearly a classic movie aficionado, Burke named "Bringing Up Babies" with Carey Grant as her all-time favorite. This summer, she toured Spain with her family.
All in all, Emily Burke is looking forward to being on The Sentry staff, and excels from the court to essay-writing and everywhere in between.
By: Emily Burke
Sentry Staff Reporter
"Who Let the Pigs Out?"
Junior Eli Locke sits on the floor in the crowded, noisy hallway struggling to explain his hobbies and interests over the din of surrounding interviews. When asked what his ideal senior prank would be, Locke does not hesitate. Anyone overhearing our conversation might be alarmed by Locke's plan to let pigs loose in the school.
"You buy three animals, like three pigs, and then you number them one, two and four and release them in the school. Then when they are all found, everyone is still looking for the last one," said Locke.
Even though he may not be able to carry out this clever prank, Locke still finds things to enjoy at school. A second year writer for The Sentry, Locke's favorite subject is history. Although he enjoys studying the past, when asked which time period he would choose to live in Locke chose the future.
"It would be cool to see what has changed," he explains.
Locke's other interests include playing the drums and the clarinet. He also plays travel soccer, which explains his desire to meet soccer star Lio Messi, who plays for the Spanish club Barcelona.
"He's the best player in the world," adds Locke.
While Locke admires Lio Messi (or "The Flea" as he is sometimes called by soccer enthusiasts), if he could switch places with anyone in the world, he would choose President Barack Obama.
Locke is curious "to see what it's like in the Oval Office."
Hopefully, however, he would not let any farm animals loose in the White House.