Carry This Novel Everywhere You Go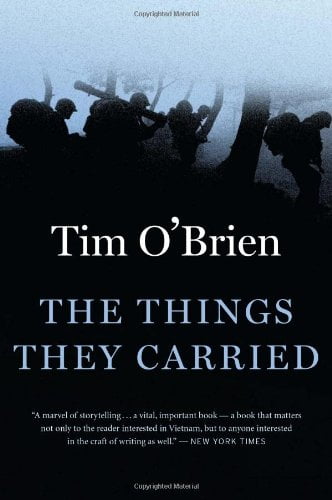 Hang on for a minute...we're trying to find some more stories you might like.
There are books I read all the time that I love, but sit on my dresser for weeks and never get picked back up. They hang out with the stray earrings and pennies, slowly gathering dust as they become centerpieces in my room instead of the stories I once saw so vividly. It makes me sad when I read a book and do not have the desire to go back and read the words over and over again. I spend months trying to find books like that. I look through the Barnes and Noble's of the world, the hole in the wall shops, and sometimes even my parents bookshelves. Never, though, did I expect to find the novel that I wish I could have written inside my English classroom.
Tim O'Brien's The Things They Carried is the reason why I love to read. Set up years after the Vietnam War, he creates a war story with complex plot lines that somehow are all connected and feed off of each other.  He writes from his forty three year old self, looking back at the decisions he made during the war. I love his writing so much for the lack of chronology: He is not writing as the young eighteen year old in Than Khe, Vietnam. The Things They Carried is a Pulitzer prize finalist and a New York Times Book of the Century. Clearly, I am not alone in my obsession with this story. This book is labeled as war fiction but it hints at biography, memoir, and short story. It tells the account of thirty years, before and after the Vietnam War and how the soldiers dealt with it. More often than not, however, the book is told by retelling. It is a novel of self reflection to discuss events that happened during those thirty years. From stories of soldiers crawling in dark tunnels to memories of walking on a pebble beach next to a woman he loves, O'Brien is able to tell his life the way that it was: complex.
The other extremely unique part of this novel is that the reader has no idea if these events ever took place or if the fiction is actually fiction. O'Brien never really clarifies the accuracy of the war horrors and how these soldiers dealt with the harsh reality of the jungle around them. This book feels like a story that O'Brien had been putting off for a really long time because he was not ready to dive back into it. It's almost as if he created these stories that no one knows are true to help him remember and ultimately put to rest.  
The Things They Carried is not a war story. It is a story that takes place during a war, but it discusses things like love and death in clear and simplistic ways. O'Brien makes me want to approach my life with the same urgency that the characters have. I really did not think I was going to enjoy this story when my English teacher passed it out. I do not like reading terribly gruesome stories, and I like to be able to relate to some aspect of the characters. I made it through the first four chapters and was suddenly hooked. I love the way O'Brien brings emotion into the story to show how it affected the decisions made during their time in Vietnam.
I hope I can write a book like this one day. I hope I can make the reader stay up until two a.m. questioning the legitimacy of my stories.  I wish I could write like Tim O'Brien. His characters feel three dimensional. They are marching off the pages straight into my living room, with all of the supplies and emotions they carry on their backs.  It doesn't quite matter if the stories he is telling are true in all their forms, because they seem real. I can see the two kids skating on the ice skating rink when they were seven. I can feel the breeze. I can see the father standing in the rice paddy with his daughter as he is warped back in time to the terrible night in the mud. It is all there, real or not.
The Things They Carried is sitting on my night stand. The pages are worn from highlighters and folds, marks that I have made to note my favorite parts.  The stories are not fading in with the color of my room. The book is not collecting dust. I will probably pick it up again tonight and learn something new about one of the characters or how the wind felt on a particular night. That is why I love reading about what these men carried; there is always something new to be found. This book will not blend in with the other stale stories that sit on my bookshelf.  The men are marching around my room. The story is alive, and I get to watch it all happen.
578 total views, 2 views today