A History Worth Remembering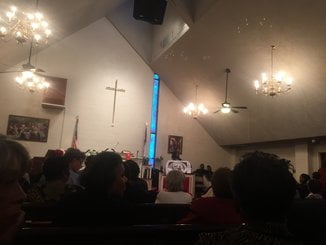 Hang on for a minute...we're trying to find some more stories you might like.
The new year has come and as time passes, some history tends to fade away. At Mt. Salvation Baptist Church, speaker and historian Dr. Lauranett L. Lee spoke at the lecture "Revisiting the Hill," about her experience living through a segregated time and her struggle with the effects of racism throughout her life. Dr. Lee also discussed the significance of oral history tradition, and what life was like for African Americans in Virginia during the mid to late 1800s.
Lee talked about many different historical instances of slave brutality and white supremacy concentrated in Arlington. She talks of the period of time leading up to, and following, the freeing of slaves from the plantations of William Macie and Basil Hall, who owned property where Virginia Hospital Center is now located. Recently, historians revealed the story of Jenny, a slave of the Halls', who after protesting against inhumane treatment and abuse, was put to death.
It seems subtle racism still exists in many aspects of today's society, even so long after segregation was the norm. It is 2016; it is time we move past the racial slurs and discrimination. At Mt. Salvation Baptist Church, integration is a prominent part of how things are run– as it should be everywhere. Lee was very passionate as she talked about how segregation lasted so long and was prominent in society even leading into the 1960s.
"When we talk about separate water fountains, separate playgrounds, separate restaurants we're talking into the 1960s. A time when many of you, your parents, or grandparents lived," said Lee.
A man at the lecture who preferred to remain anonymous recalled what it was like living in Arlington in the 1950s.
"In some ways, everything has changed. In other ways, it's all still the same. The schools and houses have gotten so big, it seems weird to me. Sometimes, it seems like I'm looked at differently because of the color of my skin and the way I dress," said the man.
As the lecture went on, Lee continued to explain that African Americans have come a long way in society, but there's still a ways to go. The man to my right kept whispering to me, "Is that what life should be like?"
Lee continuously mentioned the Langston Hughes poem, Democracy, and highlighted the quote "democracy will not come today, this year nor ever through compromise and fear… I tire so of hearing people say, Let things take their course. Tomorrow is another day. I do not need my freedom when I'm dead." This poem was written nearly 100 years after slaves were emancipated and Lee poses the question of why there was such a need to write a poem like this so long after African Americans were called "equal." Lee believes that this poem is unfortunately still relevant today, and the only way to make sure it is no longer relevant is to give young people an opportunity to remember the history and have enough knowledge to not make the same mistakes.
"The history of African Americans has always been a part of American history. We used to not dwell in our history. Now we know better, we can do better. When we think about where we come from, think about our ancestors that had nothing and created something. That is a history worth remembering," said Lee.
480 total views, 2 views today