National Signing Day Success
By: Patrick Rita
Sentry Staff Reporter
Wednesday, February 5, 2014 marked a monumental day for senior athletes across the country.  It was National Signing Day, an annual "holiday" where student-athletes formally sign a National Letter of Intent to play their sport in college.  In this year's graduating class, there are over 17 Patriots who are taking their talent to the next level.  This group includes: MJ Stewart (football) – University of North Carolina, Hayley Molnar (volleyball) – University of Pennsylvania, Mikayla Vensen (basketball) – University of Virginia, Joe McCreary (soccer) – James Madison University, Meghan Flynn (soccer) – University of Tennessee, Nathan Abraham (soccer) – Virginia Commonwealth University, Emma Shumway (soccer) – Middlebury College, Monica Thom (soccer) – George Washington University, Kendall Logan (soccer) – Haverford College, Michael Monahan (soccer) – New Jersey Institute of Technology, Logan Robinson (football) – The Citadel, Charlie Wall (football) – Amherst College, Teddy Schroeder (football) – Oberlin College, Da'jhaun Short (football) – Ferrum College, Cailyn Hudspeth (crew) – Boston University, Olivia Blust (crew) – University of Washington, Greg Dalzell (football) – Christopher Newport University and Cason Liles (lacrosse) – Mary Washington University.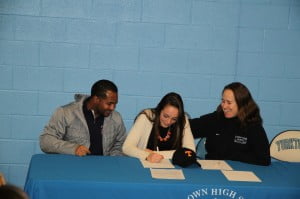 National Signing Day marked an important checkpoint for these athletes' careers.  The actual signing of the commitment letter was preceded by years of being recruited, maintaining good grades and staying in constant contact with college scouts and coaches.
Senior Logan Robinson, who will play a combination of outside linebacker and defensive end at The Citadel next year, said,
"It's such a relief for it all to be over.  It's been such a long process over the last two years.  It is nice to know where I am going and not have to worry about getting in anywhere."
Robinson still has plenty of work cut out for him.  Now that he is finally committed to play football, The Citadel is requiring him to put on twenty pounds and train vigorously in preparation for the upcoming fall season.
Senior volleyball player Haley Molnar will play outside hitter for the University of Pennsylvania next year.  Unlike Robinson, Molnar did not actually "sign" on National Signing Day, since she is going to an Ivy League School, which does not offer athletic scholarships.  Instead, Ivy League schools just have the verbal agreement of the athlete.  Although this creates an anticlimactic signing day for future Ivy League athletes, Molnar felt just as ecstatic when she received the letter from the University of Pennsylvania.
"I was so relieved and happy," said Molnar.
If you ever wonder how you do not see more college scouts at sporting events, it is probably because they are not at the game.  Often times, a scout will watch film of a player online but with so many prospective college athletes out there, sometimes it is impossible to make it to the games.  In Robinson's case, he gained recognition by going to football camps held in the summer at various colleges.  He, like many other athletes, also made a highlight film for colleges to watch.  He also credits Physical Education teacher and Football Head Coach Bruce Hanson for helping him gain recognition and introduce him to college coaches.
In Molnar's case, she gained recognition through participation in a club team.  Their team held a college panel where coaches from different schools could assess the players.  Luckily for Molnar, the Pennsylvania coach immediately expressed interest and they were soon in constant contact with one another.
What makes National Signing Day so special is that it finalizes the athletes' decision on where they want to go.  For Robinson, he had been in contact with many other schools but on his visit to Citadel, immediately fell in love with the campus and football team and it was a no brainer on February 5.
For both athletes, playing their respective sport in college was not always plan A.  Robinson originally wanted to play basketball in college.   Likewise, Molnar originally disliked volleyball.  However, both have shown that with perseverance and will, a Division 1 scholarship is always possible.
Featured image courtesy of Russell Logan