Field Trips: Fun Time or Flunk Time?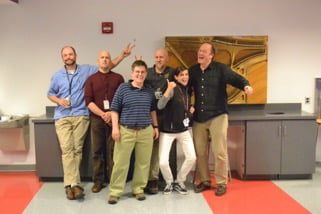 As the school year reaches its end, teachers rush to fit everything in–homework, tests, last bits of information before finals and field trips. April has been known to be field trip-filled. From visits to museums to trips to amusement parks, teachers are always looking for a way to bring education outside the classroom during the culmination of the year. While field trips are beloved by many, they also come with their inconveniences. During these past two weeks, schedules have been shifted and numerous students have had multitudes of work to make up due to their class outings. Many wonder, is it worth it?
Cheryl Stotler, the assistant director of activities, definitely thinks so.
"I believe the major benefits of taking field trips are experiencing in real life what has been learned in the classroom – for example, seeing the U.S. Supreme Court in action, watching a play depicting a historical time period or event, or examining plants in the U.S Botanic Garden to observe diversity in the study of evolution. The biggest downside to field trips is missing your other classes," Stotler said.
"Field trips are considered an extended learning opportunity, so the educational value and relevance to the instructional program are the major criteria for approval. All trips must be approved by the principal," Stotler said when asked about the approval process of each field trip.
Advanced placement (AP) physics has been a popular class for many reasons, a major one being the fun field trips the classes take at the end of the year. In the past two weeks, physics classes have embarked upon two trips: a Minor League baseball game and a day at Busch Gardens amusement park.
"It was the greatest experience of my entire life and it was so great to spend it with my BFFs and other pals," senior Charlotte Hungate said of the AP Physics ll field trip to a Minor League baseball game.
"Having to make up work was definitely worth it… field trips are so enriching," senior Sissy Davis said.
The physics teachers seem to love the field trips just as much as their students do and do not mind the little inconveniences they may come with.
"We try to do at least one experience for every physics class that brings physics of everyday life into the science we are learning," physics teacher Aaron Schuetz said.
"You certainly notice [students being gone for field trips] but teachers are trying to do the same thing we are. This is the culmination of the year, so this is when you are ready to go out and do stuff," physics teacher Deborah Waldron said.
"We are much happier losing kids for creative, interesting, engaging things than for standardized testing," Schuetz said.
The seniors in Millie Solomon's English class recently took a trip to the zoo in conglomeration with The Life of Pi, a book they are reading in class.
"We are told that April is the last month for field trips so we really need to get them in. Plus, April seems to be the most agreeable time to go on a field trip"  English teacher Millie Solomon said.
"We got to get out of class so that was nice. It didn't really interfere with anything because we're second semester seniors," senior Valeria Quintana said of the zoo field trip.
"Best field trip ever," senior Ryan Lesmez said about his experience on the zoo field trip.
AP Spanish students have gone on a few trips this year. Most recently they went to the Gala Theatre and previously this year the class visited Harlem, New York to learn about Latino issues. Teacher Evan Glasier is a big supporter of the class outings.
"I try to go on field trips that the students will get some learning out of and something that will supplement what we are doing in class," Glasier said, "[Field trips] make it a little bit inconvenient because kids have to retake things but as long as they are educational and useful, I think they are good…. the field trips we have gone on have benefited us greatly because it has exposed students to real world applications of language that they just wouldn't get otherwise."
Thomas Lenihan, Intro to Law and World Affairs and AP European History teacher has taken both classes on field trips and finds many benefits in them.
"I try to find field trips that relate to what we are studying and that I think students will enjoy and get a lot out of….My philosophy is if field trips have educational values, students should go on them and teachers should be flexible letting students make stuff up," Lenihan said.
"It was fun and I got lots of real-life examples of what we do in the class," sophomore Grace Allen said of the ceramics field trip to the Renwick Gallery.
"It is different going out and experiencing it rather than just sitting in a class and hearing about something. I found the field trip really beneficial and it was easy to balance with the rest of my work," sophomore Katie Heffren said about the AP Human Geography field trip to D.C.
While the various field trips may be seen as disruptive to the daily grind, many believe that their pros greatly outweigh their cons. As the school year is wrapping up, taking time away from the classroom and testing students' knowledge in a fun, realistic environment has many benefits. The long-lasting memories created by the field trips are definitely worth the petty stresses.