The iconic Sentry outfit compilation is here for another round. Presenting Drip or Drown: The 2023 Edition. With Yorktown students continuing to walk the halls with their funky fits, it is our duty to cover the drip flooding the school's halls. 
Amir Bahija: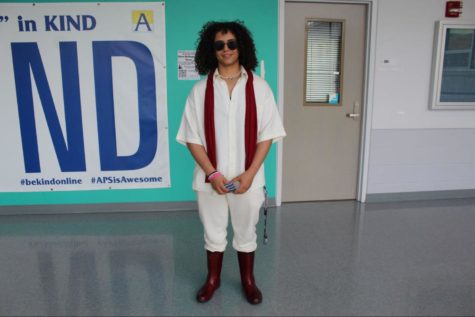 Bahija has never missed a day of the grind. Still in the competition for Senior Spies this late in the year, Bahija shows his determination through today's outfit. The goal was to dress up as Elvis, and Bahija stepped up to the challenge. The long, thin red scarf drapes loosely over his white button-down. Below, Bahija's finely pressed pants lead to his mother's too-tight red boots. This last item shows his strength of will; even as his toes suffocate, Bahija stays standing with the crisp intent to remain in Senior Spies.
Ryan Zito: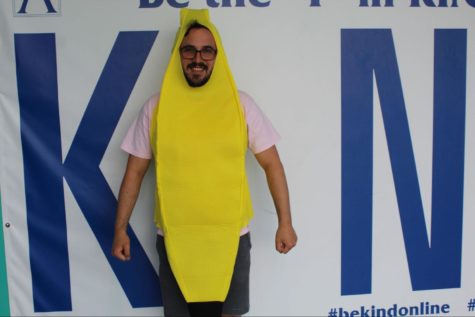 The Yorktown celebrity trots through the halls in his banana suit spreading his message: "Kill the part of you that cringes." It seems like he's achieved this, dressing as the yellow fruit that, oddly enough, perfectly parallels his personality. Zito claims the banana suit was purchased for his AP World History class a few years back, but under further inspection, Zito's connection to the fruit may lie in the fact that the social studies teacher might be running a nefarious banana ring. Zito's self-incriminating facial expression is the backbone of this claim—but the history teacher refuses to explain. 
Talia Agrillo: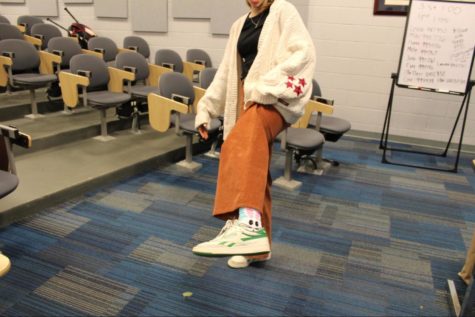 There's "Nothing New" about the way senior Talia Agrillo dressed today. Every day, she seems to perfectly embody the 70s hippie feel in her "casual but a little bohemian and sophisticated" outfits. Even though she looks a tad like Stevie Nicks in her fashion choice, her taste in music is shown through her Red (Taylor's Version) cardigan. The article of clothing perfectly accompanies the orange pants and simple tee. This will not be "The Last Time" Agrillo dresses to impress, as she believes that "it's never too fancy to wear to school."
Monica Stroik: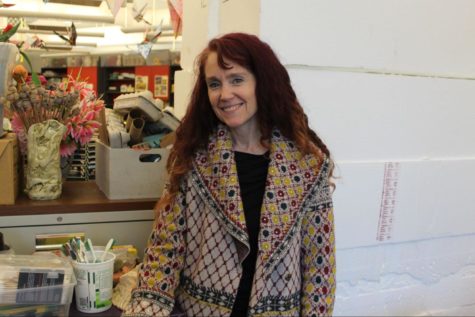 From aspiring fashion designer to painter to teacher, Monica Stroik has lived an inspired life. On a beautiful trip to Italy, her dream to design clothing was dashed by the reality of the ruthless fashion industry. She did not let that stop her from embracing the fashion of everyday life. Drawing inspiration from designers such as Gary Graham, Stroik creates or upcycles her own clothing, putting emphasis on patterns. 
"We're all unique individuals. That's what makes it fun," Stroik said.
Ana Alvarado: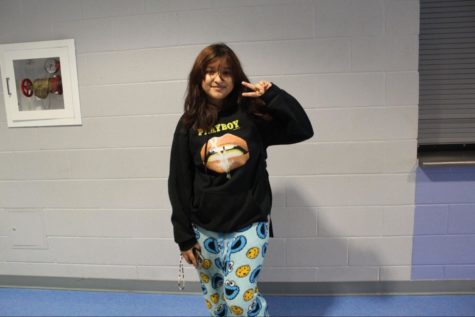 Dressing in featured cookie monster pajama pants, senior Ana Alvarado embraces the cozy during school hours. The outfit is completed by a dark sweatshirt, the colorful Playboy graphic reminiscent of pop art. These warm colors compliment her smooth chestnut hair. This is only a small amount of the overall fashion sense Alvarado holds; she saves her major outfits for outside of school and likely is a supermodel living a Hannah Montana lifestyle. Alvarado stresses the importance of being comfortable in your own clothes.
William Lomax: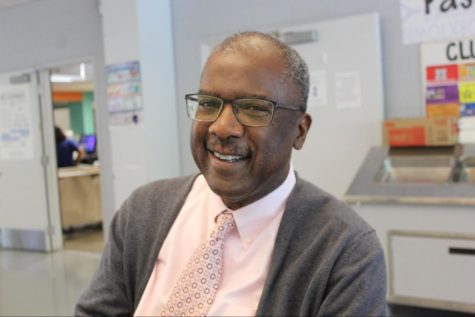 Vice Principal Lomax sports this soul-easing article every day in hopes of radiating a comfortable energy. Let me tell you—he has most certainly succeeded. Unfortunately, after the collapse of his go-to clothing shop, Britches of Georgetown, the Vice Principal is forced to turn to the "unsophisticated" Jos. A. Bank to supply his continuing collection of cashmere garb and patterned ties. Nevertheless, he is one of the most recognizable and approachable administrators, as he graces through the halls with his Lomax smile and Lomax drip.
Even with a collection of killer Yorktown outfits, they are all drowned out by the drippiest drip of them all: The Yorktown Sentry merch that all Sentry staff is proudly wearing today. 
Story continues below advertisement