Natalie Zur – Patrick Rita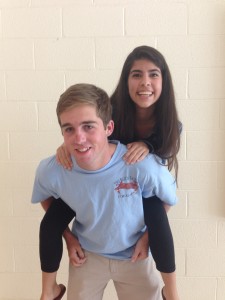 By: Natalie Zur
Sentry Staff Reporter
Sports and Stingrays
"Bryce Harper always," Patrick Rita remarks without hesitation, when posed with the difficult decision of choosing a #ManCrushMonday.  This answer is not surprising for the self proclaimed sports lover.  Rita, on his second year for Sentry staff, is currently on the golf team and he plays baseball in the Spring, both for school.
Describing himself, Rita chose the words friendly, hardworking, and someone who loves to laugh.  He is also an avid sports fan, especially for Washington teams as a true Arlingtonian.  If one should need to find him on a Sunday night, chances are he could be seen on the couch cheering for the Redskins.
Kissing a stingray is something everyone would do.  Not.  It seems however that Patrick Rita has, willingly, done this while vacationing with family in the Cayman Islands.  Maybe he should also describe himself as a sea creature enthusiast?
McDonalds is Rita's favorite fast food place, as a classic burger-and-fries kind of guy, "because it's addictive, it's fast, and it's the hotspot in Atown." Contrary to popular belief however, he doesn't necessarily want to work there.  In fact, the ambitious Junior is hoping to someday attend the University of Virginia, possibly majoring in mathematics.  Journalism for Rita is a way to express his thoughts and put what he wants to say out into the world.   This  class was his perfect opportunity.
"I've always been interested in contributing to the paper," he adds, "I love how everyone comes together to form one product."
By: Patrick Rita
Sentry Staff Reporter
Rarely will you find someone more involved in the Yorktown community than our very own, Natalie Zur.  This Arlington native is a product of Taylor Elementary and Williamsburg Middle School who plays field hockey, softball and indoor track.  Also, she takes part in Debate and Speech, in which she takes part in the student congress, as well as Model United Nations.  When she finally gets a second to breathe, she drools over Zac Efron, watches Duck Dynasty and loves to read the newspaper, which inspired her to want to join the Sentry staff.
Just when you think Zur is the typical sophomore, she has something up her sleeve that keeps you in awe.  Once, at a political rally, she received a hug from President Obama.  Another interesting fact that makes Zur unique is that she is not allowed to watch television.  Maybe that's how she has so much time to do all of her extracurricular activities.  If Zur was stranded on an island and could only have three things with her, she could not live without her music, Zac Efron and of course, Chipotle.
Natalie also has her future planned out.  Besides already knowing what she wants for Christmas, which would be a Macbook, she has focused on what she wants to do after high school.  She wants to major in political science where she has already been given experience thanks to her participation in Debate and Speech.
Despite her many achievements so far in high school, Zur is very down-to-Earth and friendly and The Sentry is lucky to have her as a reporter.