Ian Hardman – Reilly Burlingame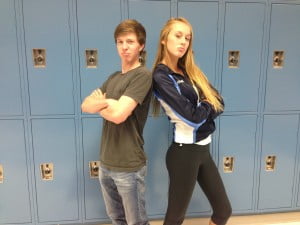 By: Ian Hardman
Sentry Staff Reporter
Here Comes the Bride…smaid
Not many seventeen year olds end up being a maid of honor, and still fewer become a member of the wedding party just moments after meeting the bride, but Senior Reilly Burlingame is one of the lucky few.
While climbing Old Rag Mountain this past summer, Burlingame spontaneously asked a bride she happened to come across upon the mountain if she could be a part of the wedding. Surprisingly she was offered the position of maid of honor.
Reilly is an interesting specimen. Youngest of the Burlingame clan, she can be found spiking balls on the volleyball court or lobbying for advertisements for her school paper. Although she does not have a job, Burlingame participates in school activities and is hoping to join the Best Buddies club this school year.
Obviously a smart girl, Burlingame instantly decided she would bring a boat with her if stranded on a desert island. And, since the archipelago of Hawaii is her dream destination, she may not mind island life at all. But she certainly would miss her family. When asked what she finds worth dying for she instantly replied that she would do anything to keep her loved ones alive. She might even die for Spencer Croft as she said she finds him to be "Alright," "well rounded," and an over all "great person."
An avid speaker of English and scholar of the subject, Burlingame finds fun in writing jokes as she and her friends all think her quirky humor to be quite hilarious. When asked to comment on the subject, Senior Reece Lincoln said that Burlingame is a "Twitter goldmine."
Burlingame is quite down to earth and truly a fun person to be around. She always livens up the class with her Twitter worthy humor and her spontaneous attitude. With Burlingame nothing can be expected because every day is a new adventure; she even said she would like to participate on Fear Factor. Both welcoming and thrilling, Burlingame is a great addition to The Sentry.
By: Reilly Burlingame
Sentry Staff Reporter
Ian Hamilton Hardman was born November 27, 1996 in Georgetown hospital. He has lived in Arlington is whole life with his parents and his dog, Hobbs. On the weekendsyou can catch Ian watching football cheering on his favorite team (the Redskins of course) or taking photos. In fact when Ian was asked what he wants to do when he grows up he responded,
"I would love to be a photographer, it's my hobby." Ian continued by saying that he would like to live in a row house in Georgetown when he is older. Ian is especially excited about being on staff this year because he is the Sentry's new photo editor. He is excited to have more responsibility and incorporate video into the online issue of the newspaper. Although the new position will keep him busy he still finds time to indulge in chocolate (his guilty pleasure) and watch his favorite reality T.V show, "Summer Camp."  When Ian was asked who he would pick, living or dead, to have dinner with, he responded,
"Benjamin Franklin so I could ask for his opinions on modern day America." Ian is thrilled to spend another year on The Sentry staff and looks forward to an awesome year.