Amy Andrukonis – Emma Westerhof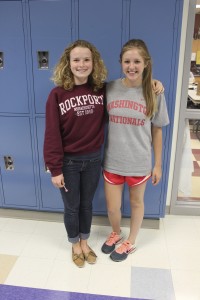 By: Amy Andrukonis

Sentry Staff Reporter
Emma Westerhof is no ordinary high school sophomore. She is focused, organized and compassionate—a model student who seems to have mastered the art of being in high school before she is even half way through. While many students indulge in Netflix and stalking their peers via social media in their spare time, Westerhof claims that a perfect day is a day spent working ahead.
"[On a perfect day] I would wake up in the morning and I would be totally refreshed and not tired at all from the last night because I study way until like, three in the morning. And then I would be able to do everything I need to get done before I had to go home, and then my entire weekend would be free. That's my sad, beautiful day right there," said Westerhof.
In addition to her strong work ethic, Westerhof is a girl of high ideals. Her outlook on life and her goals for the future suggest wisdom and maturity beyond her years. Her favorite quote is William Shakespeare's "There is nothing either good or bad, but thinking makes it so." Still, Westerhof wants to devote her life to doing good by helping others. In ten years, she sees herself in school, studying either women's studies or English literature.
"I hope to have a career in writing or history or women's advocacy. Hopefully," she continues, she will receive "some sort of job opportunity that's involved in women's equality, fair treatment and education," Westerhof said.
By: Emma Westerhof
Sentry Staff Reporter
Amy Andrukonis always dreamed of being a part of The Sentry. At a young age, Andrukonis watched her older brother and sister join the newspaper and she was eager to uphold her family's legacy. Now a junior in high school, she is beginning her second year on The Sentry staff. However, it is not "all work and no play" for Andrukonis. In her free time, she enjoys horseback riding, playing the piano and reading. English being her favorite school subject, it comes as no surprise that Andrukonis appreciates classical literature including Jane Eyre and Catcher in the Rye. She is also partial to the works of renowned author J.K. Rowling.
"I'm one of those kids who just loves Harry Potter," Andrukonis said.
Exploring other cultures has been an important part of Andrukonis' life. She has traveled to Italy, England, Greece and Bermuda. Of all the places she has visited, Italy was by far the most memorable. The warm and lively culture made the experience unforgettable. Andrukonis is also a diehard baseball fan. She is fond of major league baseball and her absolute favorite team is the Washington Nationals. To procure season tickets would be a dream come true for Andrukonis, in addition to meeting Washington Nationals pitcher Gio Gonzalez, her celebrity crush.
Andrukonis is a spontaneous, creative and multidimensional person, interested in various activities. Her background, experience and passion for writing, allow her to be a valuable contributor to the staff. She is truly excited for the year to come.