Sydney Kane – Rachel Finley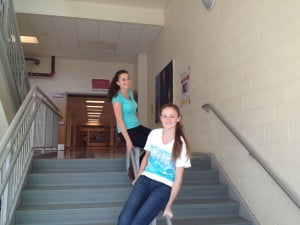 By: Sydney Kane
Sentry Staff Reporter
When asked to describe herself, junior Rachel Finley defined herself as a quiet, average student. Once you dig below her shy surface, the less average she seems. She actively figure skates, dreams of visiting Florence, Italy, used to live in London and claims she looks like a squirrel. She says the best thing she has ever been a part of is the Honor Flight Network, an organization that helps fund flights to Washington D.C. for WWII veterans so they can see the memorials dedicated to their service.
"We go to the airport and they have bands, choirs and hundreds of people there to greet them as they get off the plane," Finley remarked. "It's really nice because some of them walk off the plane while others are in wheelchairs and some of them start crying because it's all a surprise. That's when I start to cry because it's so nice and fun to do."
Finley wants a stable life with a college degree, but is not sure of much beyond that. However, what she does know is that she loves art and photography, which she hopes to incorporate into her bright future. For now, her favorite thing to do is read; her favorite series is Harry Potter and without a doubt she belongs in Ravenclaw. When asked what she could not live without, she immediately said her phone, chocolate and Netflix.
Finley wanted to be a part of the newspaper because she wanted to be involved and is anticipating a great first year on staff.
By: Rachel Finley
Sentry Staff Reporter
Sophomore Sydney Kane is entering her second year on staff and setting her goals high this school year. Happy and upbeat, she hopes to maintain straight A's average that she kept all of last year. So far this year she is enjoying her challenging classes, in particular she likes Ancient Civilization, English, and of course Journalism.
"I really like the material in Ancient Civ." says Kane.
Kane hopes to get involved in the photo club this year because of her interest in photography. She also participates on the junior varsity volleyball team. Additionally, she actively roots for the Washington Capitals hockey team every season. In her free time, she enjoys taking lots of pictures.
"I really like going on long trips to take pictures" she says.
Kane surrounds herself with close friends,
"I don't have one best friend, I have several close friends and they're all very different."
Kane loves to read when she has spare time. Some of the works that she most likes to read include the Harry Potter, The Hunger Games, and Percy Jackson series. She loves these books because she feels that she can really connect with the characters. At home, Kane has a dog named Dolly and her favorite food is the ever popular chocolate covered strawberry.