Natalie Reich – Spencer Croft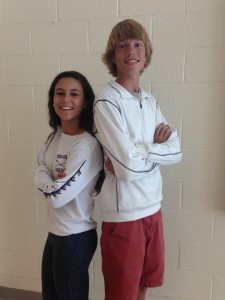 By Natalie Reich
Sentry Staff Reporter
A Glance Into the Life of Spencer Croft
Although junior Spencer Croft may seem like an average high school student, he is much more than that. He has been on The Sentry staff for two years and has a sister, Nicole, who was on LitMag. Croft is committed to his academics, specifically his favorite subject, math.  He is also involved in athletics, his favorite sports being golf and basketball. Croft is such a golf enthusiast that when asked who he would want to befriend out of anyone in the world, he answered with Rory McIlory, who is a professional Irish golf player. In fact, the coolest thing Croft has ever done was travel to Ireland to play golf with his father and grandfather.
Being the intelligent young adult that he is, if he were ever stranded on a deserted island he would choose to bring,
"…a pot so i can drink water, another person, probably a survivalist and some sort of weapon like a spear or knife," said Croft.
Naturally, he thinks humans are innately good which is shown in his ever so kind personality. However, his favorite movie happens to be a story centered around evil, The Dark Knight. Growing up right here in Arlington, he has always lived in the area but his favorite place he has ever been is Kenya.  When asked what superpower he would like to have, Croft replied with,
"I think I would want to be able to fly."
With a variety of interests, Croft is a friendly well-rounded student. He is looking forward to an exciting year on The Sentry staff.
By: Spencer Croft
Sentry Staff Reporter
Natalie Reich is a sophomore and is starting her first year on staff. She was born and raised right here in Arlington, Virginia. Reich was drawn to The Sentry due to her love for English. Aside from being committed to journalism, Natalie spends her time working hard in school and rowing on the crew team. Outside of school, Reich enjoys spending time with her older brother, David. When asked about her favorite vacation Reich replied,
"probably traveling out of the country to Rome and London with my family."
When asked if she could go anywhere in the world, Reich commented,
"I've always wanted to go to Australia."
Reich has many hobbies that she enjoys to do in her down time.  She loves to read, cook, sleep and spend time with her friends. If Reich were to be stuck on an island she would want to be stranded with a survivalist. Reich described herself with one word, energetic. In terms of her future, Reich said,
"I don't know what I want to be, maybe something with writing. I really have no idea."
Reich is looking forward to her sophomore year, and also looking forward to an incredible year as part of The Sentry staff.