Letters from the Class of 2020: Yorktown Hype Squad Leaders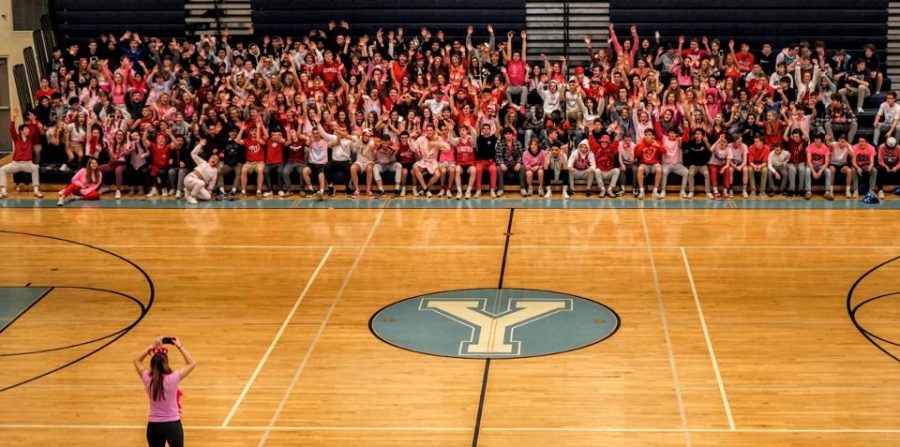 Aidan Burnside and Charlie Connally, Yorktown Hype Squad Leaders
June 18, 2020
The Yorktown Hype Squad Leaders are in charge of bringing the energy to the school's student section. Their job includes picking themes for games, starting cheers like "I believe that we will win" and getting the student body to attend both home and away games. The Class of 2020 saw Yorktown sports achieve historic success, to which the Hype Squad was front and center, cheering it all on. 
Dear Yorktown Seniors,
Well, what a four years it has been. While it may not have ended the way we wanted to, we sure did make the most of it on and off the field, and in the stands. From the rocking bleachers at each home volleyball game, one of the strongest swimming performances Yorktown has ever had, a top tier track team, a Cinderella story field hockey season, an 11-2 and regional runner up football team with a district championship, perhaps the greatest shot in Yorktown basketball history to culminate one of the most electric seasons the students and administrators have ever seen, and the most dominant girls soccer team to ever grace the pitch, we've truly had it all. Regardless of how you entered, we hope you got to experience a part of the new era of Yorktown culture and spirit. 
One thing we never got to do enough of was thank you all. Every game we came to, home or away, rain or shine, there was always the fear of no one showing up. As a senior class, it would have been easy to check out after a decent fall season and ignore the battle cries of leaders who you all didn't necessarily know or like. But you didn't. It first became evident that we were going nowhere when we brought a hundred fans to Langley on a meaningless Friday night. Then it got better when later in the playoffs, we beat Langley at home, for our first playoff win in ages. Then we traveled to W-L, where we doubled their attendance and enthusiasm, helping the boys to a 20 point blow out in a historic streak ending victory. I personally remember looking ahead to that South Lakes district game with such anxiety that the next Wednesday, I skipped class to venture to Dr. Clark's office, pleading for a spirit bus. No one would make it to Reston, the few passionate seniors would be drowned out by the overwhelming home crowd. 
Oh, how wrong we were. Hundreds of kids were pulled out by us, the seniors, to one of the craziest games I will ever see in person. Somehow, our passion for singing got us into trouble during the National Anthem. We fell down by a good bit early, but the crowd stayed in it. In one of the most electric performances I have seen, Don't Stop Believin' echoed through the stands. Time flew and leads changed, and then it came down to the shot. Our "baby-faced sophomore," as described by the man from the Washington Post later recapping our victory, hit a game-tying shot with fractions of a second on the clock. We later went to overtime and won the first district title in ages for Yorktown basketball. I, Aidan, will never forget holding Ben Corrigan in my arms, shrieking like a child, jumping up and down. I hope everyone has a great memory this vivid of something during your time in the stands or in the school. 
It is only right to thank those who gave us the keys to the kingdom, Dustin and Bergen. In one way or another, you guys showed us how to do it, and we did what we could to keep moving up. Thank you. 
Mr. Krulfeld did his best to not ban us from the games. Thank you. 
The assistant principals did everything they could to keep us composed and in line. Thank you. 
But most of all, 2020, you guys made the weekly calls into Krulfeld's office to reprimand our boisterous behavior well worth it. You showed up, got loud, and finished games. Thank you. 
If there is one lesson to take away from our time in the stands and on the sideline, it is to approach whatever life throws at you with vigor, enthusiasm, and a sense of humor. We unfortunately know exactly what it feels like to have something we took for granted snatched up before we could squeeze the last fun out of the sponge. If you're able to accomplish these things, you will be on track to exceed the greatest of memories and accomplishments that we have seen in our time here. We love you guys more than you could imagine. LET'S GO YORKTOWN, PATS BY A TRILLION. See y'all at homecoming. 
Farewell, 
Charlie Connally, Aidan Burnside, and the beautiful other members of the Yorktown Hype Squad, Chloe, Hayden, and Isabelle.