Letters from the Class of 2020: Galilee Ambellu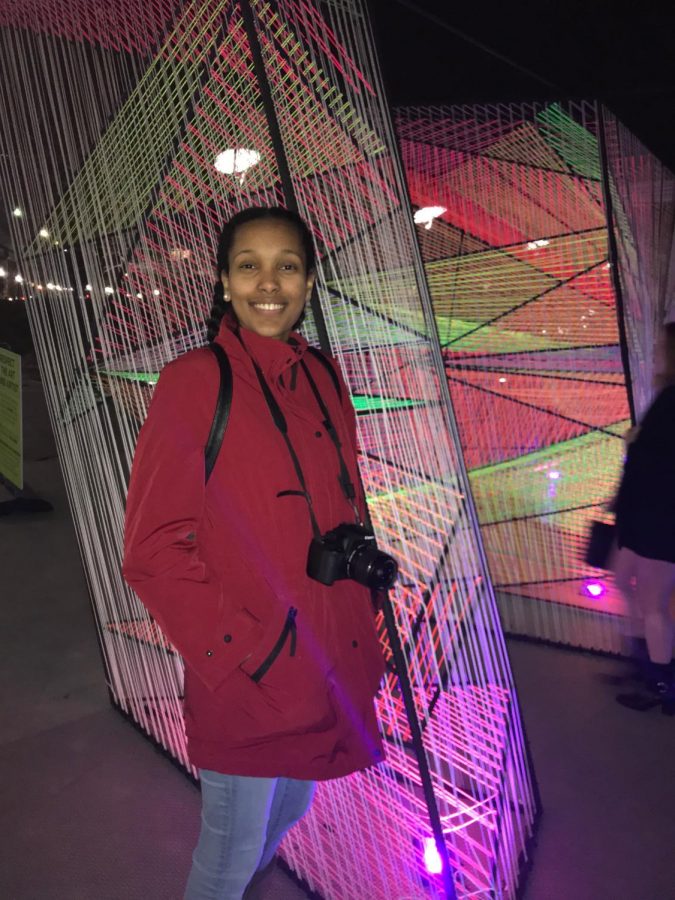 Galilee Ambellu, Class of 2020
June 18, 2020
Galilee Ambellu was involved in numerous clubs at Yorktown, but she was most proud of her time as a Key Club Co-President. She plans to double major in Neuroscience and Psychology with a minor in Chemistry at the University of North Carolina at Chapel Hill next year.
My first encounter with Key Club was when my ninth grade English teacher explained the club's mission after school. Students typically assume that the club is about making keys, from the obscure name, but in reality it is an international organization. Key Club connects students with volunteering opportunities within their school and county, as a way to complete community service hours. I first joined the club when I was a sophomore, but later became Co-President alongside Jeana Kimelheim for my junior and senior years. As Co-Presidents, our duties are to run club meetings, introduce ice breaker activities, message the Key Club GroupeMe with polls and reminders, create service projects, set goals for the year, and train future officers.
During the past two years, we were able to increase club member attendance and service opportunities, such as making cards for the Children's National Hospital, fleece tie blankets for homeless shelters, paracord bracelets for First Responders, and many more activities. I loved my time with the club and am grateful for the opportunity to learn leadership skills from it. Running the club helped me learn the importance of planning ahead. The Leadership Team (Presidents: Jeana Kimelheim and Galilee Ambellu, Vice Presidents: Becca Goldrup and Shelton Kwitervovich, Secretary: Kate Marston, Treasurer: Reese Pickard, Editor: Claire Rutenberg, Promotional Officer/Media Outlet: Maddy Tait, and Volunteer Coordinator: Haley Gregory) met over the summer to plan out a year's worth of events before the first day of school, which prevented the stress of planning during the academic year. Kate Marston made a wonderful Google calendar for the club with tentative dates, so that the club members could mark meeting dates in their planners ahead of time.
I believe having a large Leadership Team worked to the club's benefit, as the responsibilities of each leader was lowered so they could devote more time and attention to the few they had. Part of being a leader is recognizing that there is a fine line between ambition and unrealistic expectations. I believe understanding this early on prevents anticipated stress in the future.
I try to be involved in numerous activities, such as the Principal's Advisory Board, Freshmen Mentor, and Executive Board, with the intention of helping others. Arlington Public Schools (APS) provides me with a multitude of educational resources and I want to give back in any way I can. I often take the school system for granted, not realizing how lucky I am to have my AP Exams paid by the county, the Writing Center, and other educational support systems, and use volunteering as an outlet to pay their kindness forward.
My advice to the class of 2020 is to hone in on a couple of extracurriculars, in an effort to make change in your community. Joining many organizations seems like fun, but from personal experience I have dropped countless clubs, simply because of time constraints. I would also practice networking in the organizations you are a part of. I volunteered at various 2020 Census booths over the summer, in hopes of advocating for the Arlington Complete Count Committee (CCC). I ran the booth with one of the CCC Co-Chairs, Wanda Pierce, and after talking about my extracurriculars she invited Key Club on her podcast "Philanthropy Matters." Kate and I spoke on a segment to promote the club and received a donation from Ms. Pierce at the end of the broadcast. Unexpected opportunities arise everyday, so I would encourage my peers to always advocate for themselves in social situations.