Dylan Bailey – JJ Martin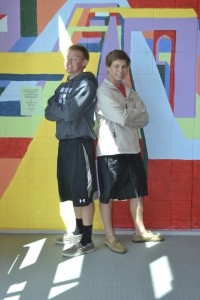 By: Dylan Bailey
Sentry Staff Reporter
Many do not know the genuinely kind face of Joseph "JJ" Martin, a junior who recently moved to Arlington from Illinois. Coming from a military family, Martin has lived many other places around the United States. Some of these places include Colorado, Kansas, Alabama, Arkansas, Hawaii and Florida.
A man of many talents, Martin runs track and field as well as cross country. In addition, he swims and hopes to join the team this winter. Martin has been training extremely hard this past summer and he thinks that he can make the already accomplished swim team, even better. When asked what he did this past summer, Martin replied:
"I moved here. I ate, slept, swam and moved."
In his freetime, Martin likes to watch action and comedy movies, but he was not able to pick his favorite because it was too difficult to choose one. If he had to choose a celebrity crush it would be Kate Upton. Martin also has taste buds geared for Italian food, seeing that his favorite food is spaghetti and meatballs.
"If I could go anywhere in the world,I would definitely go to Italy because I love their food so much," says Martin.
Although Martin has only been in Arlington for a few short weeks, there is no doubt that he is going to fit it. A friendly and caring man, Martin seems like the perfect fit for the Sentry staff for years to come.
By: JJ Martin
Sentry Staff Reporter
Junior Dylan Bailey meets the definition of a hero. He saved his 10-year-old cousin, who Bailey said was not a very good driver, from a horrifying four-wheeler accident. His cousin's foot would have been crushed if it was not for Bailey's heroic act.
As an Arlington native, Bailey loves the Washington Redskins, the Washington Wizards. the Nationals and the San Francisco 49ers. He used to play baseball, but now plays house basketball, a local youth league for students in grades one through 12.
Although he loves sports, his future has more of an academic focus. "I want to go to a good college, graduate, have a good steady job and raise a family," Bailey said.
He hopes future employers don't go too deep into his background. His most embarrassing moment was last summer.
"I go tubing sometimes with my friends and I got tossed off. And like the impact of the water made my bathing suit fall off," Bailey said. He finally found it after treading water.
"That was pretty embarrassing," he said.
What is not so embarrassing is his description of what his super power would be if he were a superhero.
"I'd probably have the ability to teleport. I could go anywhere in an instant."
He would have the opportunity of getting to his lunch period first if he had that super power.
Every high school student has a favorite meal. Bailey enjoys an "excellent" steak dinner with a Caesar salad.