Reece Lincoln – Joanna Domson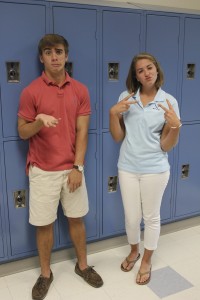 By: Joanna Domson
Sentry Staff Reporter
A Sensible Senior
"I like getting my ideas out on paper, and molding my words into the way I want to present them," says Sentry Staff Opinion Editor, Reece Lincoln, about why he is joined the staff.
Lincoln, a senior, is interested in attending Vanderbilt University, University of Virginia, Tulane University or the University of Arkansas.  He says he would love to go into a career in math or science, or maybe even medicine.  Lincoln's favorite subject is math because he says:
"There is an answer to everything, sometimes you just have to chug through it."
In his free time Lincoln likes to play sports, especially football, because he plays for the Patriots football team.  His favorite sports team is the University of Arkansas Razorbacks, a prominent football team in the Southeastern Conference (SEC).  He also likes to keep busy with clubs and hanging out with friends.
When asked about his most interesting cousin Lincoln says:
"My cousin Leslie Murphy was on The Bachelor, (a reality dating show where a bachelor eliminates eligible women until one is left) she made it to number five….she is hilarious…and a little spoiled, but a) everyone has their flaws."
Lincoln also has a dog named Coco, who he loves spending time with and is very energetic and happy.  He also owns a very manly car; a little blue Honda Civic.  Lincoln does not currently have a job, but he did work as a lifeguard and at a summer camp over the summer, which he enjoyed.
By: Reece Lincoln
Sentry Staff Reporter
On a bright, sunny, September Tuesday, Joanna Domson strides through the doors of room 249. The dreamy days of summertime begin to fade as quickly as the first day seemed to fly by when the bell of eighth period dings softly through the classroom. The first day of her junior year started to come to a close.
Joanna Domson was born on August 25, 1997 and currently lives in Arlington Virginia. She attends Yorktown High School as she begins her 11th grade year as a junior. It is going to be her first year on the Sentry staff but seems quite sociable and friendly.
"My favorite thing about school is I get to see my friends everyday," exclaims Domson when questioned about school.
Nextly, question after question was presented to try to learn a more personal view of Domson. We found out that if she had to ever be attacked by an animal she would choose to be attacked by a bunch of puppies, giggling softly to herself at the ridiculousness of the question.
Other crucial information about Joanna includes that it would take around one billion dollars in order for her to streak through the school hallways, between wearing an eskimo snow suit in the desert or being nude in an ice storm she wisely chooses the desert and finally if she could have one superpower she would choose the ability to fly.