Isabelle Foley – Jackson Cummings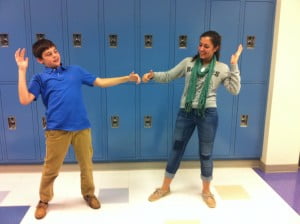 By Jackson Cummings
Sentry Staff Reporter
Isabelle Foley has been with The Sentry for two years now. Looking into the future, Foley hopes to become a journalist or a reporter. She joined The Sentry staff to help pursue that dream. Her hard work and love to write has helped her produce well-written and astonishing articles for The Sentry. Foley hopes to have a successful, entertaining and enjoyable life.
Foley describes herself as an outgoing individual, who enjoys cracking jokes and interacting with her friends. She believes her friends would describe her as,
"Weird, in a sarcastic, funny, enjoyable way."
When asked what superpower, if any, she could have, she chose being able to fly.
"If you can fly, you can go anywhere you want, whenever you want."
Foley has four people in her immediate family. However, she also has relatives in New York, Florida, Germany and Lebanon. The words she chose to describe her favorite place, Lebanon, are,
"All of my family is there, and it is really beautiful and peaceful. "
Foley enjoys playing sports like basketball and tennis. She currently plays for the Tennis Team. She has a wide skill set, including playing piano. Believe it or not, she has played piano for an impressive 12 years (and counting). Although she currently has no individual role model, Foley looks up to multiple people. Foley has made a significant, positive impact on The Sentry throughout the years.
By Isabelle Foley
Sentry Staff Reporter
A Notable Newcomer
Talented, energetic and an enthusiastic writer, freshman Jackson Cummings is an exciting new addition to this year's Sentry staff. Following the advice of his brother, former staff member Mike Cummings, and his own desire to have a career in journalism as an adult, Cummings was eager to become a part of the newspaper production process.
"I've heard great things about the class," remarked Cummings.
Voted "Most Unique" in middle school, Cummings has a long list of interests and abilities. In addition to being left handed, he is athletic, enjoys spending time with friends and is thinking about joining the Debate Team. Cummings plans on capitalizing on these skills by being involved in after-school activities.
"I am definitely going to wrestle…and I'm most likely going to try out for soccer and possibly lacrosse."
Although his first year in high school has just begun, Cummings has already had a great experience at school.
"I have made a bunch of friends…I just like Yorktown so far," said Cummings.
In fact, his favorite class is journalism. Not only has he had the opportunity to meet many new people from every grade, but he has the chance to develop his skills as a writer.
"I'm most interested in writing for the opinion section because it is a broad topic…I like getting my thoughts out there," said Cummings.
With high hopes for the years ahead, Cummings hopes to make the best of his experience in high school.
"Before I graduate, I think I would like to be in the Honors' Program, and recognized as someone who is on a sports team…I definitely want to be remembered," Cummings concluded.