Rotker Reviews: ESPN's "The Last Dance"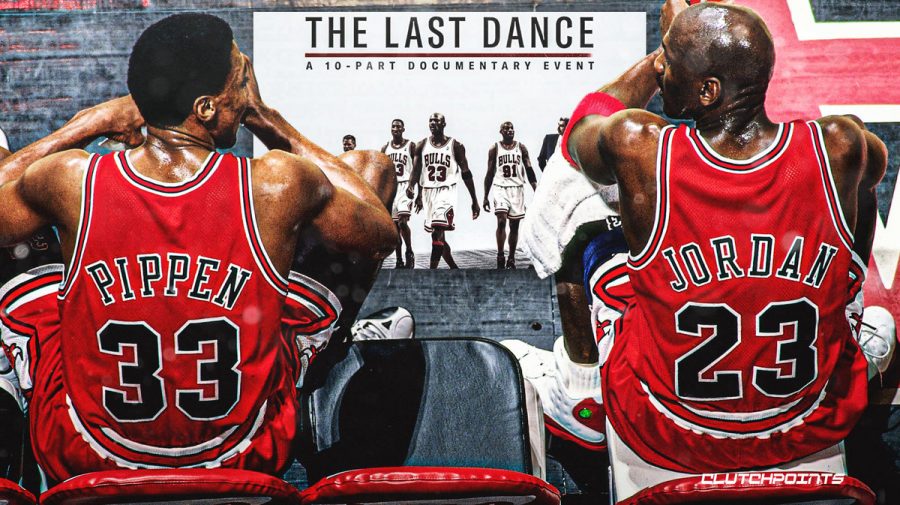 Evan Rotker, Sentry Staff Reporter
May 22, 2020
Few athletes have captured Americas' hearts and minds like Michael Jordan. His on-court domination, paired with his incredible off-court influence, have made him one of the greatest athletes of all time. ESPN sought to display this prowess in their new documentary, "The Last Dance." This followed Jordan's final season with the Chicago Bulls in their effort to win a sixth championship.
The documentary was scheduled for release in June, but the Coronavirus pushed up this timeline. With nothing to do at home, fans hounded ESPN to release the documentary early. On April 19, parts 1 & 2 were aired, and each Sunday since has followed the same pattern of two episodes back-to-back. 
The first three episodes individually delved into the three biggest stars on the 1998 Bulls. First, Michael Jordan. Jordan attended the University of North Carolina and entered the National Basketball Association (NBA) scene with power, quickly establishing himself as a superstar in a league of superstars. In his early years, he racked up incredible point totals and brought the organization out of borderline economic disaster. For the first time, people in Chicago wanted to go see their basketball team play, almost solely because of Jordan. In the '85-'86 season, Jordan struggled due to a foot injury but almost single handedly carried the Bulls to a playoff appearance. This opened the league's eyes to the fact that Jordan was more than a star, he was a generational talent that simply needed a few more pieces around him.
The 1987 draft provided the first of these pieces, in a Central Arkansas player named Scottie Pippen. The Chicago Bulls traded with the Seattle Supersonics to acquire him, the first piece to compliment Jordan. He grew up in a difficult situation- his father and one of his brothers were stuck in wheelchairs, and his interviews in Episode 2 chronicle how basketball provided an  escape from these home pressures. They also describe the complex relationship between Jordan and Pippen. In his early years in the league, Jordan's unmatched competitive spirit pushed Pippen and the rest of the team to their absolute mental and physical limits. This put some strain on their relationship, but eventually developed Pippen into one of the top players in the league. Even despite this, he was perennially underpaid by Bulls management, and sometimes felt that his skills were unappreciated.
The management aspect is a crucial piece of the Bulls dynasty. Despite coming off of six championships in eight years, Bulls General Manager Jerry Krause insisted that 1998 would be Coach Phil Jackson's last season on the team. Jordan stated that he would not stay in Chicago without Jackson, meaning '98 would be the team's 'Last Dance.' Some of this was Krause's selfishness- he wanted to show that he could win a championship without a legendary player and coach. Regardless of motive, it created a palpable tension between players and management. Jordan was often seen berating Krause, jokingly or otherwise, and many of the players held a true hatred for him. The documentary paints him as a villain to Jordan and Jackson. In the 1992 Olympics, Jordan and Pippen famously went after Toni Kukoc, a Croatian player that Krause viewed as the future of the Bulls. Kukoc eventually joined the Bulls and they became close, but the Olympics was all about sending a message to Krause. By holding him to single digits, they showed where Krause's focus should be, and that Pippen should be paid before anyone else was even considered. Unfortunately, he was the only crucial member of the organization who was unable to defend himself in the film- he passed away in 2017.
Throughout the late 1980's, Jordan and Pippen led a very successful team, but always came up short to the notorious 'Bad Boys', the Detroit Pistons. With players like Isiah Thomas, Dennis Rodman and Bill Laimbeer, they played a violent style of basketball that the Bulls struggled to overcome. They weren't scared to foul hard, injure players or even fight. The Bulls had their season ended by Detroit three times in the late 80s, but finally got over the hump in 1991. 
A couple years later, the Bulls went out and signed Dennis Rodman, who brought a crucial rebounding piece to the team. Beyond that, his personality was nothing short of eccentric. He dyed his hair wild colors, wore crazy clothing and had piercings covering his face and body. For the most part, the players turned a blind eye to him as long as he performed on the court. In the midst of the '98 season, Coach Jackson even okay-ed a 48 hour trip for Rodman to take to Las Vegas, an incredibly unorthodox move in the midst of a championship season. However, he was locked in upon his return and played with a chip on his shoulder from that point forward. With skillful scorers like Pippen and Jordan, having a tough rebounder in the paint was crucial. Despite his off-court antics, he was a master in the art of rebounding. In one incredible scene, he describes studying the spin that each player's shot took, and how to perfectly position himself to grab the ball off the backboard.
The '91 team was the first of the Bulls original '3-peat.' They went on to win again, handily, in the '92 finals against the Portland Trail Blazers. Up to that point, many other stars had won two finals in a row, but three was a whole different story. Jordan and the 'Jordanaires' set themselves above others like Magic Johnson and Larry Bird by capturing the '93 title, and Jordan became far more than a sports figure. His incredible success, alongside famous endorsements (most notably "Air Jordan" sneakers) brought his fame out of the NBA and exploded it into mainstream American culture.
With this success came enormous amounts of pressure. The documentary details the insane day-to-day struggles that he faced, and that games were the least of his problems compared to media and societal pressure. Naturally, as he was built up as a hero, there were eventually attempts to tear him down. Jordan's incredible competitive drive existed in more than basketball, he was a notorious gambler. Nothing he did was against the law in any sense, but he did gamble extraordinary amounts. As documented, it was mostly on golf and cards, but he would never turn down a bet that challenged him personally. For Jordan, it wasn't about needing the money, it was about asserting his dominance in every imaginable game. He made sure to state that he never bet on basketball in any sense, and that he never came close to breaking any laws. 
People also questioned his dedication to causes outside of basketball when he refused to publicly endorse Harvey Gantt, a black senator from his home state. He claimed, in jest, that "Republicans buy sneakers too" and that he didn't want to alienate half of his fan base. In the documentary, Jordan asserts that people wanted him to be more than he was. They wanted a perfect hero without any stain on his record, but (despite looking all-powerful on the court) he was only human.
The documentary also covered the 1992 "Dream Team" in the Olympics. The roster was incredible, flexing the biggest stars in the NBA all competing for a gold medal. Jordan and Pippen both played, alongside their NBA foes- Charles Barkley and Magic Johnson among others. Jordan famously did not allow Isiah Thomas on the team, their beef was insurmountable to mesh together on a national team. The USA won the medal handily in Barcelona, and their success only propelled basketball's popularity around the world. They defeated Kukoc's Croatia in both the Group Stage and the championship, and brought the gold back home.
After the 1993-94 season, Jordan shocked the sports world by retiring from the NBA to pursue baseball. Many factors contributed to this, especially his father's abrupt death that summer. On a road trip in North Carolina, James Jordan pulled over to take a nap. He was tragically murdered in his own car, and Michael was hit hard. His dad was a powerful presence in his life, and the loss was exacerbated by the fact that many media outlets baselessly claimed that Michael's gambling had something to do with his father's passing. This, combined with insane pressure to win, took the fun out of basketball. After the three-peat, Jordan said that winning wasn't a joy, but a relief. For him, starting with a new challenge, especially his father's favorite sport, would start to heal the pain that his death brought and bring the joy back into competition.
And compete he did. Jordan brought his otherworldly tenacity to the Birmingham Barons, the AA affiliate of the Chicago White Sox. Although he should've started in Single A, he was promoted simply because only AA had the proper press facilities to handle the coverage of his games. Jordan was always the first one to batting practice, and would stay after games to hit even more. Barons coach and eventual Major League Baseball champion Terry Francona claimed that, with enough time, Jordan would have made it to the pros. His hitting improved as the season went on, but more importantly he rediscovered the boyish jubilation that sports brought him. Rather than an intense burden, baseball was a new challenge and an opportunity to just be "one of the guys" in the locker room. 
In the first season without Jordan, the Bulls came up just short, falling to Patrick Ewing's New York Knicks in the Eastern Conference Semifinals. Pippen led the team, assuming Jordan's role. Although a great player, there was still a noticeable drop-off without Jordan at the helm. They posted 55 wins and ended up third in their conference, a respectable finish but a tier below the three-peat teams. Chicago was relieved, therefore, when the next baseball season was delayed due to a strike. Jordan, alongside most baseball players, refused to play, and slowly was drawn back to practice with the Bulls. Before long, he was coming out of retirement to save a floundering 1995 team. He sent a telegram to the press simply stating "I'm Back." However, he had been out of basketball shape for well over a year, training a completely different set of muscles for baseball. His personal trainer, Tim Grover, asserted that he was only 70-75% of his full self, but he still gave his all, willing the Bulls just shy of a championship. 
He returned in number 45, stating that his new number was a testament to his father. He didn't want to play in the last number his dad had seen him in. However, when he almost single handedly lost the Bulls Game One of the Second Round, opponent Nick Anderson claimed that "45 doesn't explode like 23 used to". This was more than enough fuel for Jordan to switch back to 23 and dominate. Although the Orlando Magic won the series, Anderson had woken a sleeping giant and Jordan was back for good.
Rather than taking time off, Jordan went back to work the day after the Magic loss. That summer, he filmed 'Space Jam,' the iconic crossover movie with Bugs Bunny. He would film starting at 7 AM, and workout the rest of the day in a dome that Warner Bros. created for him. All of the top players were invited and they would play pickup for hours. Unbeknownst to them, Jordan used this to scout his enemies and prepare a game plan to take back the league in the following year. 
His hard work paid off in the 1995-96 season, when the Bulls went 72-10, the best record of all-time to that point. The team was truly a force to be reckoned with, as Jordan was all the way back to his former self. He had fully meshed with new teammates Steve Kerr, Bill Wennington and Toni Kukoc. Alongside pre-established stars Pippen and Rodman, they dominated the league. The only team to beat them more than once in the regular season was the rising Indiana Pacers. However, they had no trouble with any of the first three rounds of the playoffs- two sweeps and one "Gentleman's Sweep"(4-1 Series Victory).
 They cruised into the Finals riding high, where they faced Gary Payton's Seattle Supersonics. Critics claimed that the series wasn't a competition, but a coronation for the greatest team of all-time. The Bulls affirmed this in the first games, winning handily in all three. But in Game Four, Coach George Karl switched Defensive Player of the Year Gary Payton onto Michael Jordan, a formula that worked in Game Four and again in Game Five, tightening the Series to 3-2. But Jordan would not be denied. In Game 6, he led the Bulls to their fourth title in six years, and completed the greatest return in the history of sports.
The next season was impressive, but not quite legendary in the way the 1995-96 year was. The Bulls cruised to a 69-13 final record, nicely earning the top seed in the east. This time, their Finals' foe was the Utah Jazz. Asked about extra motivation for the series, Jordan simply responded that Karl Malone had won the Most Valuable Player award. This wasn't much, but it was all he needed. Malone probably deserved the award, but Jordan wanted to prove himself regardless. After winning two at home, the Bulls flew out west, hoping to seal the series in a sweep. But Malone and his hall-of-fame teammate John Stockton had other ideas. They won Game Three handily, further pumping up the already imposing crowd. Jordan called the loss "just a bump in the road", but there was more struggle to come. Next up was a low-scoring affair in which the Jazz also prevailed, tying the series at 2-2. 
The documentary shed some light on Game Five, which is popularly known as the 'Flu Game'. Jordan persevered through harsh symptoms and pain to lead the Bulls to a victory. It turned out, however, that the true culprit was food poisoning. Late on the eve of the game, Jordan sought a meal but everything was closed except for one small pizza restaurant. Suspiciously, five people showed up to deliver it, and Jordan's trainer, Tim Grover, advised against eating the pizza. Something seemed fishy, so no one else even touched the food. Jordan didn't care and ate most of it himself. At roughly 3 AM he called Grover, who attests that Jordan was curled into the fetal position and throwing up constantly. His bounce-back and ability to play through pain is still heralded as one of the greatest persevering performances of all-time. He scored 38 points and willed the Bulls to a victory. His teammates claim that as soon as a timeout was called, life would seep out of his body and he almost appeared asleep until it was time to play again. 
This shifted the tide of the series, and a Steve Kerr game-winner back in Chicago sealed it. This shot earned the respect of Jordan, who took on a double team to open up Kerr. At the championship parade, Kerr joked that Jordan was too nervous to take a late game shot, so he stepped up to "bail Michael out again". This was just a piece of the complex relationships between Jordan and his teammates from whom he provided so much but demanded even more.
"The Last Dance" bounced between the fabled '98 season and Jordan's journey to get there. It was clear that Jordan's international fame, along with rumors that it would be his last season, made every single game of this last season a spectacle. The Bulls management attested that tickets were nearly impossible to get, even in away games that were usually not sold out. Celebrities gloated that you had to know someone to get in. People travelled the world and spent ludicrous amounts of money to see one man, Air Jordan himself. Chicago's United Center had the highest attendance of any NBA court. 
This pressure mounted on the team, as they were expected to perform at an incredibly high caliber all season, especially with Krause watching down on them. This was also exacerbated by their slow start. The team that had lost just 10 games two years ago started off just 8-7. They eventually hit their stride, but there were no easy battles, as everyone wanted a shot at the king. 
They finished with a 62-20 record, still atop their division but not quite the same dominance as portrayed in earlier years. After a sweep of the NJ Nets in Round One, they faced the (now Jordan-owned) Charlotte Hornets. After a Chicago win in round one, ex-Bull B.J. Armstrong took his shot at the throne in Game Two. He heated up down the stretch and capped his performance with a jumper to seal the game, proceeding to taunt the Bulls bench. Jordan claimed he thought "B.J. knew better" than to give him extra fuel going forward. But it was too late for Charlotte, and their flash in the pan was ended in three straight Bulls victories where Jordan averaged thirty points while targeting Armstrong. 
Their next test was the Indiana Pacers, a Larry Bird-led team that was one of the best the Bulls ever faced. Reggie Miller exclaimed that he wanted to be the one to end Jordan's dynasty, but came up just short. 
The Bulls took the first two games, but Game Three went to Indiana. Game Four, the most memorable of the series, was an instant classic. Driven by the chance to tie the series, the Pacers hung in all game. It was back and forth the whole night, and with two seconds left, Reggie Miller gave the Pacers the lead. He sprinted up from the basket, gave Jordan a shove in the chest to create space, then drilled a turnaround three that sent the crowd berserk. Everyone celebrated, except Coach Larry Bird, who stoically watched as the shot went in and knew that Jordan would still have a chance of his own. Everyone knew where the Bulls were going with the ball, yet somehow Jordan still broke free, double-clutched and put up a shot that bounced off the backboard, spun around the rim…… and tragically rolled out. The series was tied, and the Pacers had a real shot to win. After splitting the next two, it was time for Game 7, a winner-take-all matchup to represent the East in the Finals. 
In a game advertised as the possible end of Jordan, the Pacers jumped out to a quick lead. Jordan passed the playoff scoring record in the second quarter- on the way to tying the game up.  It remained close until the fourth quarter and with six minutes left, the Pacers were up three. There was a crucial jump ball that, if won by Indiana, could've put the Pacers into a very good spot to win. Doubt started to creep in for Chicago's players. However, the jump ball ended up in Kerr's hands, who drilled a three. He ignited the crowd, tied the game, and eventually, never looked back.
Now, there was just one more obstacle in the way of completing the Last Dance. It was back in Salt Lake City, where the Jazz finished with an identical 62-20 record and had their sights on a title. The whole final episode was dedicated to this intense series. Utah's home crowd was notoriously hostile- even Jordan's children watched the game at home rather than taking the trip out west. The Jazz had improved since last year's matchup, and this showed as Game One was a dogfight that went to overtime- Jordan assisted Luke Longley on a layup to even the game at the end of regulation. Stockton responded with a clutch OT And-One that propelled the Jazz to a 1-0 series lead. 
From there, the tide started to shift. The Bulls took the second game in thrilling fashion, a five-point win to even the series and send it home with a split. Game Three continued on this path, and was a monumental blowout for the Bulls. They made the powerful Jazz appear pedestrian, and asserted their dominance in a 42-point rout. Every single player on Chicago's roster scored at least once, and Utah was held to a measly 54 points, the lowest in the modern era for any game, playoff or not. 
Even amidst the NBA Finals, Rodman was distracted. He missed the first practice after this game and was seen with Hulk Hogan (yes, the wrestler) that night. Quite simply, he had blown off the championship to knock people over the head with folding chairs. This threw another wrench into the series, but Jackson understood his importance, especially defensively, and knew that Rodman had to be his eccentric self in order to maximize his potential. The media jumped on this story, further painting him out to be a hindrance to the team. In one scene, they literally chase him out of the building, cameras in hand, trying to get a statement or even a glimpse of Rodman back in Chicago. He sought out to prove the media wrong, showing more energy than ever in a 14-rebound effort including two late free throws that elevated the series lead to 3-1.
The Jazz dominated early in Game Five, led by 39 points from Malone and 12 assists from Stockton. Yet, the Bulls pulled within one on a three from Kukoc late. After a Stockton free throw, it was a two-point game with 1.1 seconds on the clock. The storybook ending was set: A signature Jordan buzzer-beater at home to finish the Dance and his career. But the reality was different. His turnaround attempt fell short and the Jazz hung on, 83-81. 
Both teams returned to Utah for a much-anticipated sixth game. After winning the tip, Ron Harper found Pippen down low, and he slammed it home to give the Bulls a 2-0 lead. This, however, was a pyrrhic victory- they discovered that Pippen aggravated his back and had to come out of the game. The burden shifted to Jordan. It was his team, had always been his team, and it was time to show that to the world one last time. As the game progressed, it became chippy. The Jazz tried to physically tire Jordan in every way possible, while Malone and Rodman went at it in the paint. Pippen returned to start the second half, but was a shred of his normal self. He admitted that he was simply there as a decoy, to draw the defense away from the real scorers. At the start of the fourth, Jordan began to come up short on his shots, a textbook sign of fatigue. He battled back, however, his efforts almost superhuman.
Down three after a jumper from Stockton, the Bulls called a timeout with 41 seconds. This gave the team a bit of rest and a chance to swing momentum back in their favor. From there, it was pure domination on Jordan's part. He took over the game like no player has ever done before. He took it to the hoop and cut it to two. Then, he swatted the ball from Malone's hands, giving them a crucial stop. He took the ball down the court, making sure Jackson didn't call a timeout. Both Pippen and Rodman said, after the fact, that they knew he was taking the shot. Pippen's only thought was to "get the hell outta the way" as Jordan pushed the floor. He crossed over from right to left and drilled a jumper at the top of the key, giving the Bulls a one point lead. Stockton's last ditch effort fell short, and the second three-peat was a reality. Jordan jumped and fist bumped- emotion evident, then proceeded to embrace Jackson and whisper "I had faith. I had faith."
But Jordan had much more than faith- he had true greatness. The documentary addressed every aspect of this, and what propelled him to his throne. His tenacity remains unmatched, and his dedication a step above every other athlete to ever step on a basketball court. Words don't do justice to the look in his eyes down the stretch of a close game. His mentality, as stated, was to win at all costs- and that's what he did. He elevated his teammates by pushing this mentality on them, testing their every limit as he tested his. His competitive drive was unbelievable- at everything in life. If there was any doubt before, there's none now. Air Jordan is: The Greatest of All-Time.