African American and Latin American Studies Classes Coming to Yorktown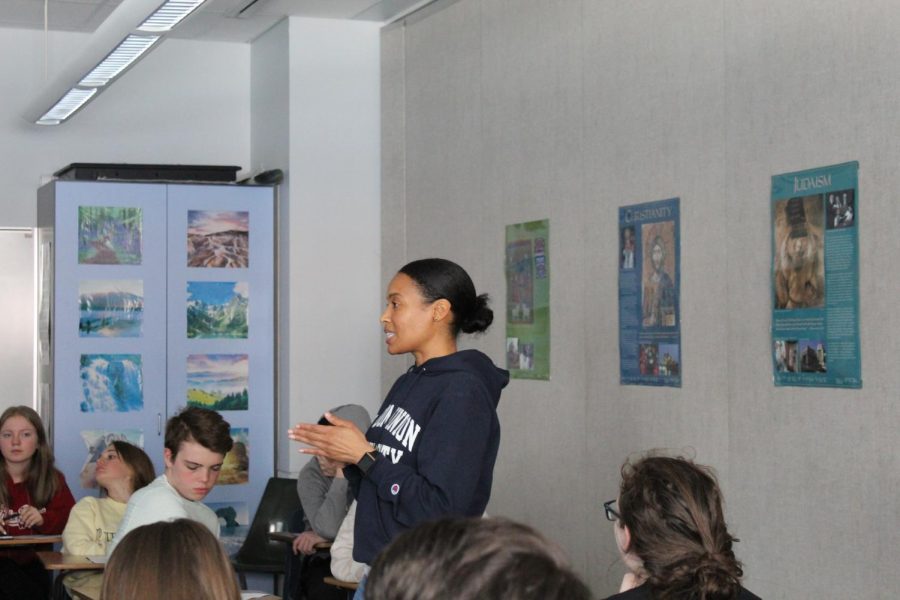 Fiffy Donahoe, Sentry Staff Reporter
March 13, 2020
The doors are opening to a bigger and brighter world for students in the coming years. The Social Studies department is getting an update with the introduction of Latin American Studies and African American Studies classes next year. Such long avenues of history so rich and moving have been left in the dark for too long. The time has come to turn on the light.
History classes follow students throughout their careers in the Arlington Public School (APS) curriculum. George Washington gliding across the sleek Delaware River is an image we are all too familiar with. We studied the ancient empires, their remnants now lying in museums. We swam through the depths of World War II year after year. We followed the veins of European heritage flowing throughout our history but haven't we always been told the United States is a melting pot? There seem to be some noticeably large plot holes that have been clumsily covered over the years. However, the times are changing with these new additions on the horizon.
Social Studies Department Chair and government teacher Diane Holland is anticipating the arrival of the courses. The classes are already available to both Wakefield High School and Washington-Liberty High School students. Talk of implementing them into our  school had been circulating for some time, but in the end the students were the final catalyst.
"Students in conversation with each other and with their teachers heard that it was a possibility.  They really pushed for it and started to write it in, even before it was officially offered. That created the impetus that we were able to offer it here," Holland said.
Social Studies teacher Traci Selden has been asked to teach the African American Studies class next year if enough students sign up to take it. The pressure to take Advanced Placement (AP) courses tends to drive students away from choosing elective history classes.
"The culture of the school … [is] so AP driven. Some people are so focused on taking AP courses … that they may not feel like they have room for an elective," Selden said.
Another possible snag in the process of getting these classes off the ground is that they have only recently been approved and there has not been enough time or attention brought to their grand opening.
"The timing was pretty bad, because we got the course almost after students had already started selecting their courses on the [Course Request Form] (CRF). I think a lot of teachers have done really well … [with] telling their students about it. It was really left up to the teachers to communicate that information. There was no real literature or anything … that would have let students and parents know that the course was being offered," Selden said.
The course is being offered as an elective rather than a core class, raising concerns about whether it will be able to compete with preexisting history requirements.
"I know there were some talks about letting it count the same as the required US History course, but to my knowledge that has not been confirmed yet," Selden said.
Allowing the class to hold the same weight as required history courses may be a more complicated process, however.
"The US/VA course really gives US history context, and then these [new] classes are about specific experiences with more depth … it's hard to see that they would ever take the place of the contextualizing course of US/VA. If they ever went in that direction, it would need School Board approval to do it," Holland said.
Regardless, these classes being made available is a huge step toward expanding the scope of our understanding of American history, the teaching of which runs a higher risk of being too repetitive with each annual exploration of the Revolutionary War.
"I would have loved to have been able to take a class like this in high school …. It's sometimes very interesting to hear the history of not a dominant culture … [and] I think it's really good for people to learn about people they haven't been learning about their entire lives," Selden said.
Selden's biggest worry about the class – other than not enough students signing up to take it – is that students will think it is only targeting a smaller chunk of the student population, when every student could find great meaning in the class and the stories of unsung heroes.
"Another concern would be … students who are not of color thinking that that class isn't for them …. Maybe next year, we'll be able to push it a little more. If that were the case, I would love to push it with the caveat [that] you don't need to be African American to take this class. It's for everyone," Selden said.
The introduction of these classes represents a larger journey to expand history classes, a journey beginning years ago.
"One of the biggest changes within Social Studies in the last twenty years has been trying to make [history] classes more inclusive and reflective of the experience of a diverse group of Americans as a whole," Holland said.
One of our school's goals is trying to encourage students to explore the world outside the boundaries of their own comfort zones. The best way to accomplish this is deepening our understanding of how the threads of history have woven together to form the fabric of our societies. The introduction of these classes brings us a step closer to breaking the school open to a bigger world.