Democratic Socialism On The Rise Among Today's Youth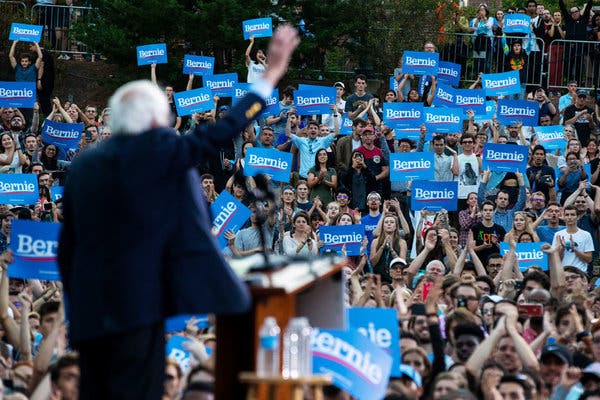 Joseph Ramos, Co-Editor In Chief
February 28, 2020
In 2016, Cathy McPartland, then 15, was confused. Having moved left after reading Karl Marx and listening to Chapo Trap House, a left-wing podcast, the Williamstown, Massachusetts native, now 18, did not know how to define her new political views. 
That changed when Bernie Sanders gained national attention in the 2016 Democratic presidential primary. 
"I put a voice toward my ideas when Bernie came on my radar," McPartland said. "I became a democratic socialist." 
Sanders, a democratic socialist himself, had received over two million votes from people under 30 by June 1 during the 2016 primaries. In the same time span, Hillary Clinton received about 770,000 and Donald Trump got almost 830,000. Their combined total was about 460,000 less than Sanders, a report by the Tisch College of Civic Life at Tufts University said.
Sanders broke from the Democratic establishment by supporting such left-wing policies as universal health care and tuition-free college. McPartland said these views ended her blind following of her party. 
"That was when I started paying attention," McPartland said. "I realized that it is not just 'the Democrats are the good guys, and the Republicans are the bad guys, and all we have to do is vote for Democrats and things will be fine.'"
Now, 70% of Millennials and 64% of Gen Z say they would vote for a socialist candidate, an October 2019 Axios poll said. Since President Trump's election in November 2016, membership to the Democratic Socialists of America (DSA), the U.S.'s largest socialist organization, increased from 5,000 to nearly 60,000, DSA's website said. 
This national rise comes as Sanders vies with more centrist candidates to be the Democratic Party's 2020 presidential nominee. Recent top (or tied for top) finishes in Iowa, New Hampshire and Nevada have shaped Sanders into the race's front-runner heading into Super Tuesday. 
Democratic socialist policies like universal health care and tuition-free college have also gained popularity within the younger generation. An October 2018 poll by The Associated Press-NORC Center and MTV said 69% of people ages 15-34 favor a single-payer national health care plan, and 66% support tuition-free college. 
More democratic socialists, running on these policies, have been put in office with an expanding youth support base. In the 2018 midterm elections, 40 candidates backed by the DSA won in local, state and federal races — including elections in Kansas, Michigan and Florida, states Donald Trump won in the 2016 presidential election. 
To Graham Weinschenk, secretary of the Virginia Young Democrats, these candidates gained youth support by speaking to the concerns of young voters.
"When you look at young people adopting these policy positions and ideologies, it is not really about the policy position," Weinschenk said. "It is about the fact that someone is talking to them and talking about their issues when no one else has been."  
Weinschenk, 20, also said democratic socialism's rise shows widespread discontent among voters. To accommodate and gain these voter's support, he said, the Democratic Party has begun supporting more left-wing policies. 
"It speaks to just how badly our government is failing so many Americans," Weinschenk said. "It is a reaction to a full host of issues, and as that reaction plays out, it is a process of the party trying to adopt some of those positions to continue winning elections."  
Other policies prioritized by young democratic socialists include universal health care, sweeping gun control and urgent climate reform, a February 2019 Harris poll said.
Alice Siu, the associate director of the Center for Deliberative Democracy at Stanford University, said such goals come from young people who feel left out of their government. 
"For revolution or change to take place, there has to be dissatisfaction that has been so long or so terrible that people feel compelled to do something," Siu said. "Youth are dissatisfied and are now willing to step up and make their voices heard."
To achieve reform, DSA has emphasized voter registration and Get Out the Vote campaigns in its chapters nationwide.  
Oren Schweitzer, an 18-year-old democratic socialist, has helped on such efforts in his native New York City. Having worked on the campaigns of DSA-backed New York City candidates Julia Salazar and Tiffany Cabán, Schweitzer said voters engage more in the electoral process when it prioritizes their interests. 
"Millions of people have never voted because they have never seen voting as something that matters," Schweitzer said. "Their lives have gotten worse under every person. When someone says, 'your life can be better,' and will speak to their needs, that will inspire them to vote." 
However, the ideas of democratic socialism are not supported across the political spectrum. Kevin Tierney, a 17-year-old libertarian from Westfield, New Jersey, said that while democratic socialism's main policies "come from the idea of fairness," they are not practical.  
"Everyone wants a fair world, but [democratic socialists] lose sight of the facts and the logic behind it," Tierney said. "Suggestions like raising the minimum wage, universal health care and free college would be great, but the facts of what it would result in is where I lose sight."
In 2013, about 56 million Americans, or around 18% of the U.S. population, struggled with health care related bills, a NerdWallet Health report said. In a universal health care system, the government would control medication and medical prices while making hospitals "provide the same standard of service at a low cost" to all patients, the report also said.       
However, the government must dedicate significant finances to support this low cost. In Canada, a nation with universal health care, some provinces dedicate 40% of their budgets to health care, causing cuts in education and infrastructure, a Queen's University in Ontario study said.  
As young people become more engaged in politics as a whole, the Democratic National Committee has launched a new outreach program called Organizing Corps 2020. The program pays rising college seniors $4,000 to learn organizing and campaign skills in eight weeks of summer training.  
Focused on communities of color in seven battleground states, including Florida, Georgia and Pennsylvania, the Corps is meant to solidify campaign infrastructure among young people for the 2020 Democratic presidential nominee by sending the trained organizers back into their communities.  
"The party is taking advantage of the power that young people have," Weinschenk said. "They are building a base of organizers. As soon as we have a [presidential] nominee, we're ready to go." 
As the Democratic primary enters its later stages, there is still uncertainty about whether young democratic socialists would support a moderate candidate like former Vice President Joe Biden or former Mayor Michael Bloomberg. To David Villani, president of Walt Whitman High School's Young DSA club in Bethesda, Maryland, the "role of socialists is to fight " Trump in the 2020 election, even if it means supporting a moderate Democrat. 
From his association with larger socialist organizations like the D.C. branch of DSA, Villani, 17, said most DSA members would agree. However, a moderate Democrat would still not represent their views. 
"The majority, as private individuals and not in their capacity as socialists, wouldn't oppose Biden because they do believe that defeating Trump is the main priority," Villani said.  
Trump's rhetoric on social media has also contributed to democratic socialism's rise among young people, Siu said. His online language is extreme, so he causes extreme reactions like the reforms of democratic socialism, she added. 
"People like to talk to people they agree with," Siu said. "It is normal human behavior. When you are faced with a president that is very different from you and your values, then social psychology theories say that makes you more extreme."
Siu also said social media lets such democratic socialists as Congresswomen Alexandria Ocasio-Cortez of New York and Rashida Tlaib of Michigan spread their message to young people, who are the platform's primary users.  
"Once you grab their attention, it is pretty easy to just keep stringing them along and eventually a certain percentage will become even stronger supporters of yours," Siu said. 
McPartland, who hopes to work on Sanders' 2020 presidential campaign in her pre-college gap year, said the growing number of youth turning to democratic socialism will give her generation a say. 
"In politics, they say 'If you want to get something passed, you either have to have a lot of money or a lot of votes,'" McPartland said. "If people show their representatives we are not going to stand for this anymore, it will overpower in a way we have not been able to do for a long time."