A Teacher for All: Springberg Chosen as Teacher of the Year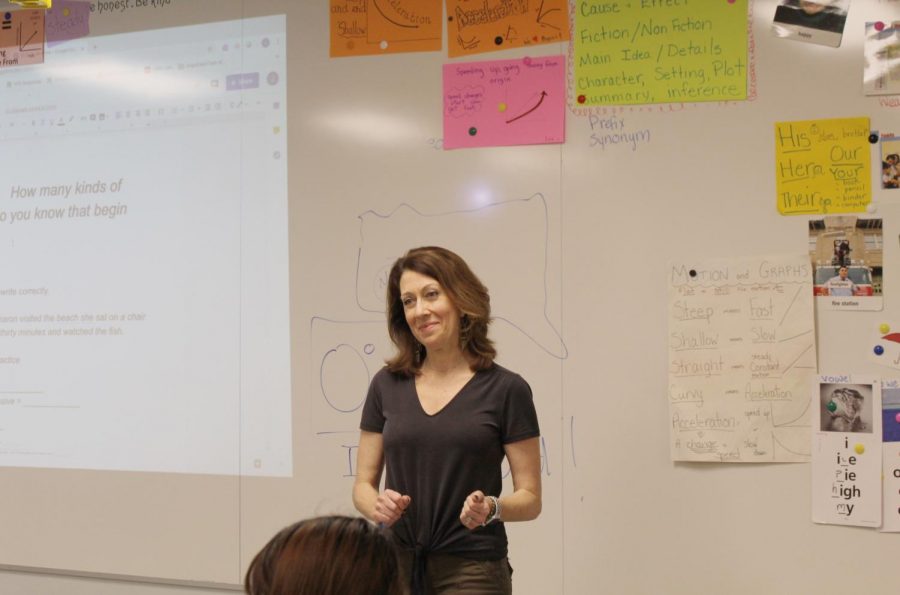 Lizzie Koumans, Sentry Staff Reporter
February 10, 2020
A typical teacher spends their days dedicated to the education of their students, with hours occupied in the classroom and even more time working diligently outside of school. Each year, our school's Parent Teacher Association (PTA) chooses one teacher that not only meets these expectations, but also goes above and beyond to impact the lives of their students. This year, the prestigious title of Teacher of the Year was awarded to English Language teacher Justine Springberg for her consistent, incredible enthusiasm and dedication towards her students over the last nine years.
Before becoming a Patriot, Springberg had immense experience in other positions and areas of work. After attending the University of Michigan for undergraduate and working a couple of jobs, she found her real passion: working with English Learners (ELs). 
"I had a couple of jobs, but the most important one was the Close Up Foundation … and what they do is they bring kids from all over the country to learn about DC and learn about politics, how the government works, and how democracy works …. We met a lot of cool people and that program had a specific group for New Americans called 'ELs,' … and I really fell in love with those kids … I wanted to be able to have a bigger impact and teach them longer, so I went back to school," Springberg said.
After attending the George Washington University and receiving a master's in education, she turned to a new career: teaching ELs. Although she never expected herself to be a teacher, Springberg immediately fell in love with the connections she made and the experiences she had. 
"As a teenager I never would have said I wanted to be a teacher … but I just kind of was exposed to that world of teaching and how it feels really good when you engage with another person and they take away something from it that makes their lives better," Springberg said.
As an EL teacher, Springberg spends much of her time helping new English speakers acquire the knowledge and language skills that they will need for a high school class. From helping ELs acquire basic language skills to co-teaching science and health, Springberg teaches across the board. 
One of the teachers Springberg co-teaches with is Stephanie Meadows, a health teacher and sponsor of the Student Government Association. As co-teachers, they plan, implement and grade every lesson together as a full team, with Springberg focusing on the language acquisition while her co-teacher concentrates more on course content. From working together, Meadows has witnessed Springberg's immense, daily impact and dedication to her students.
"You can tell just looking at her in the classroom that she genuinely cares about the students and wants them to be successful. She comes up with different ways for having them learn the content. [For example] I might say something that I would think they'd understand and she'd suggest another way, and they totally get it," Meadows said.
Meadows was not the only staff member to notice Springberg's impact on her students. Christina Smith,  also took note of her devotion in the classroom.
"She has invested a tremendous amount of time in learning the content and strategies to best support our English learners … [and] she is amazing in the classroom. [She is] able to determine needs and find ways to meet them. Most impressively she does this on an individual basis. She differentiates content and presentation and basically prepares and teaches several simultaneous lessons to meet each individual student where they are and guide them forward," Smith said.
Not only have other staff members taken note of Springberg's dedicated work ethic, but her students feel the enthusiasm every day in class.
"She is a good teacher. She is responsible, honest and has a lot of new content," junior Archil Grigorashvili said.
Another of Springberg's co-teachers and friends in the school is Deborah Waldron, a physics teacher and last year's Teacher of the Year. Not only did Waldron notice the huge impact Springberg had on her students, but she became determined to have Springberg nominated and chosen for this year's Teacher of the Year award.
"The students in Ms. Springberg's class are new English Learners …. So [in order to get her nominated], I got Mr. Conroy to pull Ms. Springberg out of class on an important meeting, and then I came in and worked with the students to help them write letters saying why they thought Ms. Springberg was a good teacher," Waldron said.
After her nomination, and eventual winning of the Teacher of the Year award, Springberg was ecstatic.
"I didn't know anything about how I could be Teacher of the Year …  I was surprised when Ms. Loft … told me, and I was really happy because I didn't expect much …. [This] has been really meaningful to me because you work hard and sometimes you hope that people notice and that your hard work … translates into student achievement or helping a colleague," Springberg said.
Springberg's hard work has undeniably paid off. Although she never expected to find herself in a school again after graduating, teaching has brought her a gratification that is irreplaceable. Over the last decade, her cheerful attitude and energy in the classroom has left a positive impact on everyone she has taught and she will certainly continue to change her students' lives for the better.