Dr. Kevin Clark Takes Office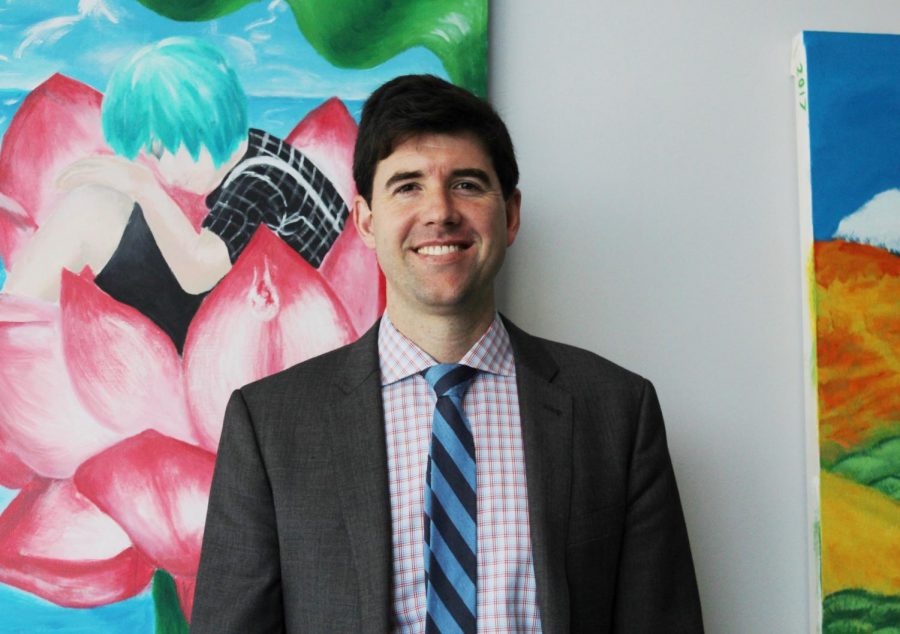 Nathan Dent, Sentry Staff Reporter
January 30, 2020
For Dr. Kevin Clark, our school's new principal, the last few weeks have been a whirlwind. Taking office halfway through the school year has forced him to hit the ground running, balancing his duties as principal with an effort to get to know the Yorktown community. Between welcome breakfasts, varsity basketball games, PTA meetings and conversations with staff about building relationships, Clark has been shaking hands with a plethora of students, teachers and parents.
"It's been intense, but it's been really great …. I felt a lot of emotions just in terms of being a part of … the Yorktown community," Clark said.
Clark's background in education stretches back more than a decade. In 2006, he became a math teacher at Washington-Liberty High School (W-L), spending seven years teaching algebra, geometry and BC calculus. In his last two years at W-L, he gained administrative experience as Assistant Principal for the Arlington Public Schools (APS) summer program. He then served as Assistant Principal at Gunston Middle School for one year before filling the same position at George Mason High School in Falls Church. In addition to now serving as our school's principal, Clark is an adjunct professor at the University of Virginia's Curry School of Education, teaching Leadership for Educational Technology. 
"I felt that I had a lot of experience, a lot of skills and understanding from my work … that I can really apply to Yorktown, and I felt that I could be somebody who could really provide some support to the students, the teachers and the community in terms of continuing the great work that's been done, and then continuing to progress and innovate and support whatever the next steps for Yorktown might be," Clark said.
In his many years of experience, Clark has developed his own philosophy for education that has a holistic focus on students as individuals. 
"I think when you boil down why we're here as educators, it's to serve our students, and to help our students develop not only their academic skills, but also their ability to be great people, great individuals …. My philosophy for education is really focusing on the whole individual and having a broad view of what's important," Clark said.
As a result of that philosophy, Clark has been making an effort to engage with the student body. 
"My big push right now is getting to know the community, hearing from the community about what's working, what's going well [and] what … could be improved," Clark said.
Clark's first few days in office have been replete with things to do and learn; but in spite of the frenzy that accompanies a change in leadership, he has a clear image of his goals as principal. Beyond his immediate aim to connect with the school community, Clark hopes to fulfill a larger goal of being the best principal he can be.
"I would like to be a principal who listens – listens to students, listens to teachers [and] listens to parents …. I want to be a principal who's open, approachable, who can be relied on, who's responsive to the needs of the community," Clark said.
For the second time in the past three years, our school is experiencing a change in administration. While a transitionary period such as this one may provoke uncertainty, Clark stands ready, eager and prepared to build connections and steer Yorktown through its next era of leadership.