Which TV Streaming Services Are Really Worth It?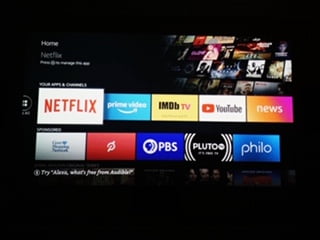 Zoe Foose, Sentry Staff Reporter
February 4, 2020
The days of having to buy expensive disks or tune in live to watch your favorite shows and movies are over. It is time to ditch cable TV and purchase one of the many available streaming services, which are online providers of video entertainment that deliver content to the subscriber's TV or mobile device. With over 200 different streaming services available for subscription, many may be wondering which streaming service is worth their money. In the early years of video streaming, the choice was easy: download and purchase a subscription with Netflix. Now, Netflix is battling other well-known services like Hulu and Amazon Prime Video for people's subscriptions. Disney Plus, one of the newer streaming services, has quickly become popular with over ten million subscribers since its release in early November of 2019. With all these services the question is, which streaming service should you download?
One of the oldest, yet most reliable streaming services is Netflix. Since Netflix's release in 1997, it has gained around 158 million subscribers and is currently the world's largest streaming service. For the hefty price of up to $16, depending on the plan chosen, Netflix offers ad-free streaming, with over 8,000 TV shows and movies available. Though Netflix is quite expensive, the service allows offline downloads through the app which is easy to navigate. One of the few disadvantages of Netflix is that new content is not available right away and the content availability depends on which country you are in. Netflix's success is largely due to their wide-ranging collection of content and easy accessibility which users feel is justification for the price.
With over 25 million subscribers since its release over 13 years ago, Hulu is yet another dependable option for streaming new and classic TV. Hulu has a large selection of TV series and movies, with new content being released each day. Recently, Hulu released 'Hulu with Live TV' for the excessively high expense of $44.99 a month. Hulu costs at least $5.99 a month but an ad-free subscription bumps this up to $11.99. Though the standard membership for Hulu is cheap, the ads you are forced to watch range from 30-90 seconds which can be frustrating. As a subscriber of Hulu, the long and frequent ads make me incredibly irritated. If I am constantly watching ads on a streaming app that I am paying for, I question why I do not just watch cable TV and deal with the commercials there. Although the ads are infuriating, one benefit of Hulu is that new episodes are uploaded less than 48 hours after the episode airs on live TV. Netflix can take months and even years to release a new episode or season. If you want to get the best bang for your buck, I recommend Hulu Premium. Hulu premium features ad-free streaming and the ability to download videos to watch offline which is similar to Netflix, for just $3 more. It may be higher priced but for some, but that extra $36 a year is worth it to receive new episodes of popular TV series in less than two days.
One of the newest streaming services available for subscriptions is Disney+. While this service doesn't match Netflix's large collection, Disney+ offers an impressive library of high-quality movies and TV shows ranging from Disney classics to new, original content. This service is made for just about everyone, especially families with kids and only costs $6.99 a month. Viewers gain access to family sharing on up to four devices, offline downloads and content from not only Walt Disney but from companies like Marvel Studios, Twentieth Century Fox and Pixar. Though Disney+ has around 7,500 TV episodes and over 500 movies available, it needs to offer a wider range of content to be a must-have streaming service. If you or your family are looking to exclusively enjoy Disney classics and shows you grew up watching, the inexpensive Disney+ is the service for you.
As you are deciding on which streaming service to subscribe to, it is important to determine your budget and what exactly you are looking to stream. Nearly 22 years after its release, Netflix remains the best choice of streaming for many families due to its rather inexpensive price and high quality features.