Local Crossing Guard Hits a Home Run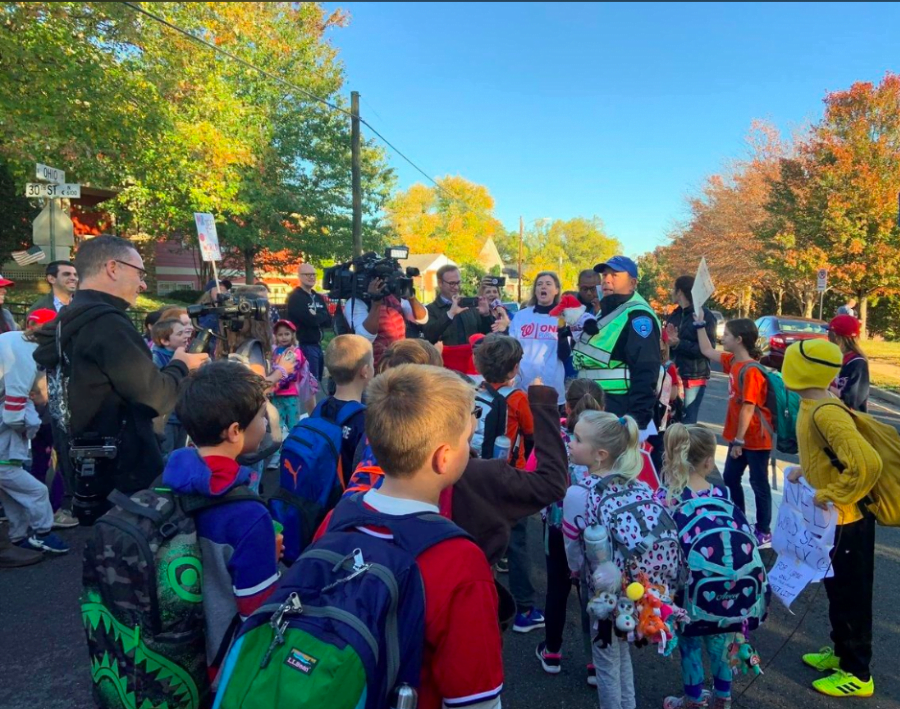 Fiffy Donahoe, Sentry Staff Reporter
November 19, 2019
Joy flooded the streets outside Nottingham Elementary School as a crowd of students and their families surprised a beloved crossing guard with World Series tickets on October 3. What started as a humorous stab at winning Nats tickets and a simple Facebook group chat ended with the surprise of a lifetime for a valued member of the community. 
A normal day on the job for longtime Washington Nationals fan Jeff Covel — affectionately nicknamed Mr. Jeff — quickly took a turn for the better last month. Nearly 60 families came together to check a box on Covel's bucket list: attend a World Series baseball game. It all began with a simple sign Covel held as he guided children to safety, jokingly pleading for tickets to see his favorite team. What he did not expect was the quick determination to get him tickets that spread across the community like wildfire. Nottingham parent Colleen Wright was the engine behind the operation.
"There were a number of parents and students at Nottingham who all had indicated on a private Facebook page that's for Nottingham parents that they wanted to see if there was a way to do this and … I said, 'If we just created Google Form that captures what people are willing to donate, we might know if we can even do this'… what happened was overnight, $900 was pledged," Wright said. 
Although Covel only started working as a crossing guard six years ago, he and his family have been Arlington residents for nearly five decades, with two of his children being Yorktown graduates. He took up the job after retiring from government work as a way to stay connected. 
"I became a school crossing guard … to keep involved with the kids. I love the kids of Arlington … I still referee kids soccer games … This is a great way to stay in touch with the community and in touch with the kids," Covel said. 
The moment he realized what was happening brought tears to his eyes. 
"When I saw them coming down the street, I kind of suspected what was happening … I started to tear up a little bit," Covel said. 
No one deserves this honor more than Covel, having been a Nationals supporter since they played their first game in Washington, DC nearly 15 years ago. He has been there every step of the journey as the team fought their way to their first World Series. 
"Win or lose, the fact that they made it this year was just fantastic, and I just really wanted to be apart of it by being there for one game," Covel said.  
Wright and countless other members of the community agree that it was Covel's positivity and warmth at the start of each day that compelled them to come together. 
"He's genuinely happy to be there with us every morning … his positivity just radiates all the time from him. He clearly likes what he does and loves the kids that he gets to encounter on the crosswalk every day," Wright said. 
The climate is too often gloomy in the world today, so a little sunlight spilling through is more than welcome. Covel and the Nottingham community inspire us to seek out the beauty in life wherever we can. 
"Whatever you do in life, have fun doing it … Every day is a beautiful day. It doesn't matter whether it's raining or snowing or the sun's out. Every day is a beautiful day," Covel said. 
It was a beautiful day, indeed.