Student-Athletes Commit to College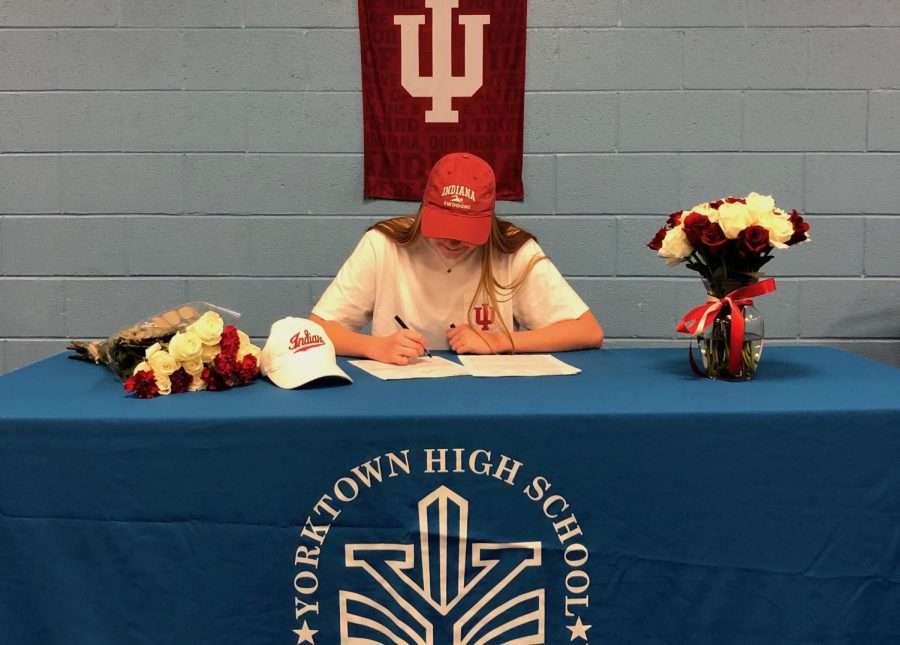 Joey Pickel, Sentry Staff Reporter
November 19, 2019
The National Collegiate Athletic Association (NCAA) provides high school athletes going to college an opportunity to continue playing the sport they are passionate about and expand their athletic careers. Our school is home to athletes on several sports teams that collegiate coaches feel are talented enough to take their game to the next level and have asked them to join their college team.
Luke Helfgott is a senior who has been playing lacrosse for approximately 13 years.
"My dad played in college, at [the University of Virginia] actually, my brother played too. So that got me into it," Helfgott said.
Helfgott was able to hone his lacrosse skills while being active in the sport almost 12 months of the year. He played on a travel team from freshman until junior year where he was practicing from the fall to the winter and a few times a week during the summer. On top of all that, he puts on the Carolina Blue during the spring and practices with the Patriots every day.
"I pretty much always knew that I wanted to play in college, it was just mainly finding the right fit and the right division and I think I found that… I'm going to Hampden Sydney College in Farmville, Virginia," Helfgott said.
When describing why he made the move to Farmville, Helfgott describes it as feeling like he is at home.
"I visited a lot of schools, I looked at some D1s [Division One schools] some D3s [Division Three schools], and I just love the campus and the coaches were really cool. I just felt at home there," Helfgott said.
Springtime next year, Helfgott is looking forward to putting on the red jersey and to contribute to building onto a lacrosse program that is on the rise.
"Part of the reason I'm going there too is that coach said that I would get some [playing time] when I'm there, so that affected the decision as well," Helfgott said. 
Senior Olivia Klein is another lacrosse player at our school.  The varsity starting goalie has been playing lacrosse for the past decade but was indecisive for a long time on whether or not she was going to take her athletics to the college level.
"I didn't fully decide that I wanted to play in college until 8th grade when I was truly inspired by my club coaches to pursue college lacrosse," Klein said.
After switching her sights from Division I programs to Division III programs, she found her perfect fit in Wesleyan University. 
"I kept in mind that I wanted to get the most out of my college experience while maintaining high academic rigor as well as high athletic competitiveness … I knew that I could find these criteria in Division III with the NESCAC (New England Small Conference Athletic Conference)," Klein said.
Although she is looking to get the most out of her college experience, it will be one with nontraditional academics.
"I was initially drawn to Wesleyan because of the open curriculum and absence of general education requirements. I felt that I would be able to experience everything that I wanted to within this type of liberal arts education, while still challenging myself within my preferred areas of study," Klein said.
When Klein makes the move to  Connecticut in the fall, she has a Joe Namath-like prediction for her team at Wesleyan.
"With the Wesleyan program finishing fourth in the nation this past spring, I definitely foresee a National Championship, if not multiple, in the next few years," Klein said.
The Big Ten is a Division One powerhouse in the NCAA. It is listed as a Power Five Conference and only takes elite players for their respective sports, such as Mary Kate Reicherter. Back in June, Reicherter verbally committed to swim at Indiana University.
The recruiting process was rigorous and long for Reicherter. She describes the process and the numerous schools she reached out to.
"I emailed about 42 schools initially just introducing myself, and slowly after hearing back and visiting as many schools as I could … I eventually decided that I wanted a big, prestigious Power Five program," Reicherter said.
Reicherter's decision to choose Indiana was unconventional and almost movie-like.
"I didn't think much about Indiana University until my mom suggested we go down and visit the campus after a meeting I had in Indianapolis. It sounds cliche, but the moment I stepped onto the campus I absolutely fell in love with the school, and I didn't even see the pool yet," Reicherter said.
Looking into the future, Reicherter has some big goals set for herself. If they all end up playing out, she will be bringing lots of hardware back to Arlington.
"Goals of mine in my collegiate career are scoring at the Big Ten conference meet, making it to the D1 NCAA championship meet, and qualifying for the Olympic Trials," Reicherter said.
These are just three of the many Patriots that will be continuing to link their academic careers along with their athletics.  Our school is excited and proud to have such a prominent representation in the NCAA, and know that all our athletes will make us proud in their upcoming sports seasons.