Once a Patriot, Always a Patriot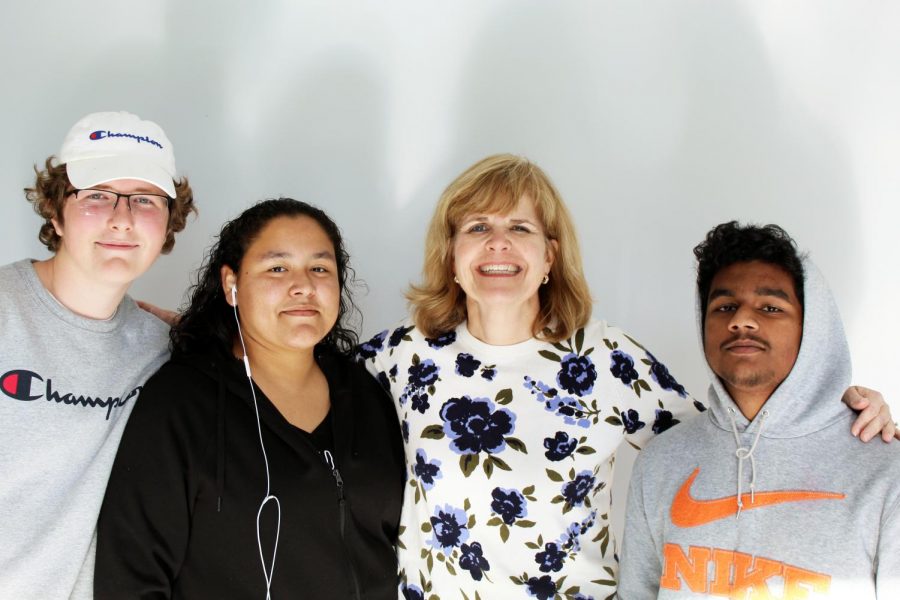 Lizzie Koumans, Sentry Staff Reporter
November 21, 2019
On October 17, 2019, our school's principal Bridget Loft was appointed as the new Assistant Superintendent of Teaching and Learning for Arlington Public Schools (APS). Starting as a teacher at Wakefield High School and rising through the ranks to her position as principal of our high school today, the idea of assuming a new position is thrilling but bittersweet for Loft. With the date of the switch to her new post looming, Loft is ready to make the most of her remaining time as a Patriot.
Although Loft has only been leading our school for the last two years, she has over 25 years of experience backing her up as she steps into this new opportunity. With more than a decade of teaching and another decade as both an assistant principal and principal of various public schools in Arlington, Loft is anything but underqualified.
"I always say that I am a product of APS even though I graduated from Fairfax High School. It has taught me to be an educator. When the job [of Assistant Superintendent for Teaching and Learning] came open, I felt like I owed the system that grew me to use me in a different way," Loft said.
Specifically, Loft's experience as both a principal at Swanson Middle School and our school has provided her with a point of view she believes is necessary for a leader of APS.
"I feel really strongly that there needs to be the voice of a principal at this position, the Teaching and Learning position … and the reason I feel that way is because until you have lived this dream, you can make all the policy and have all the great ideas … but you have got to have an understanding of how that [is] going to impact kids, staff members and the process within the school," Loft said.
After multiple rigorous rounds of screening and personal interviews, Loft was finally nominated to the new position by the School Board this month. Her date to leave is set for after winter break, but she is filled with regret that her final days will be in the middle of the school year. 
"This [appointment] has been very difficult for me because the timing is just awful. I am not done here, and … I would not have chosen to leave mid-year. That will always be a bit of a regret on my part, but these jobs don't come along very often, so when they call, you've got to go," Loft said.
While it will be hard to leave the school she has only gotten attached to so recently, Loft has been able to reminisce on her brief, but influential time here. One of the things she will cherish most about working directly in schools is the bonds she has been able to form with students.
"One thing I really appreciate is having the opportunity to interface with kids. I taught the student government [homeroom] at Swanson, so that was a chance to have daily involvement with kids. [Right now], I currently work with our Principal's Advisory Board, which is a diverse group [of students] at Yorktown," Loft said.
Although her position of leadership within our school may make her seem detached from the issues facing students, Loft prioritizes staying involved. She has made consistent appearances on the daily announcements giving words of encouragement and advice to students and has had active communication with parents through emails, providing a continuous connection with both students and their families.
Even though her time as a Patriot was short, Loft has had to deal with her fair share of conflicts within the school. One of the most controversial issues she addressed was school security during Patriot Period. Previously, students had been able to roam the halls freely to any class they choose, but with the recent rise of school shootings in the US, safety has become more of a focus than ever before. Loft's new policies, which require students to have certain passes in order to leave their third period classes, have allowed students to still have time to relax and decompress, as well as get any help they need on assignments.
Additionally, Loft has placed a general emphasis on Yorktown R.O.C.S. (Respect Others, Community, and Self) among both students and staff.
"I get the sense that while R.O.C.S. is an easy thing to throw out there, I see daily examples of people being kind and respectful to one another. Whatever we are doing, I want to continue to enhance that and build on that. We are a community, and we are there for each other, so I would like to build on that positivity," Loft said in an interview in 2018.
In Loft's new position, she will be working directly with APS' Superintendent as well as the Executive Learning Team to ensure the safety of all students and the development of quality education within APS.
Even as she moves on to a more influential role over all of Arlington's schools, Loft will always hold her connections to our school near and dear.
"I always say to staff and students who leave Yorktown, 'Once a Patriot, always a Patriot.' While it feels bittersweet to now apply this sentiment to myself, please know that I will continue to be a Patriot at heart," Loft said in a letter to parents on October 17.
Despite the fact that Loft only had incumbency for just over two years, her supportive nature around the school has made a huge impact. Her caring nature and motivation to make APS a better place will surely boost her to great success in her new position. While her presence will be missed, we wish her the best of luck in her next chapter.