Hands2Heart Teaches Students How to Save Lives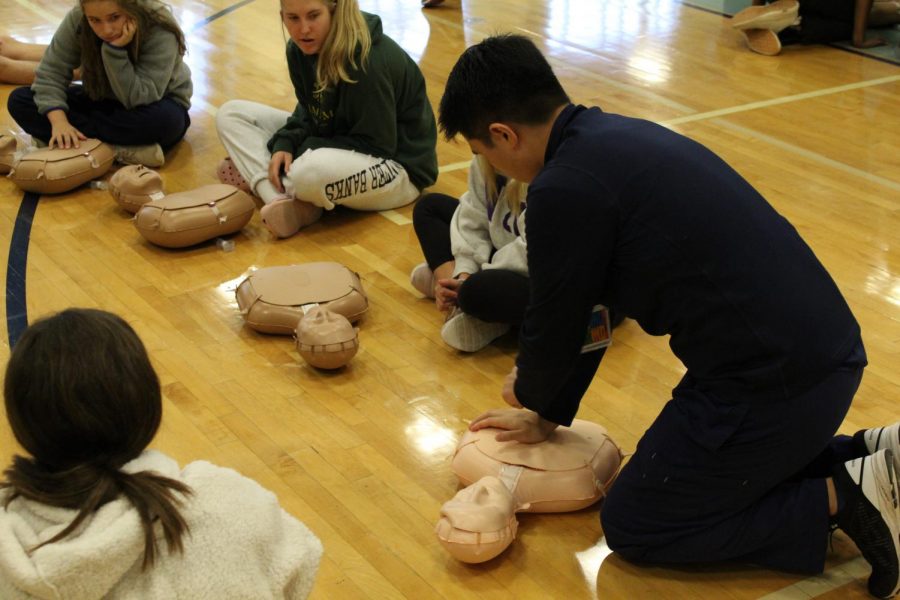 Bora Yavalar, Sentry Staff Reporter
November 18, 2019
In the past few weeks, firemen, Emergency Medical Technician's (EMT's) and other first responders from the Arlington area came to our school to teach students a maneuver that could save lives – CPR. Cardiopulmonary Resuscitation (CPR), combines chest compressions with artificial ventilation to keep victims of cardiac arrest alive before emergency personnel arrives. 
This is all thanks to an organization called Hands2Heart, a program created by the Arlington County Fire Department and the Virginia Hospital Center that enables Arlington County first responders to visit high schools and other community buildings in our area to teach CPR to students and other members of our community.
According to the Arlington County website, Hands2Heart works to train people on how to identify cardiac arrest, request help and start hands-only CPR.
Claire Shreeve, one of our school's health teachers, and Activities Director Michael Krulfeld are the ones responsible for allowing Hands2Heart to come to our school.
"We just coordinated for the first time this year, [Hands2Heart is] a program made by Arlington County that comes in and teaches a hands-only CPR. They taught all of the 9th and 10th grades," Shreeve said.
Fortunately for the school budget, Hands2Heart is a free program. It is run by Arlington County, and the people who give the training are volunteers. The only aspect that requires money is CPR mannequins and other extras, for which the Parent Teacher Association (PTA) gives our school a grant.
Not only is this training useful, but it is also necessary for Virginia students to graduate high school. 
"Virginia has a graduation requirement to have CPR background knowledge – you don't have to be certified, just have background knowledge, there is a box that the health teachers have to check for every student and it does show up on your transcript," Shreeve said.
Although required by the Virginia Board of Education, most students do not find it boring or monotonous. In fact, many students find it fun and exciting.
"I think overall they [the students] enjoy it. [The students] all really enjoy having the first responders come in and learning it from someone who is not their teacher. [The students] seem very engaged in it," Shreeve said.
This program, although mandatory, teaches an extremely valuable and life-saving skill. According to the Center for Disease Control and Prevention (CDC), if performed early enough, CPR can double or even triple the chance of survival for a victim of cardiac arrest. With an increasing amount of students learning CPR, Hands2Heart not only teaches a useful skill, but it also teaches how to save lives.