A Peek Into the Art of Arlington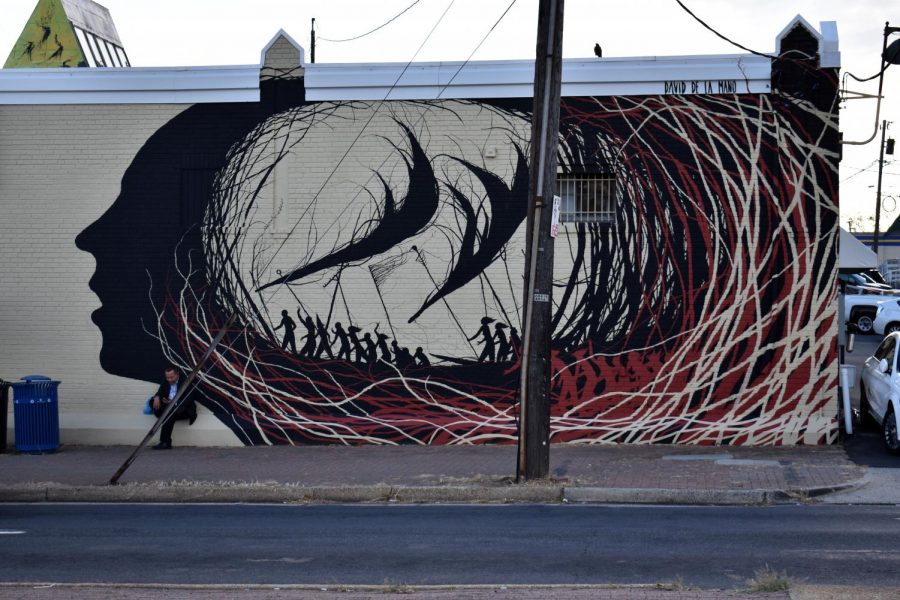 Maren Stroup, Sentry Staff Reporter
November 1, 2019
Recently, a new mural and canvas have been added to the growing collection of art in the streets of Arlington made by artists David De La Mano and Matthew Best. The expressive and unique new street art can be found on Lee Highway and 12th Street South in Crystal City. These two artists have strong passions and they have a lot to say about why art plays such a big role in their life, and how their work ended up in Arlington. Although they both are passionate about art, their different backgrounds have led them to have different inspirations for their work.
David De La Mano is a painter, sculptor and street artist. He has lived in Spain his whole life, but has travelled to create murals and street art all around the world. He recently created a mural here in Arlington on Lee Highway, outside KH Art and Framing. 
"I started working more than 25 years ago in my city, and in the beginning I started working as a sculptor doing work for other artists and also with my own projects. I studied at the University of Salamanca and also in Valencia and it was later years when I began my journey with murals. Actually, I was lucky that Arlington Arts and the Spanish embassy in Washington invited me to paint," Mano said.
Mano is excited to continue working on what he loves. He adds a different touch to every piece of art he makes everywhere he goes. Mano has many goals for the year, and a busy schedule ahead.
"Luckily, this is a busy time. My next mural project will be in Montevideo, Uruguay. I have a show coming soon in Bologna, Italy. I have plans to paint in Romania, Italy [and] Spain. Next year I may return to Washington, and I will also paint near New York," Mano said.
Mano does not limit his work to just murals, he also creates paintings and sculptures to feature in art shows. He does not have any hidden values behind his work, but he always tries to amplify the polysemic value of his pieces. With every new project, he sees the paintings as portraying a different perspective to the audience, and he believes that enriches his work. Although he has been interested in the arts since he was a small child, he can't remember when art first caught his eye.
"I am not aware of the moment when art began to interest me. I guess it is something that has been important to me since I was very small. I was always interested in music, movies, comics … and I guess that little by little the seed was growing," Mano said.
An artist since the beginning, Mano loves all aspects of art. It is something he holds close to his heart and he will continue to for the rest of his life.
"Art fascinates me in all its expressions, I think it has helped me not only to work to enrich my life and lead me a full life," Mano said.
Another artist who made his mark in Arlington is Matthew Best. Best has been drawing ever since he was a little kid, and in high school he realized art was something he wanted to pursue. He started off with a studio in Arlington, and then was asked if his art could be featured by the Art Walls program.
"I had a studio at Arlington Arts Center from 2007 to 2009. As part of their residency program I had a solo exhibition there and my show was seen by people from the Art Walls program who thought my work would make a good wall," Best said.
Once his painting was noticed by the Art Walls program, they then put up his painting under the tunnel on 12th Street South in Crystal City. He has a fond memory of seeing his work in public for the first time. 
"I still remember the first time I saw it. I was driving around trying to find it and when I finally did I just stopped the car in the middle of the road so stunned was how proud I was of it. The original paintings were only ten by ten inches so seeing them expanded to ten by ten feet was quite a surprise," Best said.
Although he has participated in multiple shows and had his art displayed, it was a happy surprise to see his work through the Art Walls program. He has participated in many different shows around Arlington and around the area. Best is not just an artist, but also a teacher. His upcoming project is portraying differences between artists and how they make their work.
"I'm curating a show called 'Paper as Metaphor' early next year. It is a show of two artists who both work with paper but in very different ways. The show will be at a college where I teach so I'm excited to see how students react," Best said.
Best said he likes to change up the possible interpretation of his own art for his audience, sometimes sliding subtle hints and messages into his work
"It's never exactly a secret or hidden message but I do have less obvious messages in my work at times. In my more recent work there are references to LGBTQ+ history or I'll use titles to shift the meaning of a painting to give the work a slightly different interpretation," Best said.
Even though Best does not always put hidden messages into his work, he uses his art to express himself. In his 30 years as an artist, Best has been most inspired by showing his life through his work. He does not remember a time where he was not making art or drawing something.
"My work is an abstract diary of my life. Everything around me filters into my art in some way," Best said.