Laugh More Stress Less Week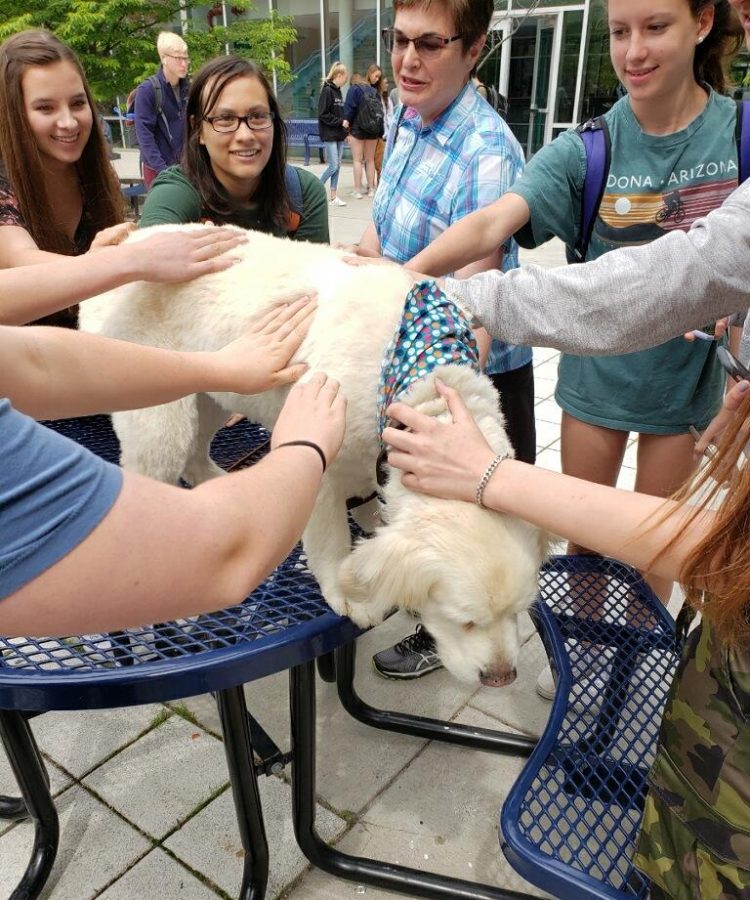 Peter Beckstrom, Sentry Staff Reporter
May 23, 2019
When Advanced Placement (AP) exams and Standards Of Learning (SOL) tests are underway, Laugh More Stress Less Week is a great way to decompress. Last fall, Laugh More Stress Less Week was very popular among students and staff. Laugh More Stress Less week is happening this week, from May 20-24.
During the spring season in many high schools, students and staff face a lot of stress with exams and end of year finals. School Counselor Jeffrey Stahl had some advice for decompressing from this springtime anxiety.
"Find some time for self-care. Take a walk. Listen to music. Have a healthy balance in your life. Look at your schedule each week and make sure you are carving out time for yourself. School is important, but managing your own stress and finding time to decompress is equally important for your health and well-being, and it will help you be a better student, a more well-rounded individual, and a happier person," Stahl said.
If stress becomes too much, Stahl recommends that students seek help from school counselors. Counseling is a popular spot during the week of Laugh More Stress Less and because testing never ends and end of the year stress is high, counselors are busy until June.
Personally, Stahl has techniques of his own that he uses to relieve his  stress. Especially when it comes to the great outdoors.
"Anything outside. Being out in the fresh air relaxes me. I also love to read," Stahl said.
Assistant Principal Emmet Conroy loves to do anything that requires activity, motion and fitness combined with spending time with his kids.
"When I am hiking in the mountains or swimming at the beach with my kids at my side, I feel nothing but the joy of life," Conroy said.         
For this Laugh More Stress Less Week, there are many things to look forward to arts and crafts, games, therapy dogs, popcorn, music and some more unexpected surprises.
Some aspects will be different this week compared to the previous Laugh More Stress Less weeks, but the goal is still the same.
"We have tried to plan some fun activities to lighten the mood around testing time. We want to have some fun during lunch and help our Yorktown community relax a bit," Stahl said.
For other ways to reduce stress, Stahl emphasized that students should not worry too much about bad test grades at this time of year.
"It's just a test score. Study, get a good night's rest, and do your best. That's really the best way to think about it," Stahl said.
Senior Sam Ellison, has some advice on his way to stress less and laugh more.
"Take a deep breath, and realize your problems are not the end of the world," Ellison said.
High hopes come next week with many thinking that this will be a week of positive vibes and happiness.
"I think this week will be full of positive energy," Ellison said.
If you worry a lot, there are plenty of resources for help. Someone that is close to you, can help lessen the anxiety.  
"Talk to somebody! A parent, a friend, a counselor, a teacher – sometimes it can help to verbalize your worries and talk through it with someone," Stahl said.
"Do not stress about anything unless stress is necessary to solve the issue.  Don't stress about things you can't control," Ellison said.
Stahl also says a key to laughing more and stressing less is taking a break sometimes.
"Enjoy the little things in life. Slow down sometimes – spend time with the people who are important to you. Don't take things so seriously. Find the humor in life," Stahl said.
All in all, the great remedies provided by this week are just what students need at this time of year. Next week will be emphasizing the most important things for students: laugh more, find the good and, of course, stress less.