We Appreciate Our Teachers!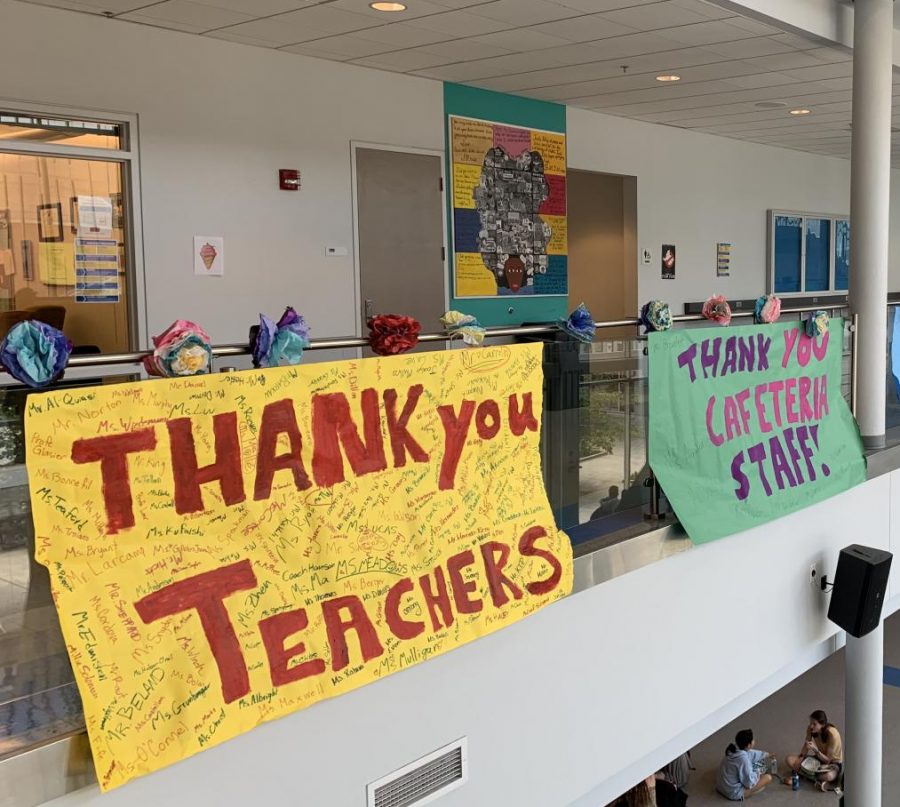 Lizzie Koumans, Sentry Staff Reporter
May 9, 2019
It is already May, and the school year is beginning to wrap up. As students prepare for end-of-year tests and final grades, it is important to remember the teachers who brought them to where they are today. Fortunately, May 6 to May 10 is Teacher Appreciation Week. As a student in elementary school, this week may have meant bringing in flowers or a box of chocolates for your favorite teacher, but teacher appreciation goes beyond just giving gifts.
Every day, teachers work around the clock to prepare and deliver lessons, work closely with students and contribute to a positive learning environment overall. In addition, outside of the classroom, teachers play an essential role in shaping a student's character and preparing them for the world beyond school. Whether it is a simple "thank you" or an extravagant celebration, do not forget to honor and celebrate your teachers this Teacher Appreciation Week.
Having supportive teachers plays a crucial role in a student's education. For junior Jack Lewis, as well as other Patriots, a dedication to helping everyone in the classroom is what makes a teacher stand out.
"The thing I appreciate the most about teachers, especially at [our school], is their commitment to helping the student get the most that they can out of a topic …. Many teachers are not necessarily warm and fuzzy to their students, but all of them are there to help their students, and that should be appreciated," Lewis said.
Beyond a dedication to supporting everyone they teach, teachers having an excitement towards the content in a course can make any class more enjoyable. For freshman Lillian Keith, this enthusiasm from teachers can brighten up a day.
"A particular teacher stands out when you can tell they really enjoy both teaching and what they are teaching. When a teacher does this, they bring a positive energy to their class that is sometimes missing in other courses. I think it is easier to get to like a teacher and their class when they are excited by what they're teaching," Keith said.
Teachers also leave an impact on students that extends far beyond the boundaries of a classroom. Next to parents and family, teachers are some of the most influential adults in a student's life. From giving good advice to helping students find confidence, a teacher's guidance can leave a long-lasting effect.
"They have taught me that in order to be happy, [you should] just be yourself. [They also taught me] that a genuine person is someone that doesn't care what people think of them," sophomore Charlie Gaylord said.
This has also been a goal for many teachers, including General Math and Algebra II teacher Kimberly Cordell.
"I think what sets [Arlington teachers] apart is that we care about each student individually and want to help them succeed not only in our class, but in life. Teachers [here] are dedicated to help[ing] students inside and outside of the classroom," Cordell said.
Despite the challenges that may come along with teaching, educators stay calm and focused every day on not only getting their job done but leaving a lasting impression on their students. Arlington's high intensity and hectic environment makes it hard to keep a classroom calm, but teachers across the county manage to not only instruct students, but also prepare them for life in such a restless atmosphere. This capability of the teachers' has become evident not only to students, but also to parents, including Michele Shurtz, mother of eighth grader Katy Shurtz and freshman college student Bradley Shurtz.
"Arlington teachers set a high standard and expectation for students to learn at all levels. They endeavor to balance needs of all students as well as the county's high standards for measuring success. This must be incredibly challenging …. As a parent, I have seen how my children, with teacher support, overcome challenges in the classroom and how it translates to trying new activities and gaining confidence," Shurtz said.
From daily lessons on all topics imaginable to their continuous support beyond the walls of the classroom, teachers play a substantial role in the lives of students. Even beyond the week of May 6-10, teachers deserve the utmost respect and appreciation for their dedication to helping students be the best versions of themselves. In the words of a popular bumper sticker: "If you can read this, thank a teacher."