Yorktown Students Recognized in Scholastic Art & Writing Awards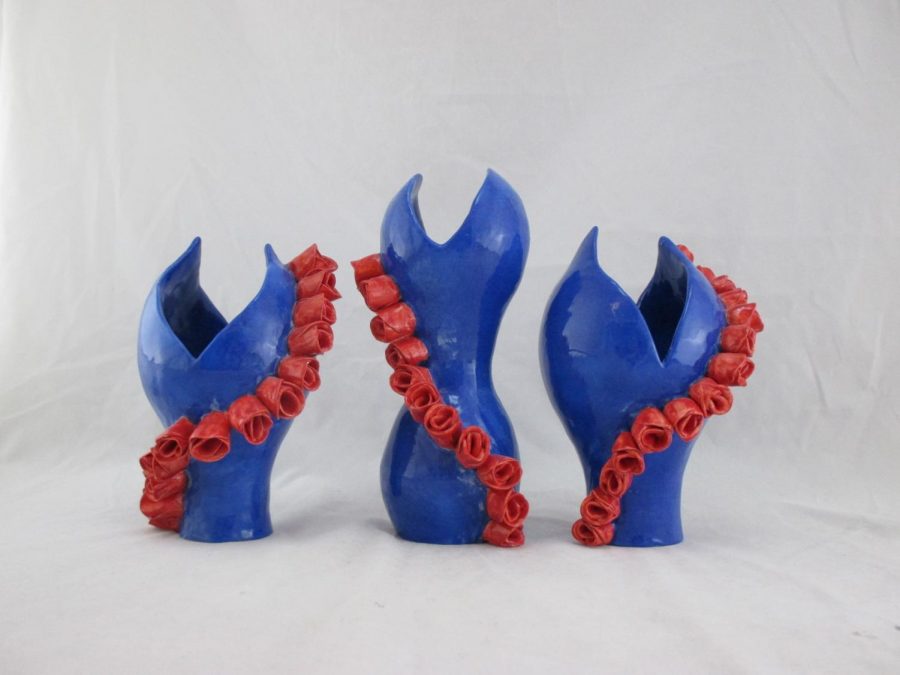 Lizzie Koumans, Sentry Staff Reporter
May 9, 2019
In March of 2019, the Alliance for Young Artists and Writers announced that 21 students from Arlington Public Schools, including five Patriots, are medalists for the National Scholastic Art & Writing Awards. The competition, founded in 1923, works to highlight exceptional teenagers for their creative works through giving awards, providing scholarships and having students' works published or displayed to the public. With over 340,000 submissions to the competition, only about 2,700 students earned National Medals.
Christine Bolon, art teacher and Art Department Chair for our school, is one of the many teachers who encourages students to submit works of art to the Scholastic Art & Writing Awards.
"Just like sports, [the Scholastic Art & Writing Awards] is a regional and national competition. We have our local competition here in Arlington and there are three levels of awards in Arlington. There is Honorable Mention, Silver Key and Gold Key, which is the top award. The work ranges from sculpture and ceramics, to photography and computer graphics, to studio art, paintings, drawings and printmaking. It runs the gamut of everything," Bolon said.
Beyond just a competition, the Scholastic Art & Writing Awards is a great platform for young artists to present their works. Photography teacher Allen Beland teaches students ranging from freshmen in Photography I to seniors in the Advanced Placement (AP) Photography class.
"A lot of famous artists, painters, photographers and cartoonists have won the Scholastic Award. It has been around for what seems like forever and it also serves as a talent forum. Scholastic [Art & Writing Awards] looks for the next greatest talent to grab hold on and promote, and that takes place on a national level," Beland said.
The Scholastic Art & Writing Awards' local winners for 2019 included thousands of talented young artists from across Arlington. There were more than 500 award winners from our school alone, with the top students who received the Gold Key award advancing to the National Scholastic Art & Writing Awards. Students are encouraged by teachers to submit their favorite artwork online. Afterwards, judges are chosen to assess each piece and give awards. In 2019, our school had five national award winners including three awards for photography and two for art portfolios. The five national winners were Olivia Evans, Ian Newton, Benjamin (Ben) Carlson, Lila Araujo and Philip (Ted) Meany.
Olivia Evans, a senior photography student, won two Gold Keys and a Silver Key in the regional Scholastic Art & Writing Awards. Additionally, she won a Gold Medal in the National Scholastic Art & Writing Awards for her photograph titled "Abandoned." Evans' accomplishment was well-deserved after four years of photography classes and entries to the competition.
"I had never won a regional key before, so when I saw that I won two Silvers and two Golds this year I was so excited. I worked really hard on the pieces I submitted, so it was great that the Scholastic judges liked my work. Beland told me I had won on the national level when I was at lunch one day, and my jaw dropped and I just kind of stood speechless in the middle of the hallway for several minutes. It is still so crazy that I won a Gold Medal and it does not feel real," Evans said.
Ian Newton, a senior photography student, was another medalist on the national level with a Silver Key for his photograph titled "Eclipse."
"When I heard that I had won two regional Gold Keys and one Silver Key, I was very excited and happy and texted all my friends and family …. However, when I found out that I had won on the national level, that is truly when I felt like a child again. I was so immensely overjoyed and shocked. It was one of those days I will never forget," Newton said.
All five winners of the national Scholastic Art & Writing Awards were seniors that have put years of work into their art to perfect their ideas and techniques. Beland, as well as other AP art teachers, have been able to see the progression of students' artwork over the years.
"You can definitely see a certain level of maturity in the image itself. You can see a seasoned, trained eye, one that has lots of practice and lots of skill of making and creating photographs. One of our mantras in AP [Photography] is that we are no longer taking photographs, we are making photographs. You have to have an idea before you go out; you have to have an intent. These [photographs] have no assignment fulfillment to them, they came from the students minds and hearts …. I have seen a steady consistent progress in their photography," Beland said.
The students themselves have also been able to see their growth and development as artists over the last few years of high school.
"My photography skills were about average when I entered [Photography] 1 as a freshman. I got better sophomore and junior year, but I did not really start taking photography seriously until I was a senior. I enjoyed it, but I was not motivated enough to push myself. Once I started learning more about different photographic styles, I began to develop my own style and I really started to love photography," Evans said.
The award-winning art pieces as well as many other pieces created by Patriots were on display during our school's Spring Art Show from April 29 to May 2 in the atrium. To learn more about the Scholastic Art & Writing Awards, you can check out their website https://www.artandwriting.org/, and the list of this year's national winners can be found here: https://s3.amazonaws.com/aawuploads/2019/NationalMedalists.3.13.19.pdf.
After years of hard work and dedication to their art both inside and outside of school, winning a Scholastic Art & Writing Award is a special moment for any student. These awards promote the best art pieces from across the US and the world, and our school is proud to have a large group of talented artists recognized this year.