College Hockey Season Overview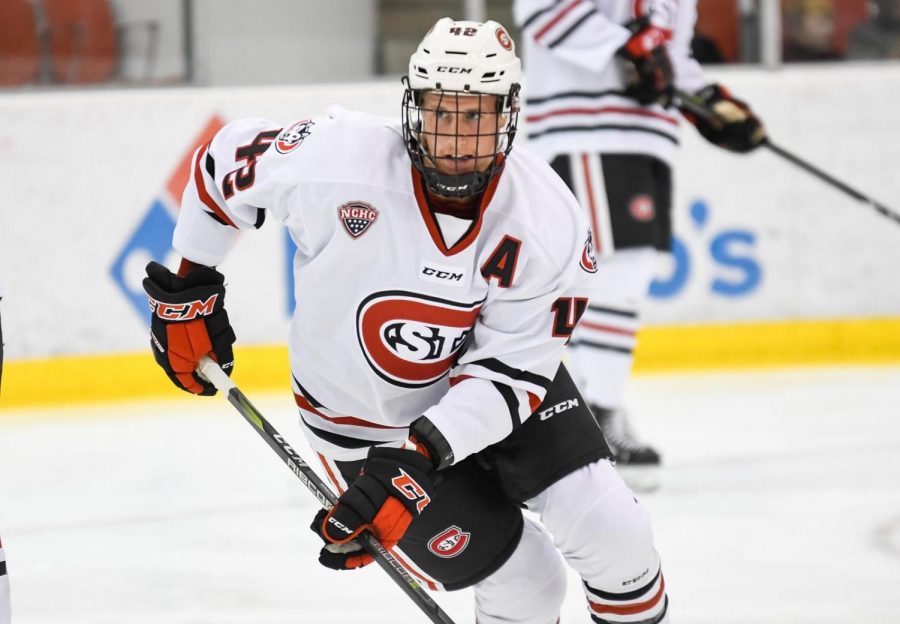 Peter Beckstrom, Sentry Staff Reporter
April 4, 2019
In the past month, a few notable National Collegiate Athletic Association (NCAA) hockey teams clinched their conference titles, including Ohio State (Big 10), Minnesota State (Western Collegiate Hockey Association), Minnesota Mavericks (WHCA) and Saint Cloud State (National Collegiate Hockey Conference). At the end of the season, 16 teams will fight to get into the Frozen Four, and one will be crowned the champion at the NCAA College Hockey Championship.  
This season has been dominated by NCHC team St. Cloud State (SCSU), in Minnesota. SCSU played their first season in 1987-88, and have only made it to the Frozen Four once, in 2013. In Hockey East, the University of Massachusetts (UMass) is having their best season ever since their establishment in 1994, sitting at third in the NCAA rankings and seeking their first-ever Frozen Four appearance. Defending champions Minnesota Duluth, who has played in the NCHC since its founding in 2011, are feeling confident that they can win their third title.
The Minnesota State Mavericks of the WCHA are looking to win their first ever Division 1 (D1) championship. Quinnipiac University, playing in Eastern College Athletic Conference Hockey (ECAC Hockey), is another New England hockey powerhouse doing well this season. Quinnipiac will be hoping that their seventh-place ranking this period will be indicative of the level of play they need to reach their third Frozen Four in six seasons. The always-dominant University of Denver, who play in the NCHC, clocked in at fifth  in the most recent NCAA rankings, will be hoping to tie an NCAA record this season by winning their ninth D1 hockey title.
A notable difference in the rules this season is the new overtime rule, the rule now is after the original five on five, five minute overtime period, conferences have the option to use an additional three on three, five minute overtime period followed by a shootout, or just a shootout to allow the conferences to award additional points. These rules are not permitted during regular season, non-conference games. As a result, these non-conference games could potentially end up in a tie after the original five minute overtime period.
Junior Ricky McGolerick, whose favorite team is Boston University, thinks there are a couple shoo-ins for the Frozen Four.
"I'm confident that St. Cloud State and UMass will be in the Frozen Four, but the other two spots are up for grabs. Both Ohio State and Quinnipiac are having great seasons, so they both have a good chance," McGolerick said.
There are many parts of hockey that attract senior Sam Levy, but one aspect of the game really stands out to him while watching college hockey.  
"Seeing how quickly plays can develop, as well as the randomness of the game sometimes," Levy said.  
The Hobey Baker award, given to the top player in college hockey, and the Mike Richter award, given to college hockey's top goaltender, are always hotly contested. This year is no different– while there are no clear-cut favorites for the awards, this year, both Levy and McGolerick feel confident in their predictions for who will win each award.
"I believe that Jimmy Schuldt from St. Cloud State is in pretty good shape for a Hobey Baker award, and I think that Christoffer Hernberg from UMass Lowell is also having a good year and has a good shot at the Mike Richter award," Levy said.
McGolerick's prediction for the Hobey Baker award is UMass defenseman and Colorado Avalanche draft pick Cale Makar. The stellar play from Makar and Schuldt, among other blue liners, has SB Nation's college hockey writers to refer to this season as "The Year of the Defenseman." Meanwhile, for the Richter award, McGolerick thinks Montreal Canadiens draft pick Cayden Primeau, currently playing at Northeastern, has it locked up.
Levy is also impressed by St. Cloud State's recent success over powerhouse schools such as Denver and Boston College.
"I'm surprised at how St. Cloud and Minnesota State have sort of replaced schools like the University of Minnesota and Wisconsin as top seeds this year," Levy said.
Arizona State is this season's biggest success story, sitting at 14 in the most recent NCAA rankings with a record of 21-12-1 and making their first ever NCAA tournament appearance.
"I'm surprised, since they have only had a Division 1 team for a couple years, and they are one of two teams in the south," McGolerick said (the other being University of Alabama-Huntsville).
The hockey success of the state of Minnesota as a whole, which has three of the top four teams in the country, has not shocked McGolerick.
"I'm not surprised because some of the best American players come out of the Midwest, especially Minnesota," McGolerick said.
Overall, it seems like St. Cloud State should finish strong and compete for a national championship. With only a few weeks to go, college hockey fans will be thrilled to watch this all unfold.