Yorktown Takes on the Jostens Renaissance Regional Conference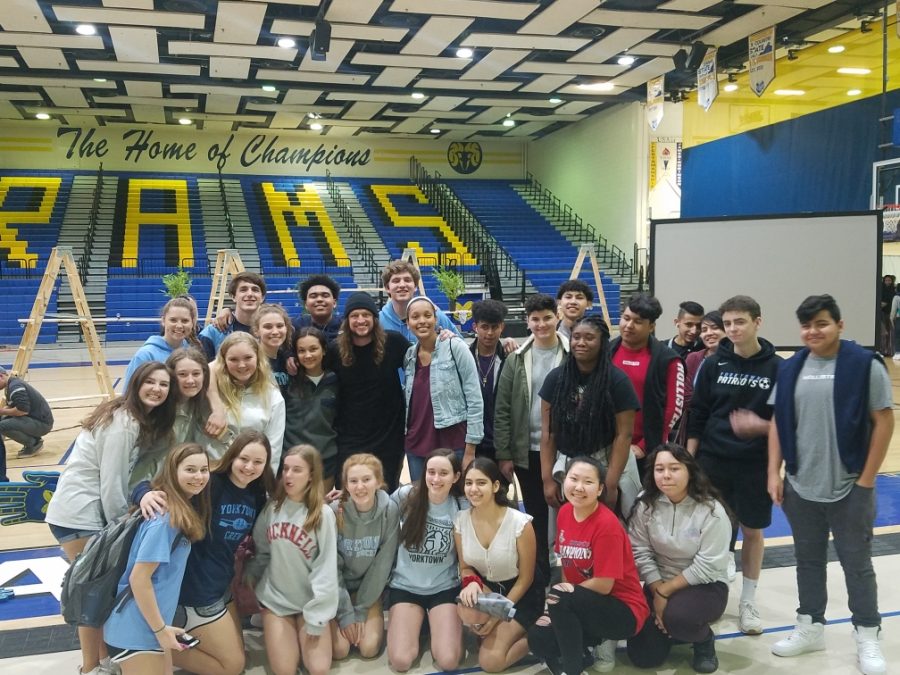 Sofie Dalton, Staff Reporter
March 25, 2019
On Friday March 15, club leaders and Yearbook students from Yorktown attended the 2019 Fairfax Jostens Renaissance Regional Conference at Robinson Secondary School. Jostens Renaissance Education is dedicated to improving the culture and climate of schools all across North America. By collaborating with educators and students, they have been able to help schools increase their graduation and attendance rates and better their academic performance, behavior and overall school spirit. The goal of the Regional Conference was to inspire student leaders to bring positive change and more inclusiveness to their own schools.
This year's Regional Conference featured two speakers: Dr. Phil Campbell and Mike Smith. Campbell is a former principal, teacher, coach and athletic director who is on a mission to help teachers and students improve their school communities. For his portion of the presentation, Campbell spoke about his experience being the principal at Portland High School in Portland, Tennessee. When he started at Portland, it was a school where fights in the hallways were a common occurrence and the school culture was in desperate need of improvement.
Campbell was able to change Portland by making students feel seen, heard and loved. He created a Special Education Prom that was conducive for students in his school's Special Education program. Campbell put an emphasis on graduation by starting a senior wall of acceptance, where student's acceptance letters were placed on a wall for the whole school to see. He also created a military wall of honor to celebrate Portland students who served in the military. Campbell celebrated students' successes by starting a graduation walk where seniors walk through the halls of Portland before graduation in their caps and gowns, while teachers and students applaud them. Through actions like these, Campbell was able to improve his school's graduation rate, culture and character. He encouraged conference attendees to spread hope and understanding throughout their schools, and to shine the spotlight on different groups of people so that everyone feels included.
Smith was the main speaker for the Conference. He is a speaker, author, host of Leadership Live and The Harbor by Jostens, creator of Skate For Change and founder of The BAY. Smith has been able to inspire and empower students across the country. His desire to help people which led him to start Skate For Change: a movement that empowers people to give back to their communities through skateboarding. Skate For Change started when Smith mobilized people to skateboard around their community and pass out goods to the homeless. He also started The BAY, which is a coffee house, skate-park, art gallery and concert venue in Lincoln, Nebraska, that supports and and provides services for youth.
Smith encouraged conference attendees to embody the principle of grit: pursuing and chasing your dreams despite challenges and naysayers. He also emphasized the importance of volunteering for the purpose of giving, not getting. Many young people volunteer so that they can put it on their resume when applying to college; however, Smith believes that you should volunteer to help others, not yourself. He challenged students to make the climate at their schools better and more welcoming.
Junior Galilee Ambellu's favorite part of the conference was how energetic Smith was throughout his presentation.
"I felt like he projected his success in a way… he wasn't trying to brag but he was humble and told people that [they] can take any path to get where you want in life," Ambellu said.
Freshman Yasmina Mansour also found the conference to be an engaging experience.
"I liked that [the speakers] included facts… and stories about themselves to make it interesting," Mansour said.
Following the speakers' presentations, students broke off into small groups to discuss ways that they can make their school climates better. Yorktown students came up with a variety of ideas, such as decorating the courtyard and representing other groups besides sports teams in the pep rallies. Other suggestions were increasing the collaboration between mainstream, Special Education and High Intensity Language Training (HILT) classes and having each senior give a flower to a teacher they appreciate on graduation day. The group discussion was a successful way to come up with tangible activities that can improve the climate at Yorktown.
"I liked how we all sat in a group and talked about our goals, I thought that was good because I hadn't talked to some of those people before so it was easier to get to know people and also brainstorm about the [school] community," Schwab said.
The group discussion was also a highlight of the conference for Freshman Michelle Ganbat.
"[I liked] how they involved us during the beginning and at the end, and then I liked… when we talked as a group," Ganbat said.
The Jostens Renaissance Regional Conference gave students both ideas and inspiration to improve their school communities. Through engaging speakers and group collaboration, students were able to gain a greater understanding of what they can do to change the climate of their schools for the better. Yorktown student leaders now have a plethora of ideas that can be implemented so that all students can feel like they have a place at 5200 Yorktown Boulevard.