Person to Know: Surender Raut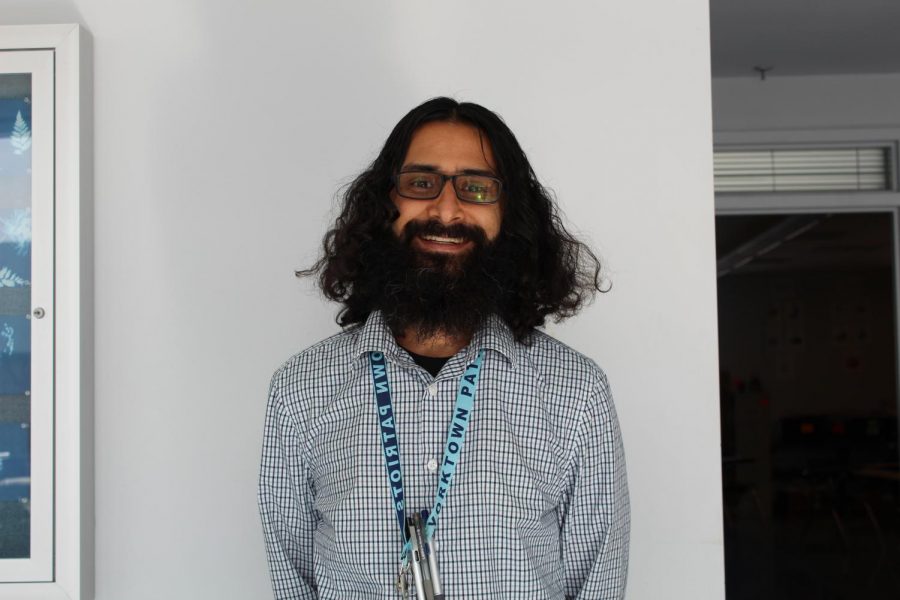 Lizzie Koumans, Sentry Staff Reporter
April 3, 2019
Special education teacher Surender (Suri) Raut is only in his second year with our school, but he has already made a huge impact. From working with the school's Best Buddies program, which promotes inclusivity and positive relationships for students with intellectual, developmental and physical disabilities, to co-teaching General Education classes, Raut has fully immersed himself in the new environment and found numerous ways to improve the lives of students. Along with his focus on special education, Raut's busy days are typically filled with meetings, grading and the occasional live music concert.
Prior to working for Arlington Public Schools (APS), Raut worked at George Mason University (GMU) with the Mason Life Program, a college program for young adults with intellectual and developmental disabilities.
"They have a post-secondary program [at GMU] …. I was there for almost ten years. I was working there while I was getting my degree, which was pretty awesome, so I've been working in [special education] for a long time," Raut said.
After a long career at GMU, Raut decided it was time to move in another direction.
"At George Mason, I kind of reached where I wanted to go. I got my Master's degree and a lot of great experience and the next step was a PhD and I wasn't too interested in that. So, I was trying to get into the public school systems," Raut said.
Being a native Arlingtonian, Raut immediately looked to APS. Because of his long experience in the field, Raut was able to get a job as a life skills teacher, working with the same group of students every day to teach everything from academic to interpersonal skills.
This year, instead of being a life skills teacher, Raut is occupied as a resource special education teacher. He teaches five periods out of the eight in a regular school day, teaching two periods of instructional studies classes and co-teaching three periods of biology classes. Beyond teaching, Raut also embraces numerous programs the school has to offer.
"I got involved [with the Best Buddies program] last year because I was with the life skills kids and pretty much all of those kids participate in Best Buddies …. Mr. Burnett is the head guy; I am just helping him out …. I am also getting more involved with Unified Champions, which is the high school division of Special Olympics. I went to a conference earlier this month with a couple of students who are ambassadors for that," Raut said.
Outside of his hectic life at school, Raut loves attending music concerts and spending his free time outdoors.
"I like to go to live music concerts. That's definitely my zen thing that I like to do to clear my mind and have a good time …. I really love camping as well and just hiking. I take my dog for walks a lot, so I'll take him and we'll go camping and hiking out in the woods," Raut said.
Raut's caring nature has made him well-liked by many throughout the school building. One of Raut's favorite parts about his job is the love and appreciation he receives back from students every day.
"I love when the kids give me high-fives in the hallway and they are just happy to see me. I have a handful of kids that kind of look up to me and just being that positive role model in someone's life is a big impact that I can have on a kid. [I love] getting those high-fives in the classrooms and the acknowledgement of the student population here," Raut said.
Not only does Raut work to be a positive influence to students, he also inspires other staff. Resource special education teacher Brian Sims is one of the many people who have been touched by Raut's character.
"My favorite thing about Mr. Raut is just his humor and personality. He brightens up the room whenever you see him. He is a great person, mentor, teacher, colleague and peer. He is an awesome all-around person," Sims said.
For Raut, the positive impact he can make on other people is what makes him happiest.
"I try not to stress out too much, live every day to the fullest and just try to enjoy life as much as possible because you never know what will happen tomorrow …. I try to make a meaningful, positive impact in our community, at Yorktown, in Arlington and for anyone around me. It's all about radiating positive vibes …. I just try to be a good person and what makes me happy is helping other people," Raut said.
Since the first moment Raut entered the school he has aimed to bring positive energy, and he certainly has succeeded. His care towards all students and staff, especially in special education classrooms, shows every day. Whether it be his cheerful personality or his constant involvement in programs to make school a more inclusive environment, Raut is certainly a person to know.