A Night of Inclusion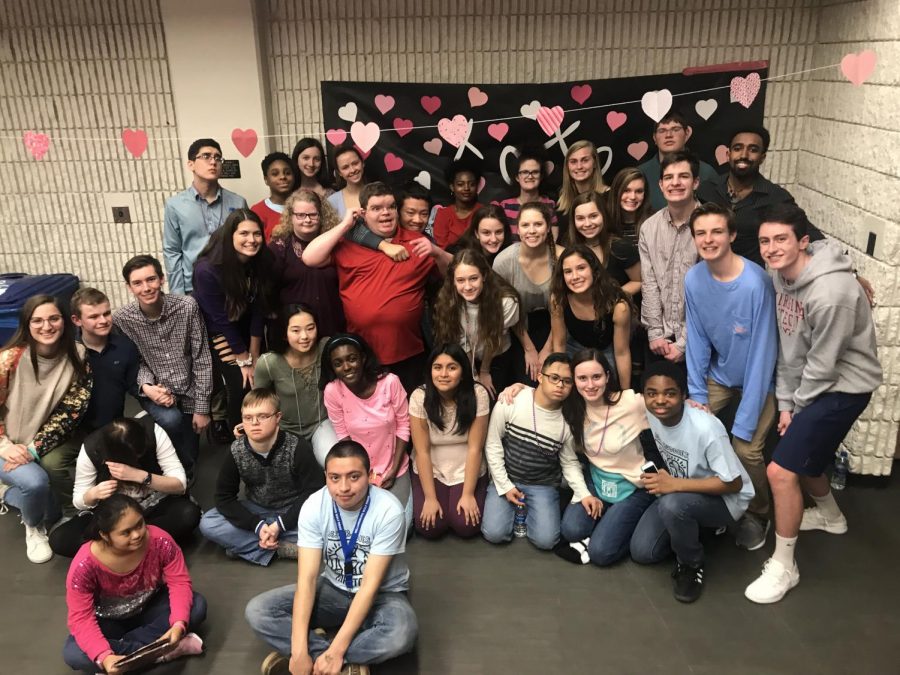 Peter Beckstrom, Sentry Staff Reporter
February 28, 2019
On the Friday before Valentine's Day, hundreds of students from around the DC-Metro area spent the evening celebrating inclusion, friendship and kindness at the Best Buddies Valentine's Dance. The dance was held at George Mason University, and 407 teachers, students and advisors attended.
For many, this was not their first time attending, as some students have been coming since freshman year. There is a reason they come back– for the entertainment and new friends to bond and dance with. This annual dance has been going on for over ten years. It is one of many annual events that founder Anthony Shriver organized to support inclusion.
The Valentines' Day dance was a perfect opportunity for students to strengthen their social relationships with others. Our school proudly had 35 members attend the event. These students only had positive remarks.
"This is my second time here. I am here again because I had such a wonderful time last year and hope to this year as well," Yorktown junior Natie Karsh said.
Many students attended the event by bus or with their friends, including Yorktown buddy pair Eric Shellhouse and William Nguyen. These two are the dynamic duo of the club.
"Willam is tearing it up on the dance floor. I think he's having a great time … I think we are all having a great time. It's probably [the] second to best Best Buddies prom– it's the most fun I have all year," Shellhouse said.
There is no doubt the food was a big hit; the food section was crowded and people hurried to the cake, which  was a classic vanilla with pink icing. When asked what his favorite food at the dance was Fairfax High School senior, Anthony McNair, undoubtedly answered that it was the cake. Sponsors of the organization, like Tropical Smoothie Cafe, donated the food at the dance. Guests enjoyed the option to freely get food throughout the event.
Many high schools, like Oakton and Falls Church High Schools, have their own Best Buddies Chapter. Out of all the schools, James Madison High School's Best Buddies chapter was well represented at the event. Their club was also present at the Friendship Walk and attended local leadership training as well. There were about 30 people who attended the dance and huddled around dancing and having fun.
MC Elias, Program Manager for Capital Region Best Buddies Program since 2017, was present at the dance.
"I love that Best Buddies enriches the lives of everyone who participates in it. When people usually think about Best Buddies, they think that it benefits all students and participants with disabilities. Our peer buddies and students without disabilities learn so much from the program," Elias said.
Over on the dance floor, Washington-Liberty High School sophomore Shea Messman was singing her favorite songs.
"I had a great time dancing to Uptown Funk with [fellow classmate] Josh," Messman said.
Being a part of Best Buddies can lead to lifelong friendships, which is especially true for Chantilly High School junior Jenna Novotny.
"My favorite part is not only the amazing friendships the peer buddies make, but the club is a great example of how everyone deserves a friend," Novotny said.
All in all, this was another successful event for the National Capital Region Best Buddies Program. Dancing, singing and meeting new friends is what Best Buddies is all about. As stated in their mission statement, Best Buddies International is a nonprofit organization that creates opportunities for one-to-one friendships and careers for individuals with intellectual and developmental disabilities (IDD). This mission makes each Best Buddies event better than the next. It takes pressure away when forming friendships. Those involved in the program come in knowing they will find lifelong friends. Overall, this fun-filled night of music and dancing was a blast and a pure example of why we fight for inclusion every day.