The Hypocrisy of Modern-Day Democrats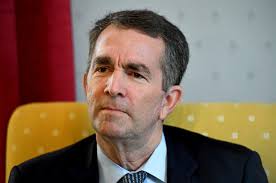 The commonwealth of Virginia fell on hard times as the calendar turned towards February. Governor Ralph Northam came under fire for appearing on pages in a 1984 medical school yearbook wearing a Ku Klux Klan hood next to another person wearing blackface. During the same week, reports appeared claiming that Lieutenant Governor and fellow Democrat Justin Fairfax had been accused of sexual assault from an incident taking place during the 2004 Democratic National Convention. Last but not least, Attorney General Mark Herring admitted to attending a party in 1980 with blackface, just four days after publicly stating that it was time for Northam to step down after his blackface controversy. The outcry, to put it nicely, has been non-existent. The three leaders remain in office, and the media has shifted attention from these men towards President Donald Trump, in hopes that these two scandals will not hurt their beloved Democrats but instead the hated Grand Old Party.
It was not too long ago when journalist Megyn Kelly was heavily criticized for appearing to defend blackface in relation to Halloween costumes on her morning show Megyn Kelly Today. Three days later, Kelly's show was canceled by NBC, despite having a contract worth between $15-20 million a year. It can be argued that NBC's decision was justified based on Kelly's poor ratings along with the controversy garnered by her comments, but her history as a primetime host on Fox News and previous conservative-leaning remarks (including one where she stated that "Santa just is white") definitely played a role. The same criticism was nowhere to be found with Northam or Herring, who actually admitted to wearing blackface, rather than just making a controversial remark about it. That also goes for Trump critic and The View host Joy Behar, who was found guilty of using makeup to darken her skin for a Halloween costume during the 1970's. Behar said that she had dressed as a "beautiful African woman". Unlike Kelly, Behar has kept her job with little, if any, press on the matter.
The allegations made against Justin Fairfax have been mostly glossed over due to the issues surrounding Northam, which is fascinating considering the uproar created when conservative Judge Brett Kavanaugh was accused of sexual assault by multiple women in the fall. The storm created during Kavanaugh's hearings almost ended his hopes of becoming a justice on the Supreme Court, as protests around the country broke out telling everyone to "believe survivors". But where are those same protesters now? The truth is, The Washington Post was the first to break the news about Christine Ford's allegations against Kavanaugh to the world. But when approached by accuser Vanessa Tyson about the incident in November of 2017, the Post decided not to run it. Did this have anything to do with Fairfax being a Democrat, and Kavanaugh being a Republican? Just days after Tyson's allegations, another woman, Meredith Watson, came forward with accusations that Fairfax raped her when they were both students at Duke University in 2000. Fairfax's response: "I will not resign." The nationwide liberal response: Almost absolute silence.
The double-standard of treatment can also be best seen within the Presidency of Donald Trump and the 2016 election. While repeatedly accusing Trump of sexual misconduct, Democratic candidate Hillary Clinton was attacked for previously dismissing allegations against her husband, and former President Bill Clinton. Hillary had repeatedly attacked or questioned her husband's accusers, including Juanita Broaddrick, who alleged that Bill had raped her in 1978. Hillary tweeted during her 2016 campaign, "Every survivor of sexual assault deserves to be heard, believed and supported," and said in an interview this past fall that she found Dr. Ford's accusations "very credible." But after accusations came out against Fairfax, Hillary was oddly silent. A former staffer on her campaign, Zerlina Maxwell, was quoted as saying, "It is a hard thing when somebody who is beloved by the party and who is ideologically similar to you does a bad thing and faces consequences." This makes it clear that Democrats only care about sexual assault allegations when they are against leaders of their rival party.
The appalling hypocrisy of the members of today's Democratic Party has been on full display through the beginning of the month of February, with major allegations of racism and sexual assault against Virginia's top leaders. Despite being accused of raping two women, Lieutenant Governor Justin Fairfax continues to downplay and deflect criticism, comparing his situation to a "political lynching." The liberal fury previously seen during Judge Brett Kavanaugh's confirmation and after Megyn Kelly's comments was absent. While conservatives nationwide encounter mass protests and a media explosion after similar charges, Democrats get away with their jobs intact and a media hush. This double standard proves what conservatives have known for years: Democrats will always get the special treatment, while Republicans will not.