HQ2 to DMV: How Amazon Will Affect the Region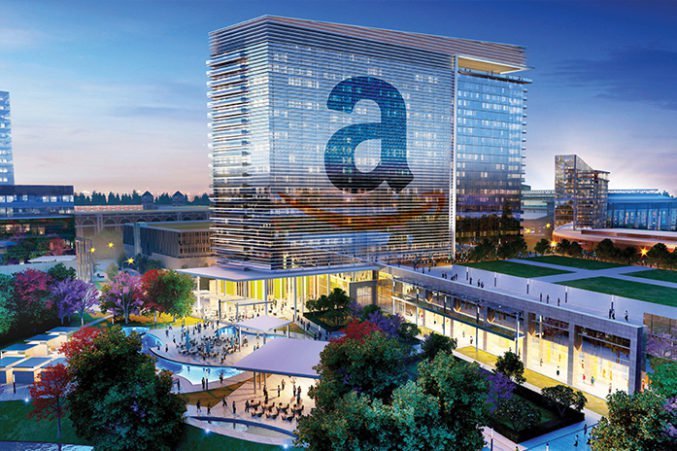 Ryan Cole, Sentry Staff Reporter
February 22, 2019
Amazon is officially coming to Arlington, and many residents in and around Crystal City are eagerly anticipating the global giant's arrival. Amazon unveiled their plan to split their new headquarters, or HQ2, between Crystal City and New York City in November, ending an arms race between about 200 cities all vying to be the new location.
HQ2 attracted many suitors because of its potential benefits: jobs, spin-off businesses and tax revenue to name a few. However, despite some of these perks, there are also some possible negative impacts that Arlington County residents are worried about. Amazon is a global powerhouse in the business world, and they will play a major role in our community and the future of our county.
The new headquarters will be built in Crystal City and will include four million square feet of office space (with a possible addition of four million more later on). To fill that space, it is estimated that Amazon will create 25,000 new jobs over the next twelve years, which would earn the company 573 million dollars in incentives for creating jobs.
It appears one of the major benefits of HQ2 will be new money allocated to the school system. According to The Washington Post, the company should create at least $160 million in tax revenue by 2030, with 46% of that going to schools. Amazon should also allow the school system to offer internships and other opportunities for their students within the field of technology.
"I think anytime we get an industry that is as wealthy as Amazon both in knowledge, and skills base, and also money, I think that the school system will benefit from that in partnerships," Principal Bridget Loft said.
There have been some grumblings from parents regarding the already overcrowded schools in Arlington and the new employees adding to that problem. However, county officials have estimated that Amazon employees will not add more than 2 to 3 children per school every year.
In an interview with The Washington Post, former county board chair Katie Cristol was particularly adamant that overcrowding would not get worse.
"This is not going to feel like a tsunami," Cristol said in that interview.
One thing that could hit Arlington County residents like a wave is the effects that HQ2 will have on transportation. Everyone is aware prior to buying a house in this area, that one of the major drawbacks is the morning commute. Here in Arlington that is a fact of life, and with Amazon's arrival, some worry that traffic during rush hour could get even worse.
In response to these concerns, Amazon and Arlington County officials have stressed the importance of the location in relation to the metro. In fact, only 1 parking spot will be provided for every 6 employees.
Perhaps the biggest and most impactful effect of HQ2 will be in the real-estate market. With the arrival of 900 new Amazon employees by 2020 (and 25,000 by the late 2020's), comes the need for more homes. A report by George Mason University indicates that the county will need somewhere between 8,000 to 9,000 new housing units to house all the new employees.
In the real-estate market, realtors like Michelle Sagatov anticipate that Amazon will bring an increase in housing prices.
"We are not really seeing anything yet, but we all feel that basically in the next year we are going to see on average, all houses in all zip codes increase in price," Sagatov said.
This increase in price can be interpreted in two ways. For people who own houses here already, their house will actually go up in value, which would allow them to sell it for a higher price. However, for buyers, Amazon's arrival will pose a real challenge. Some people who may have been able to afford to buy houses in Arlington will not be able to anymore.
Sagatov also pointed out that not every new Amazon employee will actually live in Arlington. In fact it may be difficult for some of them to afford a house in Arlington.
There are many unknowns in this process, however the one burning question on the mind of every Arlingtonian can be answered. Unfortunately for Amazon prime members, HQ2 will probably not affect the amount of time it takes for a package to arrive, meaning our deliveries are still going to take a whole two days.
The effects that Amazon will have on our daily life should not be overlooked. Some Arlington residents are nervous about the possible increase in traffic, decrease in affordable housing, and more overcrowding in school. However, the possible gains of HQ2 in jobs and education are also hard to ignore. Experts can guess what will happen when Amazon arrives in Arlington, but we will not know for sure how Amazon will affect us until HQ2 is built and the employees start flowing in.