Creating a Community of Caring: Jonathan Winnefeld's Story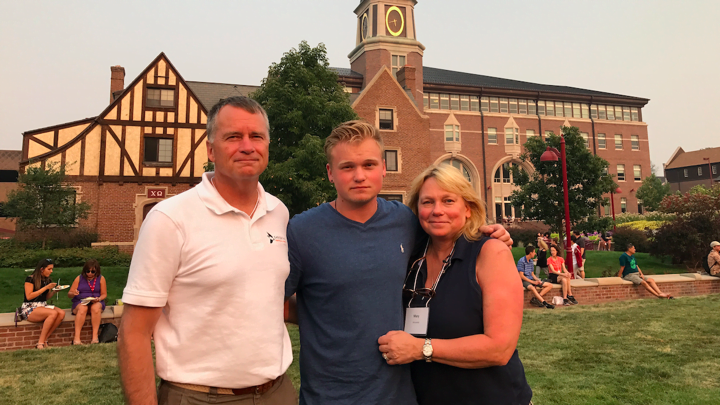 Sofia Dalton, Sentry Staff Reporter
November 27, 2018
As the opioid epidemic ravages the nation, our school community is doing its part to address the critical issue of substance abuse among young people. The third annual Creating a Yorktown Community of Caring: A Program on Substance Abuse took place on November 26, featuring retired Navy Admiral Sandy Winnefeld. His son Jonathan passed away from a fentanyl laced heroin overdose at the age of 19 on September 7, 2017- just three days after Winnefeld and his wife dropped him off at the University of Denver. Winnefeld and his wife founded a non-profit called Stop the Addiction Fatality Epidemic (S.A.F.E.) in order to combat this growing and catastrophic addiction epidemic.
Winnefeld shared Jonathan's story of addiction, recovery and relapse back into addiction. Jonathan grew up with anxiety and depression, but was misdiagnosed with attention-deficit disorder (ADD) and prescribed adderall, which only worsened his anxiety.
"Fairly soon after [Jonathan started taking adderall] we noticed that some alcohol would be missing from our liquor cabinet and that Jonathan was acting a little differently, and my wife Mary confronted Jonathan… 'he said I need the alcohol to come down at night from the adderall,'" Winnefeld said.
Jonathan used substances as a way to counter his anxiety and depression, and unfortunately this led him down a path to addiction. A student at Washington-Lee High School, Jonathan played on the baseball team and was well liked by his peers. However, the summer before his senior year, his parents noticed that he was smoking  more marijuana and he had starting taking Xanax bars. Two events that took place his senior year caused his parents to put him into treatment. Jonathan tried to take his own life in April of his senior year, and after that he was involved in a car accident in which his car hit a tree at a low speed.
"We realized at that point that we could no longer keep our son safe. Hope had been a strategy long enough and we needed to get him into treatment," Winnefeld said.
Jonathan was placed in a psych ward in Richmond Virginia for seven days while his parents searched for long term treatment options. It was difficult for them to find an in-patient facility that was the right fit for their son. However, they ultimately found one of the top ranking treatment facilities in the country, located in Pennsylvania, where Jonathan began his recovery journey. After three months, Jonathan moved into another phase of his treatment located in Connecticut where he finished his program. All together he spent a total of 15 months in in-patient treatment. Jonathan's recovery from addiction was remarkable for his parents to witness.
"We watched our son come back to us. We were able to have a conversation with him, his brain physically began to heal, he regained his ambition… it was one of the most amazing feelings as a parent to see your son fighting back from this disease," Winnefeld said.
In the last few months of his treatment, Jonathan completed his Emergency Medical Technician (EMT) qualifications. It was an accomplishment he was proud of, and he ultimately wanted to become a paramedic fireman. Since a college degree would be helpful in achieving this goal, Jonathan and his parents decided that he would attend the University of Denver. Jonathan appeared confident when his parents dropped him off at school and they believed that he was on a path to success. However, unbeknownst to his parents, Jonathan had relapsed a week before starting his freshman year and three days after his parents dropped him off he died from fentanyl laced heroin.
This tragedy inspired action from Jonathan's parents. They created S.A.F.E., and their six lines of operation are public awareness, prevention, prescription medicine, law enforcement and medical response, treatment and recovery and family outreach and support. Together, these lines of operation are utilized through two programs: S.A.F.E. Communities and S.A.F.E. Campuses.
"S.A.F.E. Communities is about trying to get all the lessons learned from communities that have stood up to try and fight this problem and push them out to other communities that need them. S.A.F.E. Campuses is about trying to get to [college] campuses to have recovery programs and prevention programs," Winnefeld said.
S.A.F.E. wants to educate people about the science regarding addiction and to end the stigma that often prevents people from seeking treatment.
"[Addiction] is not a moral failure, it's a disease, your brain physically changes and recovers from it," Winnefeld said.
S.A.F.E. is also trying to provide more treatment resources to make the process of finding treatment for drug addiction easier.
"There are simply not enough resources in this country for all the treatment and recovery assets that we need and we're working very hard to try to help with that… one of the most important things we're doing is building a web application to try to do a better job of connecting people who need treatment to the treatment that's right for them," Winnefeld said.
By promoting all different aspects addiction, S.A.F.E. is aiming to save lives and prevent families from having to go through what the Winnefeld family endured. If they had known more about addiction, Jonathan's story could have turned out differently.
"If I only knew then what I know now about this terrible disease, I would still have my son here," Winnefeld said.
Anyone can succumb to addiction and there is no typical profile of an addict. In 2017, 72,000 people died as a result of overdoses, and two thirds of these deaths were linked to opioids. This national epidemic is causing a tremendous economic and moral toll on our country. Our school community is one of many that is trying to battle back against it and to promote healthy decisions and more awareness among our students. Winnefeld and S.A.F.E. are creating a community of caring that is pushing for more conversation about a topic that desperately needs a voice.
More resources and information about S.A.F.E. can be found at https://www.safeproject.us/.