Democrats Prevail in Local Midterm Elections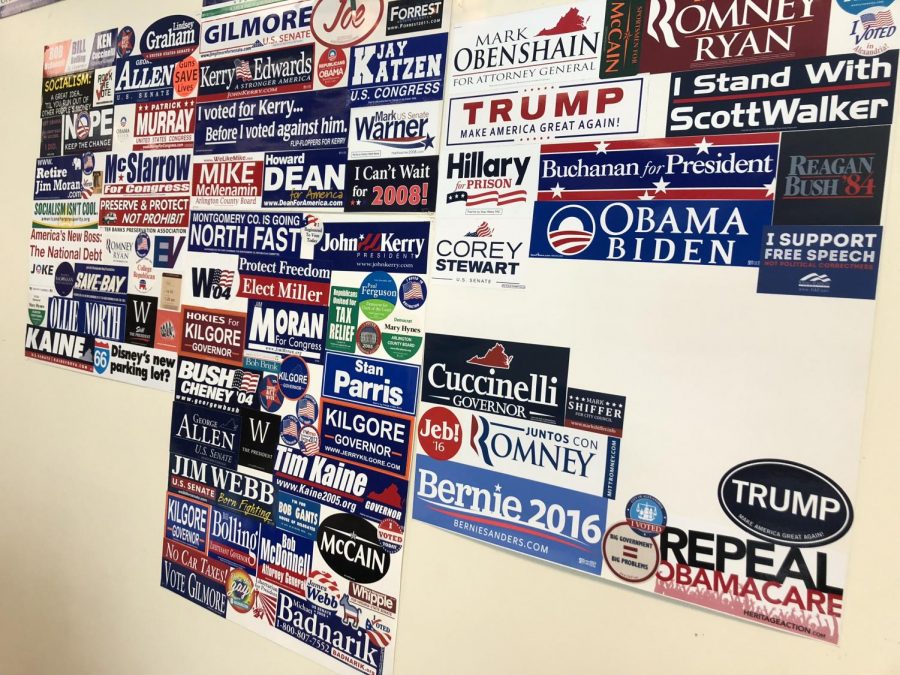 Connor Smith, Sentry Staff Reporter
November 28, 2018
Arlington voters headed to the polls on November 6 attempting to create a "blue wave." More than 70% of active voters cast ballots in Arlington, a number that was the highest for a midterm election in the county's history. While the blue wave was not as large nationally as most expected, Northern Virginia continued to vote for strong liberals.
At the state level, incumbent senator Tim Kaine defeated Republican challenger Corey Stewart easily in a 57% to 41.1% vote. Kaine garnered strong support in Arlington, where he racked up over 87,000 votes and 81.62% of all ballots. In his campaign, the former vice presidential nominee repeatedly attacked Stewart for being "too extreme for Virginia." Stewart has been notorious for being strict on illegal immigration and staunch defense of Confederate monuments in the state that honor former generals and soldiers.
Another incumbent Democrat, Don Beyer, comfortably defeated GOP candidate Thomas Oh in the US House of Representatives Virginia's 8th District election. The 8th District includes all of Arlington County, parts of Fairfax County and all of Alexandria and Falls Church. Beyer had previously won the election in 2014 to replace retiring Democrat representative Jim Moran. He won re-election in 2016 against Charles Hernick by over 40 points. Beyer received over 63% of the vote four years ago and was even more decisive this year, winning 76.2% of the vote compared to Oh's 23.6%. Oh, an alumnus of George Mason University and member of the Army Reserve, is just 26 years old and was the only Republican to file for the party's nomination in February.
"I am honored to be the first and only Asian-American to run for federal office in the commonwealth of Virginia," Oh said in a message sent out after the defeat. "The media won't write about it, so let it be known that it was the Republican Party that made this moment in history."
Knowing the uphill battle his campaign faced, Oh touted his success. "With less than $1 per vote, our congressional campaign outperformed the Senate level campaign by 5 points, and even draw more Republican votes than any other midterm election in the last 24 years."
Within Arlington, Beyer drew a strong 79.14% of votes, with Oh receiving just over 20%. While Kaine got more votes than Beyer did in the county, Oh collected almost 6,000 more votes than Corey Stewart – showing local Republicans general distaste with the Senate candidate.
The liberal control of Arlington continued into the County Board race where Matthew de Ferranti defeated Independent incumbent John Vihstadt by over 7,000 votes. The race was the only one that was somewhat close on the ballot. When Vihstadt won a special election four years ago, he became the first non-Democrat elected in the county in 15 years. His campaign then was mainly focused on not passing the Columbia Pike streetcar, which was considered extremely expensive and unnecessary by county voters. Despite being a fiscal conservative, Vihstadt opted to endorse Tim Kaine over Corey Stewart in the state Senate election.
After losing the election, Vihstadt warned citizens of extreme partisanship on the County Board, which now features five Democrats and zero Independents or conservatives whatsoever.
"There's a severe danger of backsliding by the 100 percent one-party government," Vihstadt said.
On the other hand, de Ferranti was widely endorsed by local media outlets and campaigned heavily on building new schools, creating more affordable housing options and strengthening the local economy. After his victory, de Ferranti tweeted out appreciation for those who helped him defeat Vihstadt. "To all who supported us: thank you. This campaign was always about our vision for Arlington's future, and I look forward to serving you all on the County Board and making that vision a reality," the tweet read.
The local school board election featured Independent Westover resident Audrey Clement running against incumbent Barbara Kanninen, who was previously elected to the Board in 2014. Kanninen also took this election with ease, defeating Clement by almost 40,000 votes and more than 37 points. Kanninen considers herself an "environmental economist" and has advocated for teacher pay raises across the county. Clement's campaign had directly attacked Kanninen and the entire school board, saying that Arlington Public Schools (APS) has failed to address declining student test scores, excessive spending and overcrowded schools. Her main focus was pledging to voters that she would keep the Washington-Lee High School name despite her opponent previously attempting to quickly change the name without any public discussion.
In the final section of the Arlington ballot, six questions were asked to voters relating to Constitutional Amendments and county funding, and all six were passed. Two of the questions were regarding Constitutional Amendments, with question two asking if a tax exemption should still be given to spouses of veterans who move to a new residence, such as one in a new state. The only question with over 25% disapproval was a question about community infrastructure in Arlington. It asked whether Arlington County should contract a debt and issue its obligation bonds to finance projects for County facilities and infrastructure. Over 76,000 voters said yes, while 27,089 voters said no.
The 2018 midterm election was one of the most anticipated non presidential elections in American history. The expected blue wave turned out to be less than expected, with the Democrats gaining control of the House but failing to take the Senate. Arlington voters showed out in record-breaking numbers, and were able to keep local power in the hands of Democrats and strong liberals. The defeat of John Vihstadt leaves the County Board entirely in the hands of Democrats, and the renaming of Washington-Lee High School could speed up with the victory of Barbara Kanninen. Major decisions made in the next two years will have a large effect on the 2018 presidential election and the presidency of Donald Trump.