Vegan Thanksgiving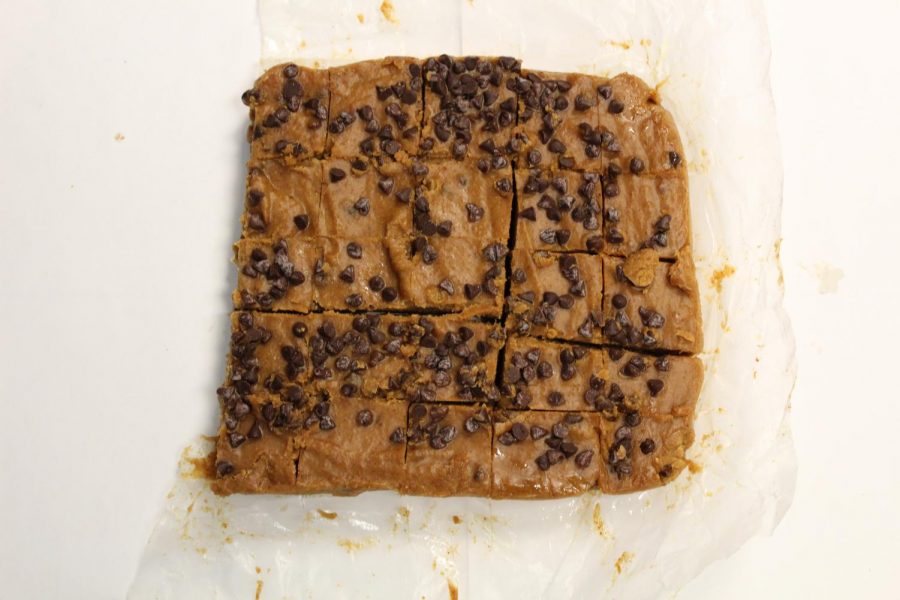 Lizzie Koumans, Sentry Staff Reporter
November 26, 2018
It is the Thanksgiving season once again, which means it is time to be grateful and have a feast. However, before preparing your extravagant meal, it is important to take into account any dietary preferences before guests flood into your house. One common diet is veganism, in which a person does not consume any animal products. That includes dairy, eggs, meat and anything else that comes from an animal. Around Thanksgiving, those restrictions can cause some struggles when you want to serve your guests a traditional turkey-based dinner. Make Thanksgiving preparation a little less stressful by serving your vegan guests these six recipes.
Appetizers
Appetizers are key to prepare your guests for the main course. Please everyone with these tasty hors d'oeuvres.
Wild Mushroom Croustades
Ingredients
3 tablespoons olive oil, divided

1 cup thinly sliced brown onion

2 medium-sized, finely minced garlic cloves

1 tablespoon finely chopped, fresh thyme, plus a couple extra sprigs for garnish

1-1/2 pounds fresh, mixed wild mushrooms, washed, dried and roughly chopped (I used Shiitake, Maitake & Oyster)

1/4 cup dry sherry

Sea salt and freshly ground pepper to taste

1 medium to large French baguette
Instructions
Preheat the oven to 375℉.

Coat the bottom of a large sauté pan with 1 tablespoon of the olive oil and place it over medium-high heat. Add the onion and garlic and cook for about 15 minutes, or until the onions are caramelized.

Add the thyme, the remaining 2 tablespoons of olive oil and mushrooms.

Turn the heat to low and add the sherry.

Then, turn the heat to high and deglaze the pan with the sherry, scraping any bits of onion and mushrooms off the bottom of the pan, and back into the mixture and cook for about 5 more minutes.

Season with a bit of salt and pepper. Cover and set aside.

Cut the baguette into thin slices (about 1/4 to 1/2-inch) then place them on a baking sheet. Toast them in the preheated oven until they begin to turn golden.

Add 1-2 tablespoons of the mushroom mixture on top of each toast.

Sprinkle some fresh thyme on top and serve warm.
Recipe taken from What Would Cathy Eat?
Sun-Dried Basil and Tomato Pinwheels
Ingredients
8 ounces vegan cream cheese (you can find this at Target)

1/2 cup lightly packed sun-dried tomatoes (dry, not in oil // chopped // plus more for topping)

1/4 cup lightly packed frozen spinach (thawed and squeezed dry // optional)

2 large cloves garlic, minced (2 cloves yield ~2 tablespoons or 12 g)

1/4 cup

vegan parmesan cheese

(plus more for serving) (you can get this on Amazon)

1 pinch each sea salt and black pepper

2 large vegan flour tortillas

24 fresh basil leaves (divided)
Instructions
Add vegan cream cheese, sun-dried tomatoes, spinach, garlic, vegan parmesan cheese, salt, and pepper to a mixing bowl and mix thoroughly until combined.

Divide filling between two vegan flour tortillas and spread into an even layer all the way to the edge. Top each with half of the fresh basil leaves (leaving one edge bare so the tortilla can stick to itself) and press them down slightly.

Roll up the tortillas tightly, starting from the end with basil all the way to the edge, working toward the end that's slightly bare.

Once rolled, squeeze gently to compact everything and lay seam-side down for slicing.

Use a serrated knife to gently cut tortillas into 1/2-inch slices. Between the two tortillas, you should have a total of 20-22 pinwheels.

Arrange on a serving platter and serve immediately, or chill for up to 24 hours, covered in the fridge.
Recipe taken from Minimalist Baker
Main Courses
Instead of the classic turkey for Thanksgiving dinner, feel free to try these delicious replacements.
Meat (less) Lentil Loaf
Ingredients
1/2 cup mushrooms-

3 stalks celery-

1/2 white onion-

2 cloves garlic-

1 cup firm tofu-

1 1/2 cups cooked lentils-

1 cup old fashioned rolled oats-

3 tablespoons ketchup (recipe below)

3 tablespoons soy sauce

3 tablespoons chopped parsley

1 teaspoon each: dried thyme, basil, fennel
Instructions
Cook about 1 ½ cups of lentils

Preheat the oven to 350°F.

Mince the garlic and finely chop mushrooms, celery, and onion. Add these, a splash of water, and a pinch of salt and pepper all into a sauté pan. Let them soften over medium heat for several minutes.

In a large mixing bowl, crumble 1 cup of tofu into small chunks in between your hands.

Then add the cooked lentils, sautéd vegetables, a handful of chopped parsley, and oats to the tofu in the bowl.

Add the dried herbs (thyme, basil, and fennel) into the bowl and stir. To get the most flavor, combine the herbs in a mortar and pestle and grind them together gently before adding them to the mixture.

Add a few tablespoons of soy sauce and ketchup to the mixture and stir until everything is combined.

Add the mixture into non-stick loaf pans (or something similar) and bake for about 50 minutes at 350°F. Cook the loaf until the top starts to develop a browned crust and the insides are fully cooked.

Allow the loaf to cool before serving.
Recipe taken from One Ingredient Chef
Pecan and Mushroom Wellington
Ingredients
400 grams mushrooms chopped

1 onion finely diced

2 cloves garlic crushed

1 tablespoon fresh thyme chopped

1 1/2 cups pecans activated or lightly toasted

1 cup breadcrumbs

Pinch of chilli flakes

1 teaspoon Tamari

2 sheets of vegan pastry
Instructions
Cook the onion and garlic for about 5 minutes.

Add the mushrooms, thyme, chilli flakes and tamari and cook for a couple more minutes. Afterwards, let it cool for 10-15 minutes.

In a food processor, blend the pecans finely. Afterwards, add the mushroom mixture and blend. Then, add the breadcrumbs and blend once more until all the ingredients are combined.

Let the pastry thaw a little. Spread half the mixture in the middle of one vegan pastry sheet. Cut the pastry in 1 cm diagonal strips on either side. Then cross over each other until they are covering the mixture. Alternatively you can put half the mixture on one edge of the sheet and roll the pastry over it to form a loaf. Then pierce the top with a fork or score with a knife. Top with sesame seeds or poppy seeds if desired.

Bake at 350℉ for 50 minutes. If it browns too much on top while cooking, then cover with aluminum foil until it is ready to come out of the oven.

Serve!
Recipe taken from Delightful Vegans
Desserts
Finish off your Thanksgiving with a bang with these fabulous desserts.
Pumpkin Almond Butter Freezer Fudge
Ingredients
Instructions
Line a square cake pan with parchment paper. Set aside.

Place almond butter and melted coconut oil in a medium bowl and mix until fully combined. Then, add pumpkin puree, maple syrup, ground cinnamon, and salt and mix again.

Transfer into cake pan and use a spatula to spread out evenly. Top with mini chocolate chips and more sea salt.

Place in freezer for 2-4 hours or until solid. Remove from freezer and let sit for 5 minutes before removing from pan. Use a sharp knife to cut into squares.
Recipe taken from Fit Foodie Finds
Pumpkin Pie Squares with Gluten-Free Graham Cracker Crust
Ingredients
For the crust:
2 cups gluten-free graham cracker crumbs

1/4 cup virgin coconut oil, melted

2 tablespoons coconut nectar syrup (or brown rice syrup)
For the pumpkin filling:
1 (14-ounce/400 mL) can pumpkin puree

1/3 cup natural cane sugar

1/4 cup pure maple syrup

1/4 cup full-fat canned coconut milk (

chill the can overnight or for at least several hours before use and

use only the white cream portion of the coconut milk)

1.5 tablespoons arrowroot powder

2 tablespoons almond milk

2 teaspoons pure vanilla extract

1.5 teaspoons cinnamon

1/4 teaspoon ground ginger

1/4 teaspoon nutmeg

Pinch of ground cloves

Pinch of fine grain sea salt
Instructions
Preheat oven to 350℉ and lightly grease an 8-inch square pan.

Now, line the pan with two pieces of parchment paper, one going each way. Spray the first piece of parchment paper with non-stick oil so the second piece sticks and doesn't fall over.

Prepare the crust: In a medium bowl, combine the graham crumbs, melted coconut oil, and sweetener until the crumbs are thoroughly coated in the mixture. Scoop the mixture into the prepared pan and smooth out the mixture evenly on the pan.

Starting from the middle, press the crumbs into the pan firmly and evenly. Really press hard so the crust sticks together. You can use a pastry roller to roll the crust and compact it even more. Using your fingers, press in the edges until even.

Pre-bake the crust, uncovered, for 10 minutes at 350℉.

Prepare the filling: In a small bowl, whisk together the arrowroot powder and maple syrup until there are no clumps. Add this and all of the other filling ingredients into a food processor and process until completely smooth, scraping down the bowl as needed.

When the crust has come out of the oven, pour this filling on top of the baked crust immediately and smooth out as evenly as possible with a spatula.

Bake, uncovered, for around 40-45 minutes at 350℉ until the filling has darkened slightly and it's semi-firm to the touch (although the filling will still be very soft and sticky). Place on a cooling rack for about 60 minutes and then into the fridge to set overnight, or for at least 8 hours.

Slice into squares and serve with a dollop of coconut whipped cream on top and a dusting of cinnamon and chopped pecans.
Recipe taken from Oh She Glows
Instead of worrying about the food to prepare for your Thanksgiving dinner this year, enjoy your time with family. Although dietary preferences make preparing meals a bit more of a challenge, there are many alternatives. In case these recipes are not appealing, you can check out Vegan Richa, Oh She Glows, Keepin' It Kind, and Vegan Yack Attack for more.