Review of Frankie Cosmo's Vessel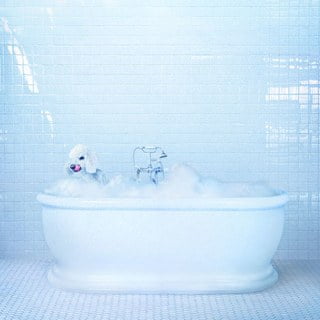 I first experienced the aura of Frankie Cosmos when Vine was in its short-lived prime. The social network actually proved a somewhat reliable source for finding good music quickly, as it only could feature a measure or two of a beat or riff, which is all you really need to get hooked on an artist. This particular clip that got me hooked on Frankie Cosmos featured only one line of Cosmos's song "Outside with the Cuties," taken from a solo performance of her surrounded by a miniature wonderland of hand-built cars and trains. Although the clip was only one line, its three chords and five words perfectly captured the unique dynamic of Frankie Cosmos. Prior to releasing two studio albums, her last being 2015's Next Thing, she had made a career out of albums on the platform Bandcamp. These projects were released under an assortment of aliases, including her real name, Greta Kline.
On her newest release, Vessel, Kline sounds as airy and flexible as ever, with her voice being the obvious focal point throughout the record. Unlike her performance on Vine, Kline records and plays her shows with a backing band of Lauren Martin on keyboards, Alex Bailey on bass, and Luke Pyenson on drums. Compared to other artists with the same vocal style as Kline, her bandmates provide a substantial amount of supporting vocals on Vessel. These contributions are also brought out even more because of the album's overall minimal production level. On tracks like "Apathy," harmonies from keyboardist Lauren Martin accentuate many of the higher notes that Kline hits. Every member of the band contributes a verse to the standout "Being Alive," repeating the anthemic chorus, reminding the listener of the value of life even when it may seem futile.
In addition to providing solid vocals, Cosmos's band helps build a solid rhythm section that Kline, in turn, likes to rev up and ease down at her whim. This flexible aspect of Cosmos's songwriting is deeply felt throughout Vessel, as even though the average song lasts around only two minutes, she often abruptly changes tempo several times per track. However, Kline's fade-outs and build-ups never seem forced, but rather, it is as if she shifts tempo to match the natural course of each track.
Vessel is composed primarily of nuanced observations of the modern, urban lifestyle in her home of New York City. Her tales of ordinary life consist primarily of equally ordinary lyrics, such as on "Duet" with lines like:
"You got nice eyes,
They're very blue,
That is why,
I look at you"
When Kline chooses to become more descriptive, she targets more minute details that she can twist into compelling lyrics, such as:
"Olive oil soft,
And laundry warm"
Even though they can seem transparent on the surface, Kline's short ballads often carry deeper meanings of loss and change. These often play out through vignettes of characters besides Kline, such as on "The Ballad of R and J," which is simply a 90-second love story of two people named Ricky and Julie. Even her dog, Jojo, makes a brief, yet troubling, cameo on "Bus Bus Train Train," where Kline catches a glimpse of him in a taxidermy museum.
What sets Kline apart from other female singer-songwriters in her capacity is her apt for preserving the rawness of her original bedroom tracks in professional studio recordings. On Vessel, she achieves this by opting for rather basic production touches, allowing each note to exhale and drift as it chooses. Some tracks even receive no production at all, appearing instead as their original demos. For example, the bare and heartbreaking "The End" provides an opportunity to hear Kline's voice as natural and undisturbed, an outlier amongst an album laden with brighter and heavier tracks.
Throughout Vessel, Kline showcases her incredible and flexible range as a vocalist, while her band solidly fills in the short gaps between verses. Kline's vocals get unfortunately muddled on songs that feature the guitars at their shimmering height or the humming of drums and bass. The whole band sounds their best when they effectively balance Kline's delicate vocals with more tame guitars and percussion. One of my only criticisms of Vessel is its resistance to staying in one groove for very long. Though this keeps the listener engaged throughout the record, some sections of tracks left me wanting more of its sound, as many parts simply come and go within their tight two-minute window. For its quirks, Vessel proves once again that Kline has the talent of being able to invite her listeners into her world through her delightfully short, yet emotion-packed, ballads.
Essential Tracks:
Being Alive
The End
Jesse
Caramelize