Ryan Hart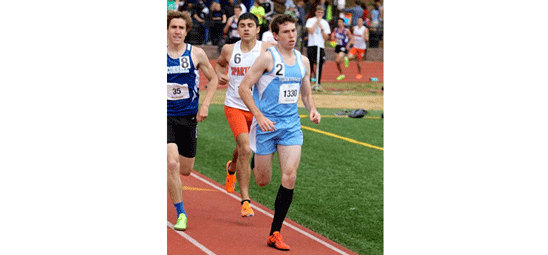 By Amy Andrukonis
Sentry Staff Reporter
Senior Ryan Hart has been one of the strongest members of the cross-country, indoor track and outdoor track teams since his freshman year. While Ryan has received school-wide recognition year-round over the Dailies for his outstanding performances, his recent record setting 800 meter run has caused his fame to climb to new heights.
Do you have any pre-race rituals?
Nothing very abnormal. I just run. I say a pre-race prayer every time just to get my head in the right place. Otherwise, just getting laser focused and visualizing the race.
When did you start running?
I ran middle school track, but that was kind of a joke. So really not until freshman year. That's when I started to take it seriously, and I knew it was something I needed to keep doing.
Are you planning on running in college?
Currently, I am. I'm hoping to walk on to the Notre Dame track and cross-country team in the fall.
How did it feel to set the record for the 800 meter run?
It felt good. I definitely knew I had it in me, and it was cool to be able to do it on senior night. It was the last time I was ever going to run at Yorktown competitively, so it was really nice to be able to do it then. And I'm hoping to set some more records.
Which do you prefer: cross-country, indoor track, or outdoor track?
Outdoor. Outdoor because it's better than indoor, just because it's outdoors. And outdoor over cross country just because it's shorter, and I'm a little better at track so I guess I'm biased, although I definitely like all three.
Do you have any superstitions?
During cross-country I wear two socks on one foot, just for good luck, and because one foot is smaller than the other, but that's the only weird thing I do. I just run. But nothing other than that. I like to keep myself in a few different situations so I don't get locked in to doing one thing every time and get reliant on it.
How do you go about improving and getting faster?
Trying to manage getting plenty of recovery days and plenty of workout days so that I don't get injured. You want to work hard, but if you're running every day, you can't go hard every day. So I think the biggest thing is mixing in easy recovery days in the middle of big workouts and long runs.
What's the best running advice you have ever received?
There's one bit of advice that Coach Stripe always says that I kind of laugh at. It's terrible advice, but it makes me laugh. [The advice] is to just get out in the race and get a feel for it and go. But I guess that's kind of what I do. I just get out there and go.
Why do you love to run?
It's peaceful. And I'm good at it. Not necessarily in that order.